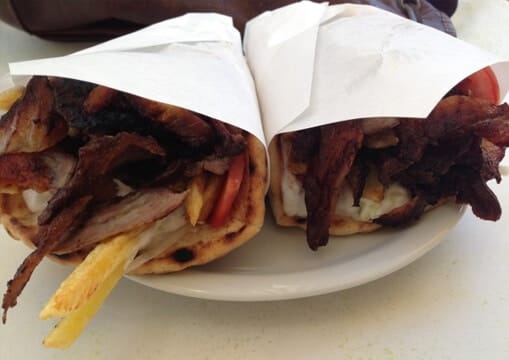 My trip to Karpathos, the second larges of the Dodecanese Islands in Greece was a very different experience than my normal visits. I usually spend my summers in Greece, but this time, I went in early October. By this time, the tourists had returned home, many of the seaside bars and restaurants had closed up for the winter, and the weather was much cooler than the 40 degrees Celsius that it reaches in the summer months. The one thing that did not change, was the food! Here are a few foods that you definitely can't miss while you are in Karpathos, no matter what season you are there!
Frappé and Tiropita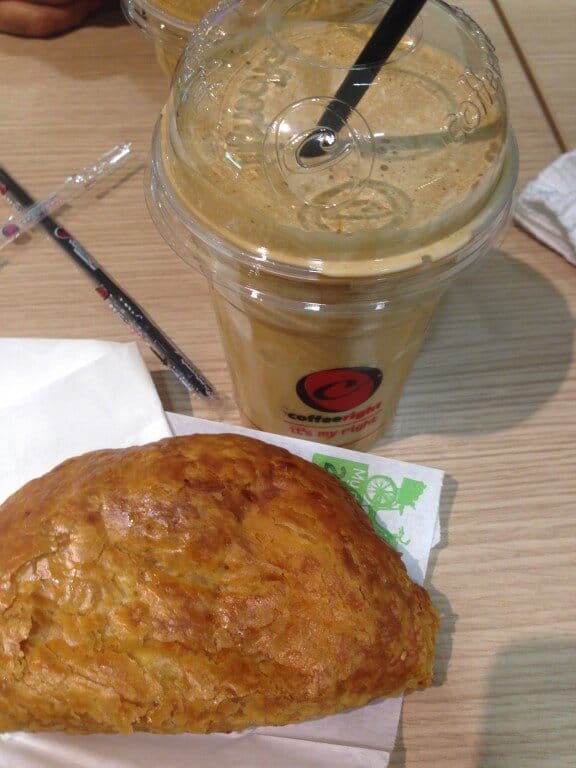 Frappe is the signature Greek iced coffee. It is made with Nescafe and whipped up with cream and sugar until it gets really frothy, and then poured over ice. If you pay attention while you are in Greece, you'll see them everywhere. When you go to the bank, the teller will have a frappé sitting next to them. If you go to a nail salon, the technician will have one on her working table. It is a cultural icon and you definitely should not miss it. It is delicious and I'm convinced it has as much caffeine as two cups of American coffee!
Complement your frappé with a baked 'tiropita', which literally means cheese pie. They are made with several different kinds of Greek cheeses, but my favorite one is called 'Kaseropita', which is a tiropita made with Kaseri cheese. They are so warm, flaky, and delicious and make the perfect combination with an iced frappé. You can find both of these anywhere in Greece. If you happen to be in Karpathos, my favorite place to get these is called 'Kaniski' in the town of Pigadia.
Gyros
These are another cultural staple of Greece. A warm, toasty pita surrounds freshly shaved pork or chicken with tzatziki (greek yogurt, cucumber, garlic, and dill sauce), tomato, onion, and fried hand-cut potatoes. The best place to chow down on gyros in Karpathos is called 'Erasmias', also in the town of Pigadia.
Koulouria and Horiatiki Salata
Don't be intimidated by the foreign words! Koulouria are essentially really big breadsticks that are shaped into circles. In Greece, we load them up with black and white sesame seeds and dip them in coffee or eat them with a salad. They are especially good when you dip them in the leftover oil and vinegar at the bottom of the salad bowl.
A 'Horiatiki' Salata translated to a 'Villager' Salad. Locally grown tomatoes, cucumbers, green peppers, feta cheese and kalamata olives covered in extra virgin olive oil, red vinegar, and sea salt–eating healthy and fresh literally never tasted so good! I included a salad on this list simply because the produce in Karpathos is always locally grown and organic. Modern agro-chemicals have not penetrated the island (thank goodness). While you are there, dig in to all of the fresh vegetables and fruits, too!
Phyllo-Fried Feta
This will literally melt in your mouth once you bite into it. A restaurant called 'Anemoussa' in the town of Pigadia wraps up large pieces of feta cheese in phyllo dough, pan fries it, then covers it in black sesame seeds, honey, and a balsamic reduction. Words can't even describe how amazing this tastes. It is definitely something that you can't skip when you are in Karpathos!
Karpathian Baklava
If you have ever had baklava before, you won't recognize the Karpathian version. Instead of the mainstream phyllo-layered walnut mixture, we use a regular pastry dough. It is folded into intricate designs, deep fried, dipped in a honey syrup, and covered in either a few sesame seeds or a light dusting of shredded nuts. In my opinion, Karpathian baklava is SO much better than Greek baklava. If there is one thing you can not afford to miss while you're visiting the island, it is this single pastry. There are several bakeries that make it, but my favorite is still 'Kaniski'.
These are my top recommendations for anyone traveling to Karpathos island in Greece. Of course, there are many more, and I recommend trying any restaurant, cafe, or bar that is swarming with locals. Those are always the best places to get great food, dessert, coffee, and to have a fun time!