I'm not much of a musician, but I love mac and cheese so much that I'd write a song about it. Maybe that will be our next post, but today, we're skipping the serenade and talking about something serious: Crimes Against Mac & Cheese, aka Mac & Cheese Mistakes + How to Fix Them.
Mistake #1 – Dry Mac & Cheese
There is nothing, I repeat, nothing worse than a dried out mac. It doesn't matter how delicious the sauce you started with was, how many awesome cheeses you used, or what unique ingredients you employed; if the sauce is dry and non-existent, your mac and cheese is going to stink.
Possible Motives:
Sauce too thick to start
Over-baking
Not enough sauce
How to Avoid the Crime:
Make a stovetop mac. Oven-baked ones are the most common offenders because the sauce starts out the perfect consistency, but dries out when baked.
Make extra sauce. Your mac should be slightly saucier than you'd like so that when it bakes, you compensate for the drying.
Make the sauce extra creamy like in my Extra-Creamy 4-Cheese Mac. Again, this will compensate for any drying while baking.
Add the pasta to the sauce a little at a time; don't dump it all in at once. You can always add more pasta in if need be, but once it's in there, it's done.
Mistake #2 – Flavorless Mac & Cheese
Looks can be deceiving. What's worse than shoving a forkful of what looks like perfectly creamy and saucy mac into your pie hole, only to find out it has no flavor? It's like eating food when you've got a cold; it looks so good, but you can't taste it. There's no excuse for this. It's an easy fix.
Possible Motives:
Wrong choice of cheeses (too mild)
Not enough cheese
Not enough herbs/garlic
How to Avoid the Crime:
Choose at least one sharp cheese for your cheese blend (see below).
Garlic, garlic, and more garlic. You can never have enough.
Onions or shallots – they don't alter the flavor, they just amp it up.
Don't forget salt & pepper.
Try fresh, fragrant herbs. Dried won't give you what you need.
A few teaspoons of hot sauce add a unique kick that will amp things up without overwhelming the sauce. Seriously, try it!
Try browning your butter for a rich, nutty flavor: cook the butter over medium heat, stirring occasionally until it starts to foam and brown flecks form.
Don't be afraid to try fun add-ins: caramelized onions, sun-dried tomatoes, breadcrumb topping, meat, etc.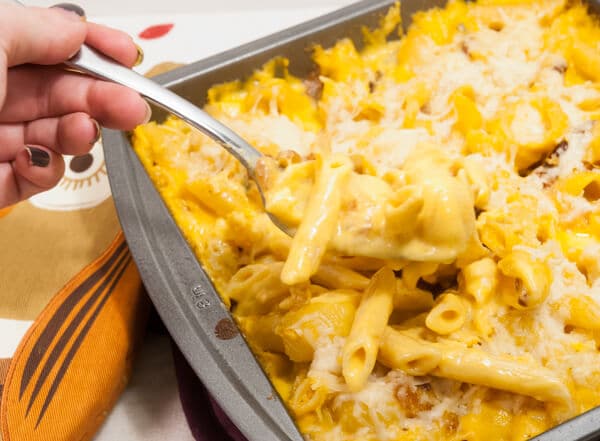 Mistake #3 – Not Cheesy Enough
This relates to the lack of flavor addressed in Crime #2. This is mac and CHEESE, so I better taste so much cheese, my brain explodes.
Possible Motives:
Cheese blend choice is too mild
Only one kind of cheese used
Not enough cheese used
How to Avoid the Crime:
I recommend at least 3 different kinds of cheese whenever you make mac. You should have at least one sharp, flavorful cheese and two good melting cheeses (see below).
Always taste test. If it's not cheesy enough, put some more freakin' cheese in there! You can always add more cream/milk if you find extra cheese thickens it too much.
When it seems like you've put in just enough cheese, you probably need another ½ cup more.
Use good-quality cheese. There's a big difference flavorwise.
Mistake #4: Noodle Killer (aka soggy pasta)
Soggy noodles stink. You need a good, sturdy noodle to hold up to all that cheesy goodness, and nothing's quite as texturally off-putting as pasta that turns to mush in your mouth.
Possible Motives:
You overcooked the pasta when boiling.
You perfectly cooked the pasta when boiling then baked the mac, thus overcooking the pasta.
How to Avoid the Crime:
People think boiling pasta is easy in that you can get it rolling and walk away, but that's false. If you want perfectly cooked pasta, you've got to keep an eye on it. When it starts floating and expanding in size, you should be taste-testing every 2 minutes. If making a stovetop mac, drain the pasta as soon as you've tried a noodle with the right texture.
If making a baked mac, drain the pasta while it still has a bit of bite. It will continue to cook in the oven.
Use whole wheat/whole grain pasta. It has a naturally more al dente texture.
Be patient with the thickening process. Some days, it just takes longer than others. But if you followed the recipe, it WILL thicken.
Mistake #5 – Soupy Sauce
If I wanted soup, I would've gotten soup. But I didn't; I ordered mac and cheese, not this bowl of lies.
Possible Motives:
Added too much liquid
Not enough cheese
Underbaked (if it's a baked mac)
How to Avoid the Crime
Generally, mac & cheese sauces start with a roux, which is a fancy word for equal parts butter & flour. I never recommend adding more than two extra cup's worth of liquid in comparison the number of tablespoons of butter/flour you used. So, if you used 3 tbsp. of butter and flour, start with 4 cups liquid and don't use more than 5 cups.
When in doubt, add more cheese.
If you intended on it being stovetop, go ahead and bake it for 20 minutes.
If it's fresh from the oven, let it sit 5 minutes. You'll be surprised how the texture changes.