This Easter bread is one of the things that I grew up with and love; it holds a very special place in my heart. Growing up I have very fond memories of going to my grandparents bakery and watching my grandpa make this bread. Their bakery was filled with hundreds of these beautiful easter loaves, among many other Easter treats. I remember he would always give each of us a small individual bread that was our own. I always enjoyed eating this bread for breakfast with a little bit of salted butter spread on it. This bread was always part of Easter for my family.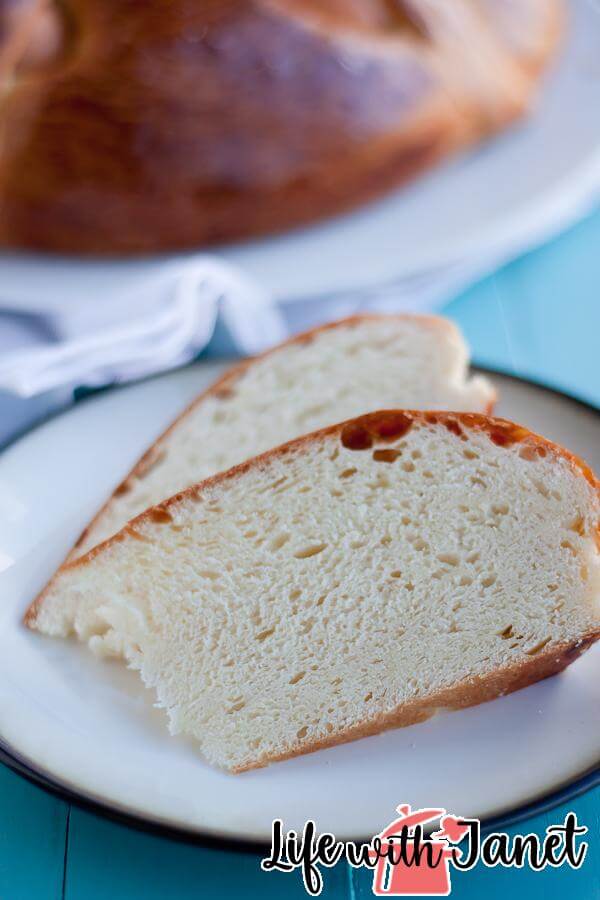 Last year, I tried to make this bread without much success, so this year I knew I had to make it, and I was not giving up until I had something that was perfect. The first thing I did was get on the phone with my grandma and find out if she had my grandpa's recipe. She didn't, as he made things without recipes, and in huge quantities, but she did give me a few clues. He used water, not milk as so many sweet bread recipes called for. Eggs, butter, lemon extract. I remember it having such a distinctive golden colour, and I was so shocked to find out that he put in a bit of food colour to enhance the yellow colour from the eggs. I'm telling you, I was so shocked! It was the one thing I was trying to achieve and never could! I opted to leave the food colouring out however.
So after quite a few tries, I finally got a recipe that I was happy with, albeit not exactly like his, it's pretty close. I can't wait to share this bread with my family this year, and I know he would be so proud knowing that this tradition will carry on in our family!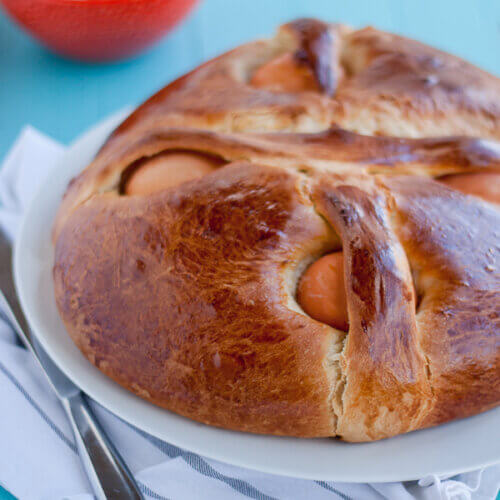 Ingredients
1 cup (250ml) warm water, divided

1 tablespoon (11g) active dry yeast

3/4 cup (170g) plus 1 tablespoon granulated sugar

750g (about 5 1/2 cups) all purpose flour (may need additional while kneading, about 1/4 cup)

1 teaspoon salt

1 stick (4oz or 114g)  unsalted butter, cut into cubes

3/4 teaspoon pure lemon extract

4 large eggs, lightly beaten
Egg Wash
1 large egg beaten

1/2 tablespoon water
Hard Boiled Eggs
4 Large eggs

Skin of 2 onions

1 teaspoon salt
Instructions
In a small bowl, combine 1 tablespoon sugar and 1/4 warm water. Lightly sprinkle 1 tablespoon dry yeast over the mixture. Allow to sit for 5 to 10 minutes until foamy.

 In the bowl of a stand mixer fitted with the paddle attachment, combine the flour, salt, and cubed butter. Mix on low speed to combine. Add in the eggs, sugar, remaining 3/4 cup warm water, lemon extract, and yeast mixture. Mix on low speed to combine.  Mixture will be slightly wet. Switch to dough hook. Mix on medium-low speed for about 10 minutes. You may need to add additional flour, 1 tablespoon at a time during mixing if the dough feels too wet. You want to knead the dough until it is smooth and elastic, and tacky but not sticky.

Coat a large bowl with vegetable oil. Shape dough into a ball, put into the bowl and turn to coat with the oil. Cover the bowl lightly with plastic wrap and set aside in a warm draught free area (I put into my oven with light turned on), for about 2 hours or until dough has doubled in size.

Meanwhile, bring 4 eggs (brown or white), salt, and peel of 2 yellow onions to a boil in a medium saucepan. The onion skin acts as a natural way to colour the white eggs brown, or enhance a brown egg. Once boiling turn off heat and allow eggs to sit for about 10 minutes. Remove eggs from water, and reserve.

Adjust rack to middle position and preheat oven to 350 degrees F. If using a baking stone, put in oven to preheat, or brush an upside down baking sheet with butter or oil. Reserve a small amount of dough, about 1/2 cup, to make cross decoration. Knead the remaining dough a few times to get the air out. Shape into a circle and  gently press the unpeeled hardboiled eggs into the dough. Create 2 long, flat pieces of dough to place over the eggs. Place the dough strips over the eggs and press the ends into the round dough to create a cross.

Brush the entire top of the dough with the egg wash.

Bake for 35 to 40 minutes until the top is golden brown and there is a hollow sound when tapped. Set aside to cool.
Notes
Storage: 3 days wrapped at room temperature, or wrap tightly and freeze for up to 1 month
Enjoy and Good Luck!