One of my favorite restaurants in the DFW Metroplex is Terilli's.  It's a been a Dallas landmark for the past several decades.  Mr. Man took me here for one of our first dates, and it's been a favorite ever since.  It was in an small, old building that gave it the quaint cozy feeling of being somewhere you've always known.  I say "was" because we almost lost our beloved Terelli's a few years ago when a fire ripped through their building.  Luckily for us, they rebuilt making it bigger and better.  It doesn't quite have the quaintness of the old Terilli's, but that's because it's new!  
One of the most famous items on their menu is their Italian nachos, or Italchos as they call them.  Every time we go there, I leave with the ambitious plan of recreating them, but the chips always trip me up.  You can't use regular tortilla chips.  Even baked or fried flour tortillas don't cut the mustard.  
I'd forgotten about my quest for homemade Italian nachos until a few months ago.  I was at BlogHer Food in Miami and came across these babies.  They're light, crispy chips seasoned with various Italian herbs, and they're the perfect palette for my version of Italchos.  I was thrilled to discover these, so you'll understand my excitement when a box of them arrived at my doorstep.  
This is what you'll need:
First, preheat the oven to 350°.
Then, we need to marinate the tomatoes.  Chop up some tomatoes.  Any tomatoes will do; I just prefer grape tomatoes.  These wittle bitty things are so sweet and yummy.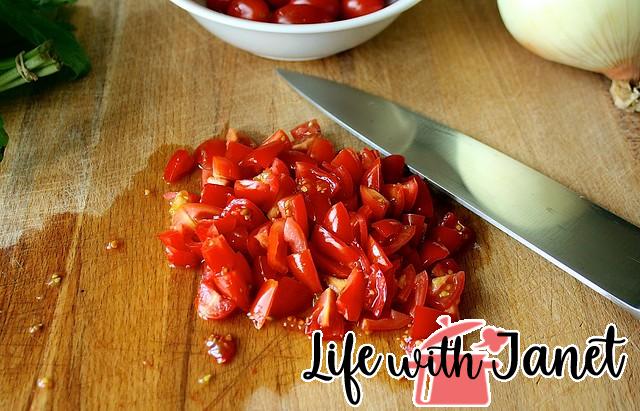 Then chop up some onion.
And then stack up 5-6 basil leaves…
Roll them up lengthwise…
Then, thinly slice the rolled basil.  And we've just done a chiffonade.  Go ahead and run your knife through it again.  We want smaller pieces here.
Toss the tomatoes, onion and basil into a mixing bowl, along with some minced garlic.
Drizzle in a little olive oil…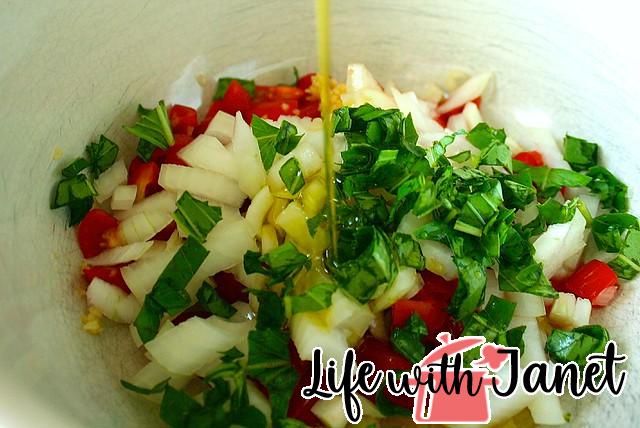 And some red wine vinegar.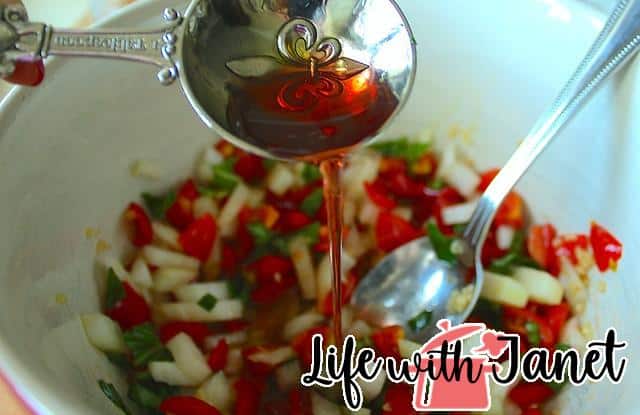 And don't forget the oregano.
Add a little salt and pepper, then give everything a good stir.  Cover and refrigerate while you make everything else.  This will help the flavors come together.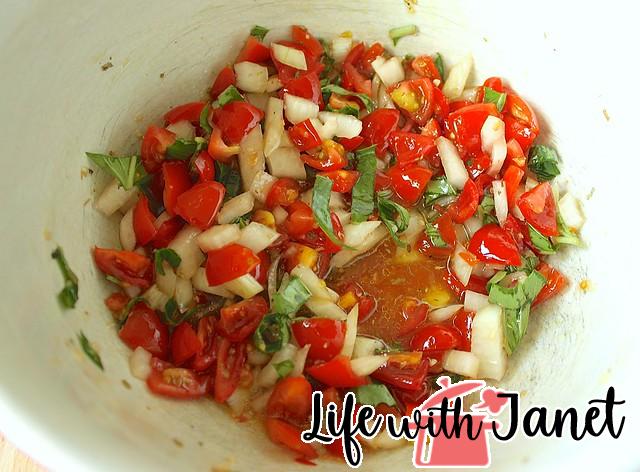 Next, let's brown the sausage.  Run a knife down the side of the sausage to break it free from its casing.  Then throw it (the sausage, not the casing) into a pan and cook it over medium-high heat.  
While the sausage is cooking, roughly chop up a few olives.  I had the whole olives left over from the night before, but you could always use the sliced ones in the can.  
When the sausage is done, spoon it out onto a paper towel-lined plate to drain.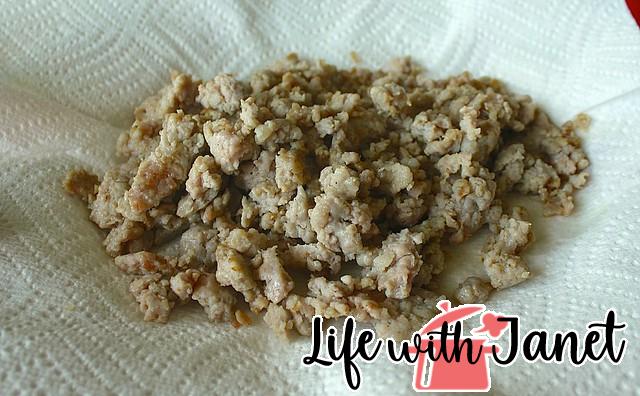 Let's get to building!  Spread a single layer of Pasta Chips on to a foil lined baking sheet.
Then drizzle some alfredo sauce on top of the chips.
And then sprinkle some sausage on top.  I said "sprinkle the sausage".  Huh huh.  (Gotta love a good Beavis & Butthead reference.)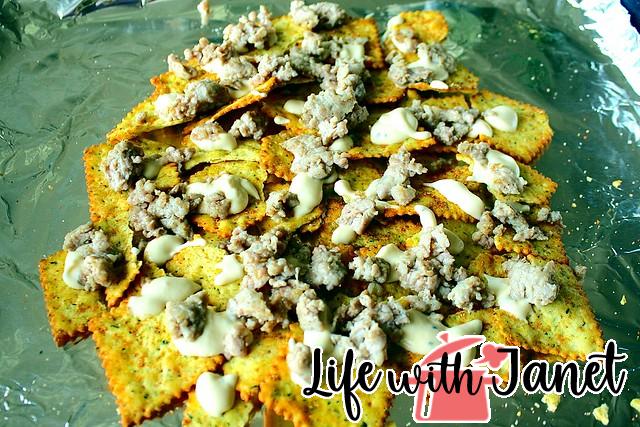 Next, some shredded mozzarella.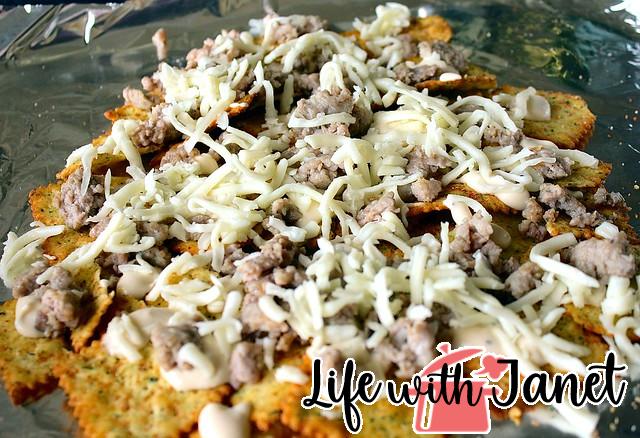 Let's do another layer, shall we?  For the second layer, I used the garlic olive oil chips.
Gently place a single layer of chips on top of the mozzarella and sausage.
Top the chips with more alfredo sauce, another layer of sausage and more mozzarella
Toss the nachos in the 350° oven for 10- 15 minutes or until the cheese has melted and is starting to brown.
After everything is nice and melty, go ahead and top the nachos with some of the marinated tomatoes.  You may not use all of them, but that's okay.  You can use them for bruschetta.  Or tossed with some pasta.  Or just stand over the sink eating them with a spoon.  Whatever floats your boat.
Next, throw on some of the olives.
Now, for my most favoritest thing EVAH.  Pepperoncini.  I heart pepperoncini.  I love pepperoncini on pretty much everything.  Except maybe ice cream.  But that may be the only thing.  I took it easy on y'all with these bad boys, but don't think I didn't have an extra side of them later.
Now dive in!
Buon appetito!  
Hello, Beautiful.
Here's the recipe:
Ingredients
5 oz bag Vintage Italia Pasta Chips

½ cup finely diced tomatoes

1 clove garlic, minced

½ cup finely diced onion

1 tablespoon fresh basil, chopped

3 tablespoons olive oil

1 tablespoon red wine vinegar

½ teaspoon salt

¼ teaspoon ground black pepper

¼ teaspoon dried oregano

1 tablespoon roughly chopped or sliced black olives

2 mild Italian sausage links

¼ cup alfredo sauce, jarred

1 cup shredded mozzarella

1 tablespoon sliced pepperoncini
Instructions
In a small mixing bowl, combine the tomatoes and the next 8 ingredients. Cover and refrigerate while preparing the rest of the ingredients.

Run a knife down the side of the sausage links and remove the casings. Over medium-high heat, thoroughly cook the sausage in a skillet, ensuring that it's no longer pink. Spoon cooked sausage on to a paper towel-lined plate to drain.

In the middle of a foil lined baking sheet, line a single layer of Pasta Chips.

Drizzle half of the alfredo sauce on to the chips.

Sprinkle half of the sausage and half the mozzarella on to the chips.

Place another layer of chips on top of the sausage and mozzarella layer.

Drizzle the remaining alfredo sauce on to the chips, along with the remaining sausage and mozzarella.

Bake in the 350° oven for 10-15 minutes or until the cheese has melted and is starting to brown.

Remove from the oven and top with the tomatoes*, olives and pepperoncini.
Notes
You may not use all of the tomatoes. Just save them for some bruschetta or pasta!