This year, I decided to try my hand at homemade gingerbread cookies. I did some research to figure out what's needed to craft the much-loved classic Christmas cookie, and I think I've come up with a wonderfully simple and fun recipe to brighten up your holiday season this year!
If I'm going to make any recommendation about stress-free holiday cookie baking, it's going to be about the hardware.
Friends, do not spend your money on metal cookie cutters. Just don't do it. I know they are pretty, and classy, but when it's time to come down to business they just don't measure up.
If I can crush a cookie cutter in my hand and render it into a "blob", it has no place in my kitchen. I've had tons of metal cookie cutters over the years and time and time again I always end up disappointed. I want cookie cutter that will last and keep a firm shape, and for that reason I vote plastic cookie cutters for all your cookie creations.
I bought a big box of color-coated cookie cutters off Amazon that contains every possible cookie cutter I would ever need, and I am happy to report that the gingerbread man cutter did a superior job. No fat gingerbread men in my kitchen!
Their eyes might be a little lopsided, but I'm happy to take the blame on that one.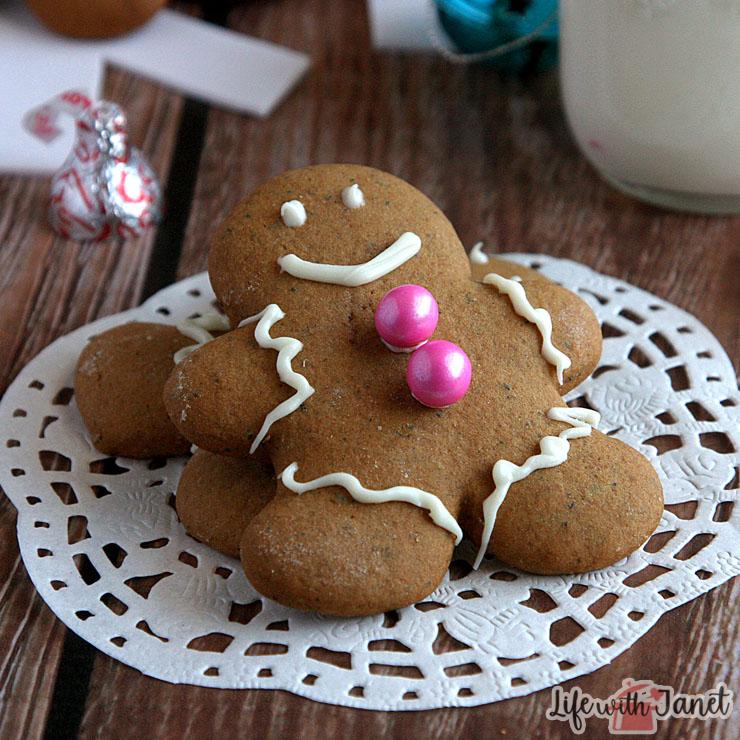 The other key to great cookies is refrigerating the dough. Though I know this might be considered obvious for rolled cookies, you'd be surprised how many people like myself might try to just roll the dough out immediately.
…I don't like being patient for my cookies. By the time I'm making them, I'm already hungry for them. But friends, patience is important. If you want, you can make a few batches of cookie dough the night before you plan on having all the fun with decorating. Just stick in a plastic bag and refrigerate until you're ready to bake. This cookie dough will actually keep in the fridge for up to 5 days!
Finally. don't be afraid to liberally flour your work surface before you roll out the dough. Seriously. There's nothing more frustrating than having to scrape a perfectly shaped gingerbread man off your counter with a spatula.
So, in summation: plastic cookie cutters, plenty of refrigeration time, and a heavily floured work surface.
Oh, and have fun!
I'll be back on Friday with a fun twist on classic sugar cookies, so be sure to check back that morning!
Happy Baking!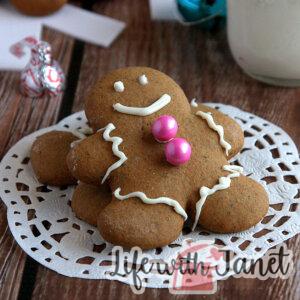 Ingredients
2 cups flour

1 tsp baking soda

2 tsp cornstarch

3/4 tsp salt

1 1/2 tsp ground ginger

1/2 tsp ground cinnamon

1/2 tsp ground nutmeg

1/2 cup butter

1/2 cup brown sugar

1/4 cup molasses

2 eggs

1 1/2 tsp vanilla
To Decorate:
1 cup white chocolate chips

assorted sprinkles and candies, if desired
Instructions
Combine first seven ingredients (through the nutmeg) in a medium bowl.

In a separate, larger bowl, beat butter with brown sugar and molasses until fluffy, at least three full minutes. Beat in eggs, one at a time, followed by the vanilla until everything is smooth.

Slowly start to beat the flour mixture into your butter mixture. Wrap dough in plastic wrap, place in a zip-tight plastic bag, and refrigerate at least one hour.

When ready to bake, preheat oven to 350 and remove dough from the fridge.

Roll dough out on a well-floured surface to 1/4 inch thickness. Cut out with cookie cutter(s), and place at least 2 inches apart on a parchment paper-lined cookie sheet.

Bake at 350 for 12-14 minutes, or until edges are firm and lightly browned (the middles might be a little soft and that is okay!). Remove from oven and let cool on the pan for a few minutes before carefully removing to a wire rack to cool completely.
To decorate:
add white chocolate chips to a sturdy zip-lock bag. Close and place in microwave. Microwave for 15 second increments, massaging the bag between sessions, until white chocolate is melted. Snip off a corner of the bag and pipe faces or desired decorations onto cooled cookies. Add additional sprinkles or candies if desired.