There's an old Southern saying that if peach cobbler is good, a single-serving peach cobbler of your very own topped with vanilla ice cream and served just as the sun is going down is much, much better.
This recipe for peach cobbler is a family favorite and, y'all, it could not be easier. In fact, I think the name written on my Nanny's index card for this recipe might just be "Easy Peach Cobbler." I have countless memories of my mom making this cobbler during the summers at the River House and it is pretty much mandatory for 4th of July.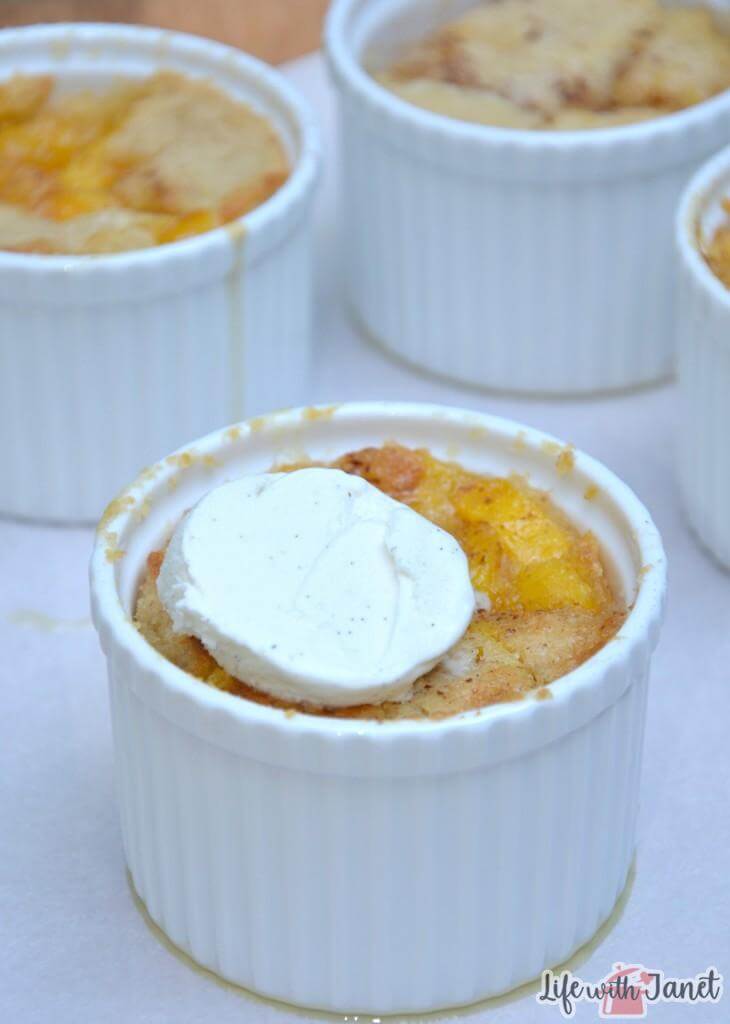 Here's what makes them easy – you actually build the cobblers backwards. There's no dough to be dealt with here. Instead, we start with a base of melted butter (as all good things begin), then pour a flour and milk mixture into the melted butter, covering the bottom of the dish. Ladles of boiling peaches and sugar are then poured into the dish and you do everything in your power to resist stirring or disturbing the peaches in any way.
As it bakes, the flour mixture puffs up around the peaches and absorbs all the peachy-sugary goodness, which means every bite has that buttery, peachy, sweet crust. Mmmmm…..
There's no chocolate in sight, and yet this is my very favorite dessert in all the land. Every bite screams summertime to me and transports me to my momma's kitchen with scores of peaches rolling around the counter, waiting to be peeled.
I love, love, love it and know your family will too.
I've included instructions below for making both the ramekin "individual" versions and the classic version baked in a 9×13 dish. You cannot go wrong either way.  You can make these with frozen peaches from the store, but get your hands on some sweet Carolina peaches from a roadside produce stand on your way to the beach and you'll be in summer heaven.
Enjoy!
Psst. I've written the recipe to make 4 ramekins, but you could easily stretch this to 6 ramekins.
Individual Peach Cobblers
The best way to welcome summer is with your own personal peach cobbler. This sweet treat is a staple at our family's summer gatherings
Print
Rate
Ingredients
½ stick butter, melted

2 cups sliced fresh peaches

1½ cup sugar, divided (plus additional for dusting)

¾ cup milk

¾ cup self-rising flour

1 tbsp vanilla
Instructions
Preheat oven to 375 and prepare 4 ramekins with cooking spray.

In a small pot, bring sliced peaches and ¾ cup sugar to boil.

Meanwhile, combine self-rising flour, milk, vanilla, and remaining ¾ cup sugar in a bowl or glass measuring cup.

Divide melted butter evenly between 4 ramekins, and top with flour mixture evenly divided between each dish.

After peaches come to a boil, gently spoon the peach and sugar mixture over the ramekins. Do not stir!

Top each dish with a sprinkle of sugar and cinnamon.

Bake at 375 for 20 minutes.

Wait patiently for the cobblers to cool – at least 10 minutes. You can serve this hot, at room temperature, or straight out of the fridge (that's how my brother prefers it).
Notes
You can also make this recipe in a 9 x 13 glass baking dish. Just double the recipe and pour all the melted butter in the bottom of the dish. Then pour in the flour mixture, top with the peach and sugar syrup, and sprinkle with cinnamon and sugar. Bake at 375 for about 30 minutes or until the dough is browned. Let cool for about 15 minutes before digging in!