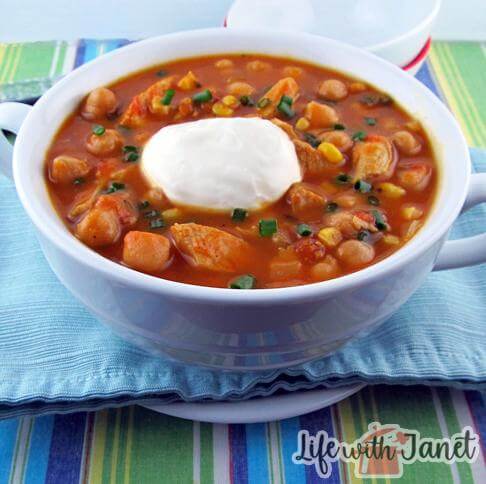 Crockpot chili for the season with pumpkin, chicken, corn and chickpeas. The pumpkin elevates an everyday, mundane chili into something exciting.
Pumpkin is a unique and unlooked for ingredient in savory cooking due to its popularity in desserts. I know it sounds a little strange for chili but it has no problem at all fitting right in as if it belonged there all along! It's mild in flavor and adds an underlying earthiness that is right at home with the smoky heat of chipotle chiles, chile powder, cumin and the nuttiness of the chickpeas.
I love this recipe because you can throw everything into your crockpot lickety-split and dinner is taken care of. You're free to go about your day knowing you have this bubbling pot of hearty chili to greet you when you get home.
The wonderfully spicy aroma will smack you in the face the moment you open the door and immediately beckon you to the table.
That's seriously the best thing ever. Ever.
Ingredients
1 tablespoon chile powder

1 teaspoon ground cumin

5 cloves garlic, minced

1 large onion, diced

2 cups chicken broth

1 can (14 ounce) pumpkin puree

1 can (14 ounce) diced tomatoes

1 heaping teaspoon dried oregano, crushed between fingertips

1/4 teaspoon black pepper

1-2 chipotle peppers in adobo sauce, seeds removed, minced, optional

1 teaspoon sea or kosher salt

1 + 1/2 pounds chicken breasts or cutlets, skin and visible fat removed

2 cans (14 ounce each) chickpeas, rinsed and drained

2 tablespoons fresh cilantro, chopped

1 cup corn kernels, if frozen, thawed

sour cream, shredded cheddar, guacamole/avocado, green onions and/or tortilla

chips, for serving
Instructions
To a 4 or 5 quart crockpot add tomatoes, chicken broth and pumpkin. Whisk until well combined; add onion, garlic, chile powder, cumin, oregano, salt, pepper and chipotles; combine well. Add chicken, chickpeas and corn. Cook 4-5 hours on high or 6-8 on low.

When ready to serve remove chicken and chop into bite-size pieces or shred with two forks. Add back to pot, stir in cilantro and serve with sour cream, shredded cheddar, green onions, guacamole and/or tortilla chips.