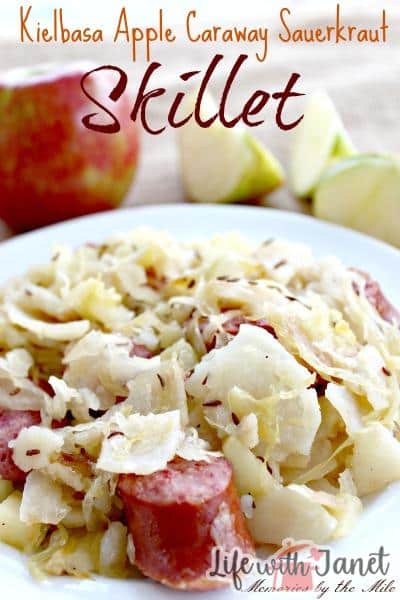 When my kids were growing up they loved this meal. These flavors just go together. Something you might not know about me is I LOVE SAUERKRAUT!!! When I was in grade school one of my best friends Dad and Mom were from Germany. Her Dad made the BEST homemade sauerkraut. Oh my gosh, I LOVED IT! When we would have a sleep over I would ask for a bowl of his sauerkraut when everyone else was having cake or ice cream. Oh yes, it was that good. It tasted nothing like our American sauerkraut. I'm not big on sausage or Kielbasa, but you add sauerkraut, apple, caraway seeds, and potatoes to it and it is delicious!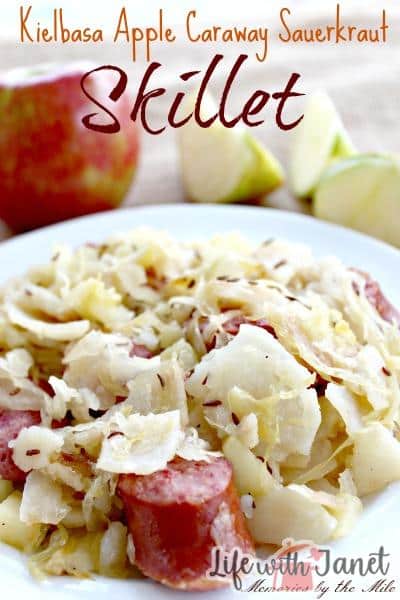 Ingredients
1 Kielbasa Ring

6 potatoes, sliced

1 medium onions, chopped

1 apple, cored, peeled and chopped into cubes

1 jar sauerkraut

1 1/2 Tbs. caraway seed
Instructions
Peel and slice potatoes, chopped onions, peel and cut apple in squares pieces (I like to use Honey Crisp, you need a crisp apple).

Cut the Kielbasa ring into about 1 inch lengths, on the diagonal and drain sauerkraut.

Add about 3 Tbs. canola oil to heated skillet and saute onion. Add potatoes, season with salt and pepper, cook till all most done, about 15 minutes. Then add the Kielbasa, apples, sauerkraut and caraway seeds. Cover and cook until Kielbasa and sauerkraut are heated through, about another 15 minutes.