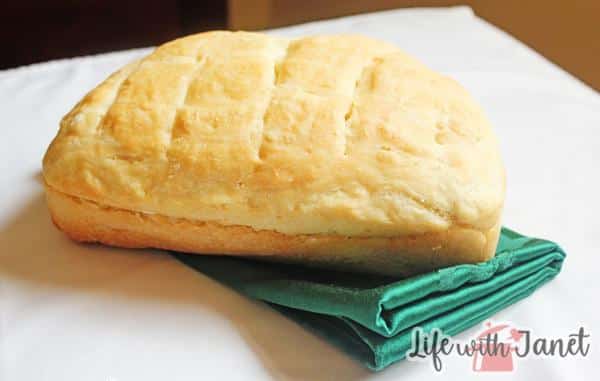 Over the years I have made this recipe for simple white bread many times and it has never let me down. Growing up in Tennessee with an Amish village not far away I was always intrigued by their recipes. My family would often visit and purchase fresh bread, jams and other tasty treats. The trick to good soft bread is placing a pan of water in the oven for extra moisture. Any type of oil or butter would work with this but I personally like sunflower because the taste is more neutral. Also make sure you allow your yeast to froth, this is a must when making all bread and as always find the warmest place you can in your home so the bread can rise. And of course the added pan of water always makes baked goods more moist.
By the way I enjoy eating like the French do for breakfast with a slice of this bread smothered in jam and a cup of black coffee on the side.
Ingredients
1

cup

warm water

1/3

cup

sugar

2-1/4

teaspoons

dry yeast

3/4

teaspoon

salt

2 tablespoons sunflower oil

3

cups

all purpose flour
Instructions
In a small cup add 4 tablespoons of warm water, yeast and 2 teaspoons of sugar. Allow to sit 5 minutes until top is frothy.

In a large mixing bowl add flour, salt, oil and remaining sugar. Mix well until dough forms. If dough is to sticky gradually add more flour. If it is to dry gradually add more water. Knead for 5 minutes. Place dough into bowl making sure to cover top of dough with a little oil. Place a towel over bowl and sit in a warm place until doubled about 1 hour.

When dough has doubled carefully punch down with fist, allow to rest for 5 minutes. Place dough into a greased or non-stick loaf pan. Carefully cute 4 slits across top with a sharp knife.

In a 9 inch round baking pan or other small pan fill with water and sit on the lowest oven rack. Place bread on middle oven rack and allow to bake until golden, 30 minutes.