You can have cheesecake first thing in the morning and not feel guilty about it. Creamy, luscious goodness that is also protein and calcium packed, low in sugar and unhealthy fats, I want to cry with joy.
You guys, Saturday was a rough day. I had to wake up super soon in order to go to math class – and that taking into account I had spent most of the previous night revising for my biochem exam… and um, yes, watching the new TWD chapter ((it's so good, can't wait for the next one!!)). So yeah, I was pretty tired, which obviously called for one cheesecake bar for breakfast… How else would I have got through my terrible day?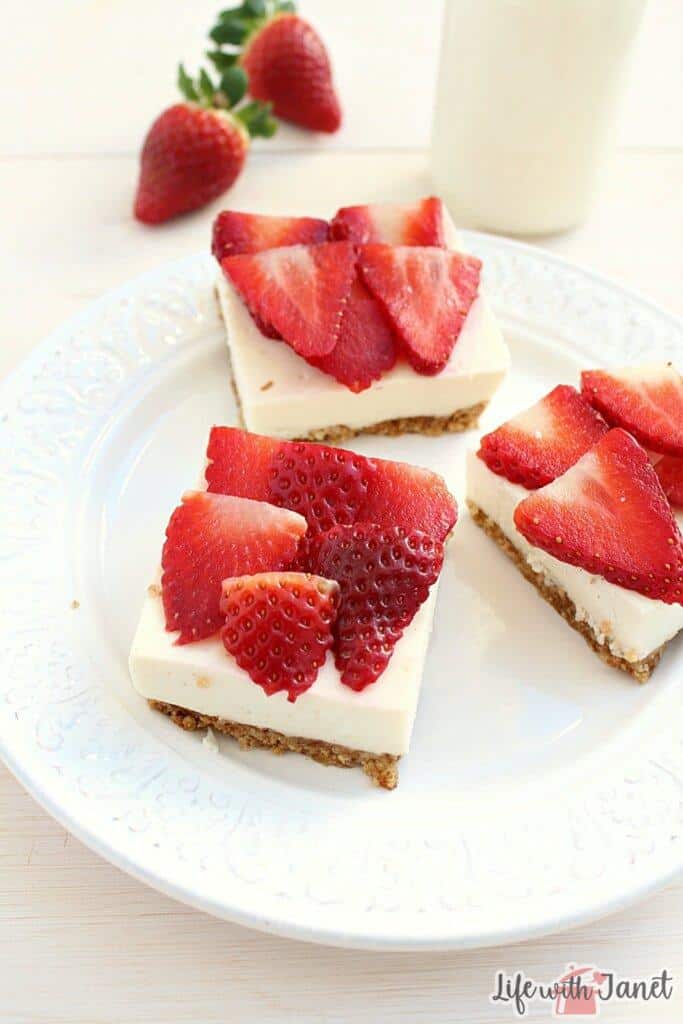 Um, hey, did I say "one cheesecake bar"? I meant three.
Or four, mind you.
They're so good.
Confession time: I'm not usually a crust lover, like – why would you want to spend extra calories in the crust when you can have another serving of creamy goodness? I'll never get it. But, BUT: this one is really delish. Amazing, I'd say. Nutty, sweet, and with a caramel-que kick from those dates… It's not like you can skip it.
And the cheesecake itself is super creamy and luscious. You'd never tell it is virtually fat-free and made with cottage cheese. It tastes like pure dairy goodness! I added some vanilla + honey + cinnamon to make the stuff even better. Oh, man – what a lovely flavor combo!
At last, you can top your bars with whatever floats your boat. These babies are a nice white canvas for any creation you have in mind. I decided to go with some fresh fruits in order to add extra vitamins and boost the fiber content, but I reckon that jam, this healthy chocolate fudge sauce, skinny Nutella, caramel sauce, or chocolate syrup would be gorgeous here as well.
Just make sure that the fruit you're using is ripe enough, as the bars are not overly sweet on their own. This is breakfast, after all!
Although they'd probably make such great post-workout treats or dinner. Not that that thought has crossed my mind or something.
Ingredients
For the crust
12

medjool dates

100

grams

brown rice cereal flakes

1 + 1/2 cup

25

grams

toasted hazelnuts

1/8 cup

25

grams

coconut oil

2 tablespoons
For the cheesecake
750

grams

low sodium fat free cottage cheese

1

tsp.

vanilla extract

60

grams

raw honey

3 tablespoons

a pinch of cinnamon

10

gelatin sheets + 3 tablespoons boiling water
Topping
100

grams

fresh strawberries
Instructions
Start by making the crust
Soak pitted dates in water for 10 minutes.

Add them to a food processor without the soaking water and pulse until broken.

Add in cereal flakes and hazelnuts and pulse until a ball of dough is formed.

Stir in melted coconut oil and pulse until incorporated to the ball.

Line a baking pan with parchment paper and press crust until it covers the bottom of the pan. Set aside.
For the cheesecake
Soak gelatine sheets in cold water for 10 minutes. You can make this while you're preparing the crust if you want.

Add cottage cheese to a food processor and puree until smooth and creamy.

Stir in honey, cinnamon and vanilla and pulse until combined.

Make sure that this mixture is not cold. If it is, nuke it for 30 seconds or so, but not longer or it might curdle!

Squeeze excess water from the gelatine sheets and disolve them in 3 tablespoons water. Whisk until this water + gelatine mixture is lump free. If you still have lumps, nuke it for 30 seconds until they are 100% dissolved.

Stir in water mixture into the cheese one and whisk until fully combined. Make sure you mix really really well!

Pour mixture on your prepared pan and leave in the fridge to set for at least 6 hours or better yet, overnight.
Notes
My bars set in 3 hours… but if I were you I would let them chill for longer, just in case!
These keep`well for days in the fridge, and can be frozen as well.
You can get unsweetened cereal flakes in most health-food stores. If you use sweetened, that's fine as well. For gluten-free bars, use a gluten-free brand.
Cornflakes would work too.
Butter or Earth Balance work well in place of coconut oil if you don't have it.