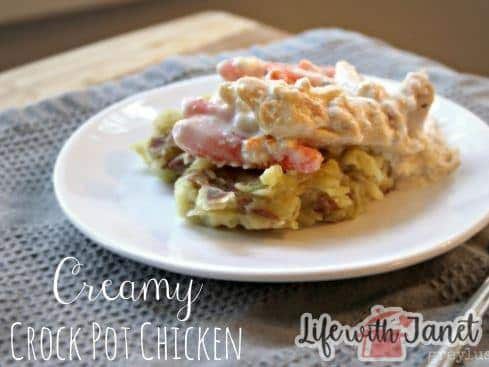 I had every intention of busting out my next refashion for my Wardrobe Revamp and Refashion this past weekend.  Unfortunately I didn't count on a being held hostage in my bed by fever, chills, body aches and a cough.  Boo.  At first I thought it was the flu, classic flu like symptoms.   Then my second child in the course of 2 weeks got diagnosed with pneumonia.  So the jury is still out. Instead of getting a cute refashion you get an easy and tasty recipe straight from my Mom's kitchen.  This screams comfort food which is so what I am wanting right now.  This creamy crock pot chicken recipe started out as a way to try and duplicate the French Chicken from Molly's, a little homestyle restaurant in Provo, Utah.   It doesn't taste exactly like Molly's French Chicken does but it is surprisingly similar and incredibly simple.
You start by dredging chicken breasts in flour and then seasoning them with salt and pepper.  Heat up a skillet with extra virgin olive oil and brown the chicken on both sides.  Place your chicken breasts in the crock pot but leave the juices and browned bits in the pan.
Deglaze your pan with a can of chicken stock.  Add the cream cheese and heat until combined.
Pour the mixture on top of the chicken inside the crock pot.  Cook on low for 3-4 hours.  Add parboiled carrots the last hour.  You could also add onions if you want but I am not a fan of onions so I didn't do that.
I like to serve mine over homemade mashed potatoes.  The extra sauce left over is like a creamy gravy for the potatoes.   Now that is comfort food with minimal effort.
Ingredients
2

Chicken Breasts

1

Can Chicken Stock

8

oz

Cream Cheese

Salt and Pepper

Flour

1/2

lb-3/4 lb Mini Carrots
Instructions
Heat a pan with extra virgin olive oil. While the pan is heating, dredge the chicken breasts in flour to coat them on both sides. Season coated chicken breasts with salt and pepper. Brown the chicken in the pan. Once browned, remove the chicken and transfer it to the crock pot. Leave the juices and browned bits in the pan. Deglaze the pan with the chicken stock. Add the cream cheese and mix until combined. Pour mixture on top of chicken in the crock pot. Cook on low 3-4 hours. Add parboiled carrots the last hour. Serve over top homemade mashed potatoes if desired.