These delicious Poor Man's Jalapeno poppers will be a huge hit! Incredibly simple to make, and they go a long way! We made these after the first time we made our French Toast Roll Ups and took them to a party very shortly after, all of the ones we made were gone within ten minutes of being at the party, everyone loved them! We made two different kinds, we made some with bacon and some with extra jalapenos. Just looking at this picture makes me want to make more right now!
The hubby loved these, I mean he loves everything involving bacon, but spicy things with bacon, even better right?! I want to make these with like a million different fillings, maybe make a whole week long thing out of it! Yum yum yum!
Let us know what you think of our Poor Man's Jalapeno poppers and comment below with any questions/suggestions! Be sure and sign up for our Newsletter where we will be posting and sending out recipes we are going to make and giving you the opportunity to give us suggestions for what we should make next! Enjoy!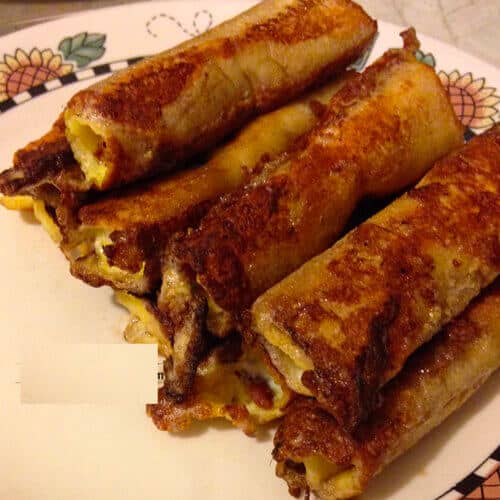 Ingredients
16

slice

white bread remove all crusts

8

oz

soft jalapeno cream cheese

1/2

lb

bacon cooked and chopped

1/4

cup

Cheddar cheese

2

tbsp

Eggs beaten and combined with 1milk
Instructions
Use a rolling pin to flatten each slice of bread.

In a bowl mix your softened cream cheese with the bacon and cheddar cheese

Spread 1-2 tablespoons of cream cheese mix on each slice of bread.

Roll it up…jelly roll style.

Dip the roll into the egg/milk mixture

Cook however you cook french toast, in a pan or on a griddle