Happy November! (And Happy Halloween yesterday!)
In honor of all the kids who trick-or-treated last night, and even the dedicated parents I saw who dressed up, too, I decided to post a treat – Maple Pecan Pumpkin Biscotti, aka autumn sweetness in your mouth! These are perfect for dessert with ice cream, are excellent at breakfast with coffee, and would do really well at tea time, too!
If only we all had tea time, still. I mean, doesn't work need to end a little earlier so everyone can have some tea? Or perhaps all offices could just be equipped with a tea room for people to go for an hour every afternoon to sip tea, eat these biscotti, and de-stress. That would be awesome. Preferably, all of the tea rooms would look like something straight out of Downton Abbey, but I suppose we'll take what we can get. I digress…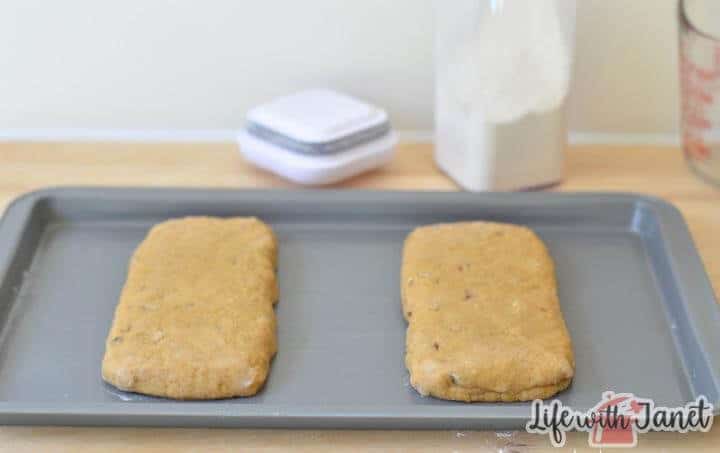 John and I had a big night last night staying in, passing out candy to trick-or-treaters, and watching Hocus Pocus – the best Halloween movie of all time! What can we say?! We're major partiers!  
Interesting anecdote related to Hocus Pocus – You know how the story revolves around a teenager whose family has uprooted him from his home in California and moved him all the way to Salem? Yeah, well, ever notice on a map how just south of Portland, Oregon, there's a town called Salem? Well, when I was a kid, I somehow got my wires crossed and thought the Salem Witch Trials happened in Salem…Salem, Oregon. In fact, I thought that for YEARS! Nevermind that paying attention in history class could have taught me that the Salem Witch Trials occured before Oregon was even settled. I always wondered why the kids gave poor Max such a hard time about being from California, and why he was so upset about his relocation when he really hadn't moved that far away?!
In other news, I'm a goof! A goof who didn't pay very careful attention to colonial American history! 
 Oh well! Maybe one day, if you're really lucky, I'll tell you about my 14 year belief in the two Elvises, but that's a story for another time! For now, let us eat biscotti and be merry!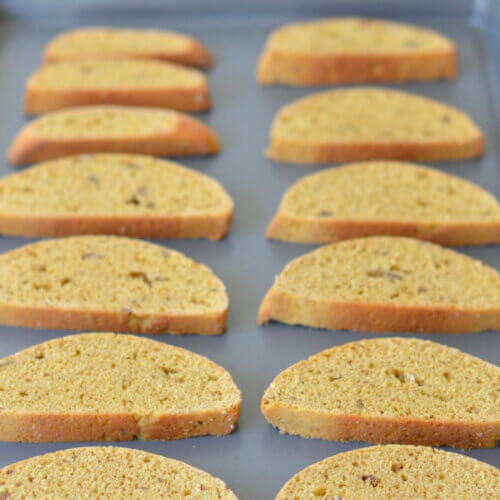 Ingredients
2 3/4

cups

all-purpose flour

2

teaspoons

baking powder

1

teaspoon

cinnamon

1/4

teaspoon

ginger

1/4

teaspoon

cloves

1/4

teaspoon

nutmeg

1/4

teaspoon

salt

1/2

cup

maple syrup

1/2

cup

pureed pumpkin

2

eggs

1

teaspoon

vanilla

1/2

cup

granulated sugar

1/4

cup

pecans

finely chopped
Instructions
Preheat the oven to 350ºF.

In a medium bowl, add the first seven ingredients (through salt) and stir to combine.

In a separate, large bowl, whisk together the remaining ingredients.

Use a wooden spoon to slowly mix the dry ingredients into the wet ingredients. When complete, you will have thick dough.

Turn dough out onto a lightly floured surface and, with floured hands, knead the dough about 5 times. When dough is smooth, divide it in half and form two 8 inch rolls, on a lightly greased cookie sheet. (I used coconut oil to grease mine as it is very heat stable and will not burn like many oils would.) Flatten each roll into 1 inch thickness.

Bake biscotti rolls for about 30 minutes, then remove from oven and allow rolls to cool on a wire rack for about 10 minutes. Slice each roll into about fifteen 1/2 inch slices and place slices back on cookie sheet, cut side up.

Bake biscotti again for 8-10 minutes on each side. They are done when they are golden brown. Remove from oven and cool on a wire rack. Biscotti will harden more as they cool.
Notes
Weight Watchers Points+: 2 • Serving Size: 1 biscotti