Are you ready this weekend for a velvety smooth, creamy, decadent, easy to make, and naturally sweetened, healthy milkshake this weekend?
Then this my friend, is it!
Yes, if you are anticipating your Saturday (or Sunday) as much as I am, your weekend is just about to get better with this extremely delicious Vanilla Almond Coconut Milkshake I have made for you.
You know me, I am not afraid to compare against my other recipes, and be honest. While I very much love my Dharma's Vegan Chocolate Milkshake and my old school Strawberry/Carob Milkshake because they are yummy too, the WOW factor of this milkshake is that it is not only healthier than the others, but it is totally and completely refined sugar free, does not contain any milk alternatives with carrageenan (for those of you steering clear), and it is (you know the drill by now): paleo friendly, gluten free, dairy free, soy free, ahhh! Let me sum it up this way – This milkshake outshines any of my previous thoughts on shakes because it is perfecto!
So here is how it happened…
I wanted a milkshake this morning.
My husband and I were driving to a school to go share an early talk with children, and all I knew was that my tastebuds were definitely directed – I couldn't wait to get home.
I hadn't had breakfast yet, and I was in the car with a banana in hand along with my morning lemon water, and I thought partially out loud, "Okay Bella, I want you want a milkshake. Something you could only get at a restaurant. But hmm there are no health conscious restaurants around – boy I miss that about Cali!"
My husband (dipping into my thoughts) jokingly proposed I go to McDonalds. Um. No thanks.
Dismissing his sarcasm – no offense McDonalds – I started thinking and thinking. I wasn't craving anything chocolatey, but I was thinking peanut buttery, or better yet, almond buttery.
No kidding, no sooner than we spoke with the kids at the school and returned home, we huddled around the blender and this went down!
This vanilla almond coconut milkshake has got to be the creamiest, velvetiest (yes that's a word), richest coconut smoothie ever. It is very nice with not too much almond butter, and the perfect touch of vanilla to make the coconut really pop.
I really like the coconut milk I use too! It's only coconut and water – no additional ingredients, and it is mostly full fat coconut, so the taste is authentically there!
Really, if you are looking for a great way to start your weekend, go get a jar and wait no longer!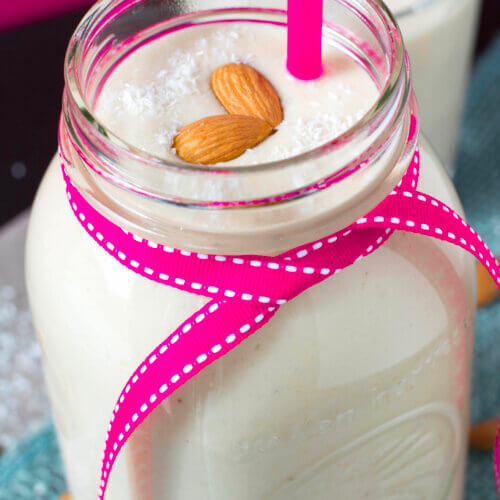 Ingredients
1-1/2

cups

coconut milk

3-1/2

tbsp

almond butter

2

medium/large ripe bananas

8-10

soft pitted dates

1-1/2

tsp

pure alcohol-free vanilla extract

3

cups

ice cubes
Instructions
Place all ingredients into a high-speed blender in order.

Blend until smooth and creamy.

Garnish with almonds and coconut flakes
Notes
This recipe makes about 4-1/2 cups of milkshake – yes, pretty large amount! You can add it to two big jars to serve two, or to 4 cups to serve 4. Either way, it is super filling and you can drink it throughout the day if you would like!