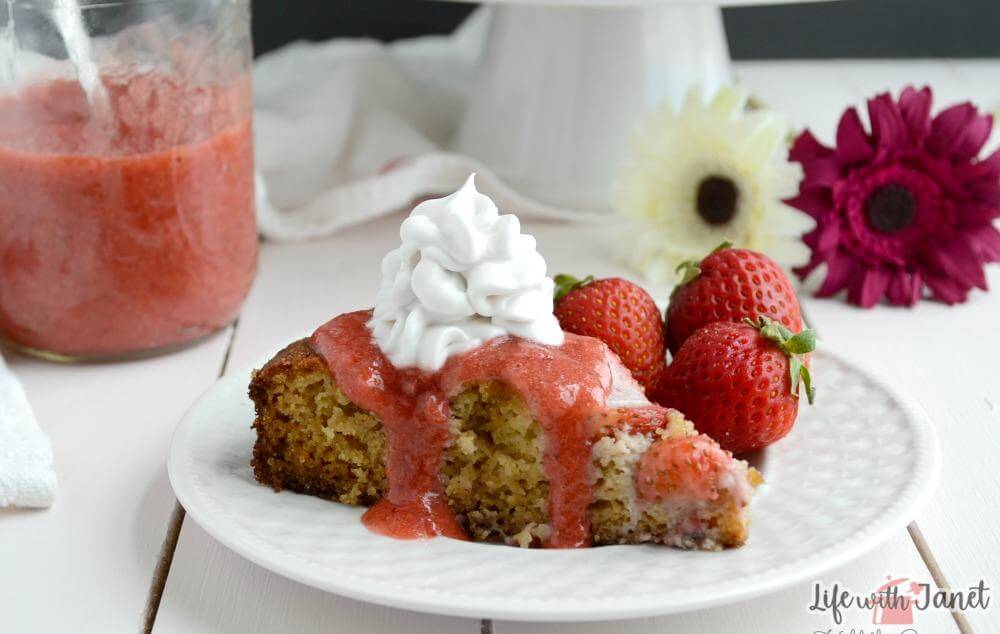 Warning: this post contains quite a few pictures. I couldn't help but overload you with pictures of moist and fluffy strawberry-filled cake, dripping with a simple strawberry syrup and finished with a piped dollop of coconut whipped cream. If you haven't decided to make this already, you will by the end of the post. I promise.
I'll even entertain you with a little story in between.
The past two weeks I've seen 3 movies at the theater, The Fault in Our Stars , The Edge of Tomorrow and Maleficent. If you can't tell, we are BIG movie people. Granted, we had a few movie gift cards we needed to use. But mostly we just really like going to the movie theater. And renting movies at home. Oh and Netflix! I love Netflix. Anyways, all 3 movies were even better than I expected them to be. I love it when that happens. I was nervous about The Fault in Our Stars, because I read the book and didn't want them to ruin everything. (Twilight anyone?) They followed the book perfectly. If you read the book, or even if you didn't, I really recommend seeing the movie. The story is just so sweet and sad, but still happy because it's so sweet. And be prepared to cry. Bring tissues.
The other two movies were entertaining too, but go see The Fault in Our Stars if you want to go to the theater. It's worth seeing.
Enough about movies.
My version of a fresh strawberry cake, strawberries baked within a vanilla spongecake and topped with strawberry syrup and coconut whipped cream, presents beautifully, yet is surprisingly easy to make. I would technically categorize strawberry cake as dessert, but with limited sweeteners and fresh ingredients, I find it also suitable for a coffee cake replacement. Syrup means breakfast, right? This recipe would be perfect for a fresh treat on a warm, sunny summer morning, or as a light evening dessert.
Strawberry Cake
My version of a fresh strawberry cake, strawberries baked within a vanilla spongecake and topped with strawberry syrup and coconut whipped cream.
Print
Pin
Rate
Ingredients
Cake:
Strawberry Syrup:
2

Cups

diced strawberries

½

Tablespoon

maple syrup
Whipped Cream:
1

14 ounce Can coconut cream (or full-fat coconut milk)*

½-1

Tablespoon

pure maple syrup

to taste
Instructions
Preheat oven to 350 degrees.

In a small mixing bowl combine the flour, baking soda and salt.

In a stand mixer, combine the honey and oil. Whip together until well incorporated, then add in one egg at a time. Mix in the vanilla and milk. Slowly pour the dry ingredients into the wet and mix.

Pour batter into a well greased and lined (with parchment paper) round baking pan, and top with the sliced strawberries. Bake until an inserted toothpick comes out clean, about 30-35 minutes.

While the cake bakes, make the syrup and whipped cream.

Combine the diced strawberries and maple syrup in a small saucepan and heat over low heat until the juices release, about 10 minutes. Puree in a blender until smooth.

In a mixing bowl combine the coconut cream and maple syrup. Beat until well combined, and chill in the fridge at least 30 minutes to thicken.

Top the strawberry cake with syrup and a dollop of whipped cream, and enjoy.
Notes
Place your can of coconut milk in the fridge overnight and the thick cream will naturally separate. Be careful not to shake because you need to scoop the cream out without the excess liquid.