In a perfect world, Mondays would include obscene amounts of cheesecake first thing in the morning.
Better yet – in a perfect world, Mondays wouldn't exist. Especially Mondays before a biochem exam, which are obviously the worst kind of Mondays ever. I mean, those call for cheesecake, cookies, cooffee, naps and ice-cream – am I right or am I right?
But what do I get? A HIIT workout. And cold oatmeal. Followed by 8 hours of class with no time for siesta.
((If this post was a book with pictures here there would be one of me crying because Mondays are stupid))
And what could make Mondays better, you ask? Obviously, those national holidays where Monday is part of the weekend too, duh.
And then cheesecake. For breakfast. Without the guilt.
Can I have a colective "AAAWHHH YEEEEEEEAHHHHHH"?
AW
YEAH
Do you guys remember my recipe for Clean Eating Cheesecake Bars? Those were an absolute hit and you guys seem to like that recipe so much, so I thought I would make them again just for you.
"Just for you" means actually "just for me", but let's keep thinking I'm all that nice of a person ha.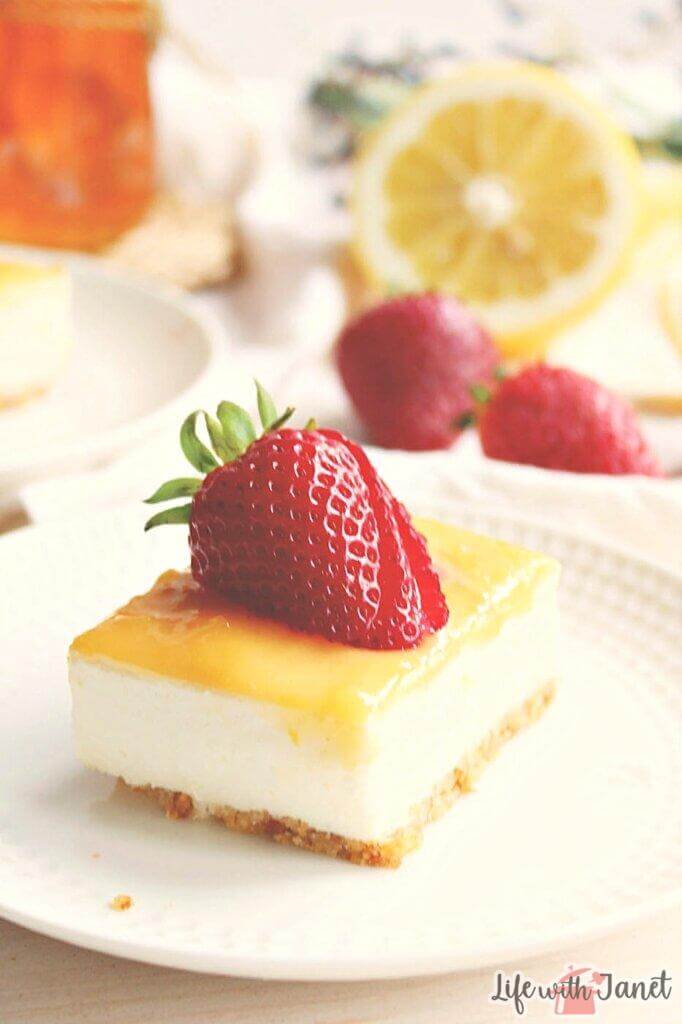 You know that I love love love those cheesecake bars, but let me tell you that this version is 19784234 times better, as it involves lemons. Don't you adore all lemony things? I know I do.  From now on this is going to be a lemon appreciation blog, because it is spring, and spring calls for lemons AND I do adore lemons so it makes all perfect sense.
Yessss. Do you know how many kilos of lemons I bought this past week? A lot. I don't even know myself, but it is probably a three digit number.
I don't have a problem with them, why would you think so??
Anyway, apart from my obsession with lemons, there are lots of things I need to tell you:
a) MAKE THESE BARS. 
Lemony, sweet and tart and flavored with the goodness of honey – you want them and you know it.
Super creamy and mousse-like – seriously, some people cannot believe there's no cream in these.
And they're healthy too! 100% clean eating approved, free of refined sugars and pretty high in protein and calcium. Like, if these babies don't make your Mondays better, I don't know what will.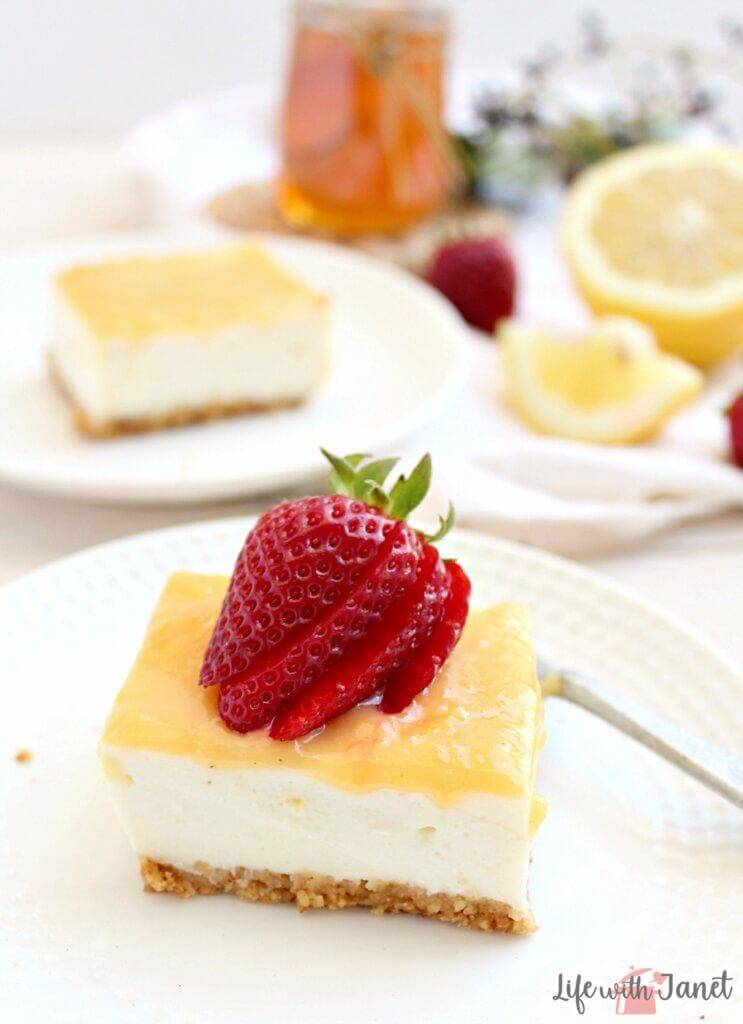 Despite the fact that these are super duper healthy, they taste nothing like it. I had my sugar-loving friends to taste them and they really liked these bars, which means that you and all your friends will love them too. Mhm oh unless they dislike lemons, that is. Because these babies are only for die-hard lemon fans.
Are you a true lemon lover? If you are, I just hope that you don't live near me, since I've pretty much made our local store run out of lemons…………. Stay tuned for more lemony goodness!
Lemon Curd Cheesecake Bars
Lemony, tart, sweet, creamy and 100% amazing: you won't believe these are clean eating approved!
Print
Pin
Rate
Ingredients
For the crust
12

medjool dates

100

grams

brown rice cereal flakes

1 + 1/2 cup

25

grams

toasted almonds

1/8 cup

25

grams

coconut oil

2 tablespoons
For the filling
750

grams

low fat cottage cheese

250

grams

2% greek yogurt

150

grams

raw honey

7 tbsp.

juice and zest from two small lemons

10

gelatine sheets
For the lemon curd
2

large egg yolks

juice and zest from 2 lemons

120

grams

raw honey

6 tbsp.

1/2

tbsp.

arrowroot powder

2

tbsp.

butter
Instructions
Start by making the curd
Warm lemon juice and honey until disolved.

Whisk egg yolks in a bowl.

Slowly pour lemon juice mixture on the egg yolks. Don't stop whisking the yolks while you pour the liquid.

Bring mixture back to heat and stir in arrowroot powder. Whisk until dissolved.

Bring mixture to a boil until it thickens. Remove from heat and add butter cut into small pieces. Whisk to disolve.

Let curd cool. It will thicken even more.
For the crust
Soak dates in water for 5-10 minutes.

Add dates (without the water) to a food processor and pulse until blended. Stir in almonds and pulse until broken down. Stir in cereal flakes and pulse until mixed. Stir in melted coconut oil and pulse once more.

Press crust into a 9×13 pan lined with parchment paper. Set aside.
For the bars
Soak gelatine sheets in cold water for 5-10 minutes.

Blend cottage cheese until smooth.

Stir in greek yogurt, lemon juice and zest and honey and whisk until combined. DO NOT USE A BLENDER OR FOOD PROCESSOR FOR THIS.

Dissolve gelatin in 2 tbsp. boiling water and add it to the cottage cheese mixture. MAKE SURE YOU COMBINE BOTH REALLY WELL TO AVOID LUMPS.

Pour mixture into prepared pan and let it chill for at least 5-6 hours (overnight is best!)

Once it has set, top with lemon curd and extra fruit if desired.
Notes
Arrowroot powder acts like cornstarch. You can use that if you want.