These salted chocolate hazelnut toffee bits? Yes yes and yes! They will totally make your day/week/month/year EPIC. I mean, a sweet and creamy date-hazelnut filling covered in a crunchy salted chocolate ganache? How could that not be the bestest thing ever?
I'd been wanting to make something like these ever since I saw these absolute gorgeous Salty Chocolate Date Caramels from Heartbeet Kitchen. I mean, how could I not go crazy over vegan candy right?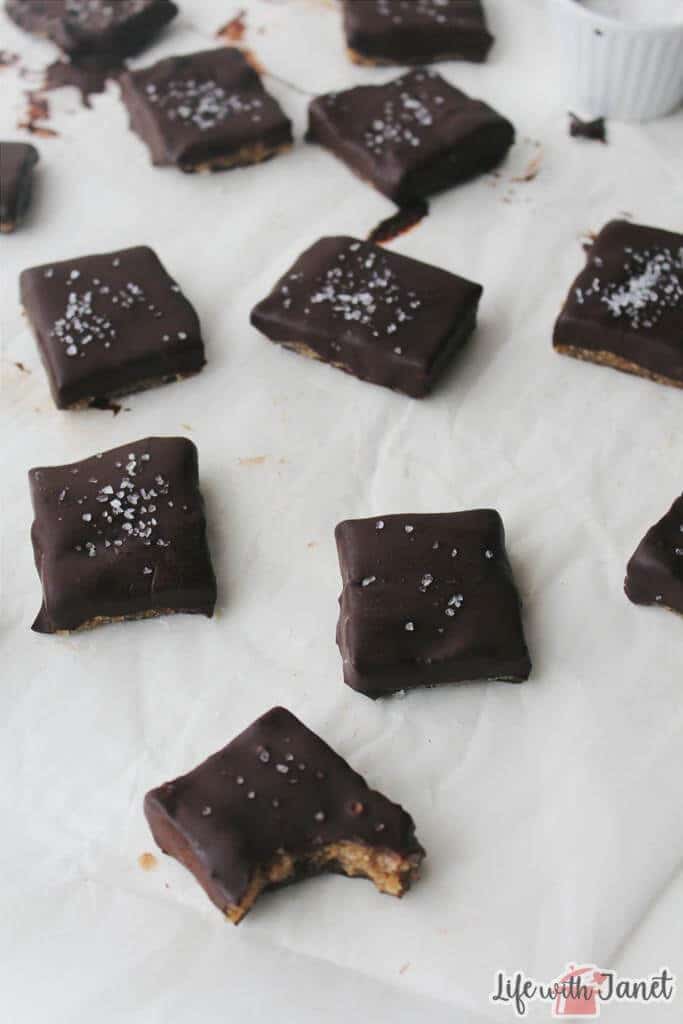 I decided to go for a hazelnutty version since you guys know how much I love these lil' nuts aaaaand use the ingreedients I had on hand. And boy, did these turn out more than alright!
Sweet and creamy on the inside, salty and crunchy on the outside. And completely healthy too! Yay for nutritious ingredients and the fact that I can totally eat a dozen of them. Although, to be completely honest with you guys… I can pretty much eat dozens of ANYTHING as long as it comes from a plant.
Have you seen that Mean Girls scene where Cady goes all like "the limit doesn't exist"? Oh well, it's my friggin' hunger drive she's talking about.
I would be lying if I said I haven't just devoured a bowl of mexican food which took up half of our dining table for dinner. How do these girls who think that you can make a meal out of a potato alone exist??? (I'll take like 7 and I'll probably add some for food on top too YES). These people who brag about how little they can eat? Ha ha ha eat your lettuce and be sad and then… HAND ME THE LETTUCE (because lettuce is glorious really) AND A BAG OF POTATOES and keep being sad.
EAT THEM TOFFEES BY THE DOZEN pls.
But please remember to keep some for myself because dang, I love them toffees.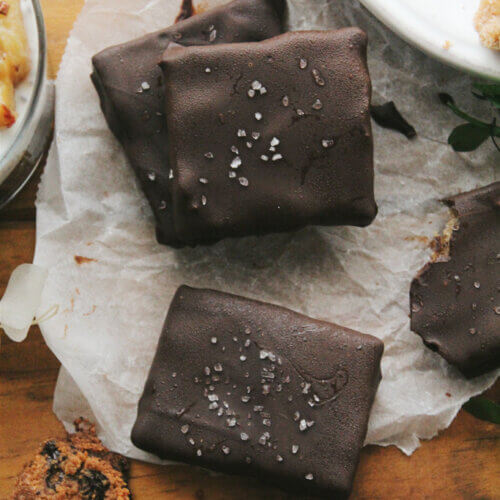 Salted Chocolate Hazelnut Toffee Bits
Creamy in the inside, crunchy on the outside: these salted chocolate hazelnut toffees are not only healthy but delicious as well!
Print
Pin
Rate
Ingredients
For the filling
30

dates

300 grams pitted

130

grams

roasted hazelnuts

50

grams

coconut milk

40

grams

coconut oil
For the ganache
150

grams

dark chocolate

20

grams

coconut oil

a pinch of sea salt
Instructions
Make sure that the dates you're using are soft enough. If they aren't soak them in water for at least 20 minutes before using.

Melt coconut oil.

Add all the ingredients to a food processor and pulse until smooth.

Line a pan with parchment paper and press the dough into it.

Refrigerate for 5-6 hours minimum (overnight is best)

Cut into square pieces.

Now, melt the chocolate and coconut oil.

Dip each square into the chocolate.

Chill in the freezer for 2 hours.

Top with sea salt and enjoy!