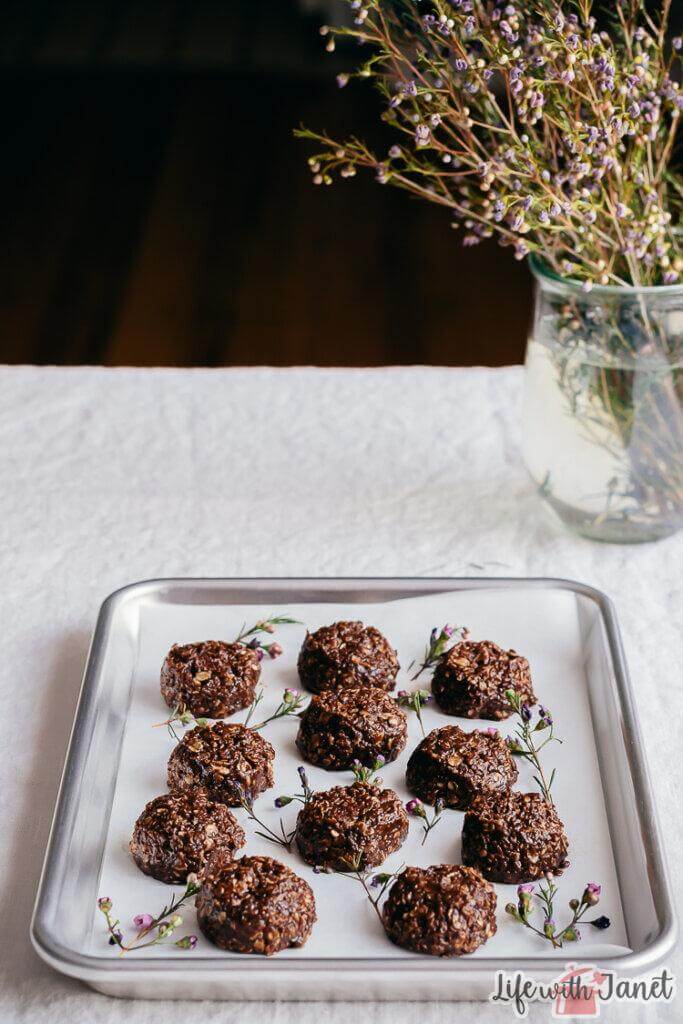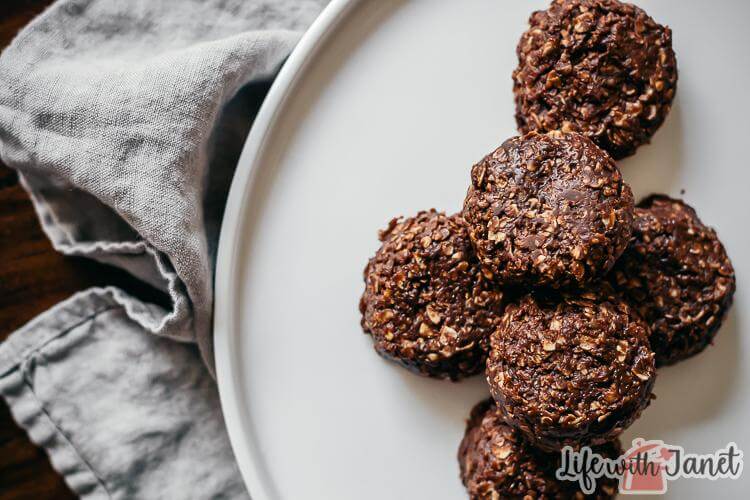 This has been the longest week. I have had to stare at images of this recipe without constantly gorging myself for days. I cannot express how relieved I am to finally have this recipe posted for you so I can catch a break and go stare at some asparagus or something. These. Are. My. Weakness. Me and chocolate peanut butter no bake cookies go way back. To late nights in high school where I would make easily triple this amount (laden with butter and refined sugar back then) and split the entire batch with my brother. If we got too sick to finish one or two, they would end up being my "pre-breakfast snack" the next morning. You know, the snack you eat while staring at the pantry and fridge trying to figure out what to have breakfast. Then in college they turned into the treat I would most often whip up for Harry Potter or Jurassic Park movie nights with my roommate, and great friend, Kat. Who I also got hooked and now begs me for these cookies every chance she gets. (If they would ship to Austin without turning into a gooey mess you'd have a batch right now Kat, I promise!). Then after moving back home they turned into the treat whipped up for Gilmore Girls nights with my mom and Scott. That is how he officially got initiated into my family and life. Gilmore Girls + no bake cookies + me + my mom + the comfiest couch ever. Now that we are married we have continued with a new tradition of no bake cookies and action movie nights (most often one of the Bourne's). However, post-consumption sugar headaches have always ensued after enjoying these treats. That is until…
Until last week, all of these nights included a version of these made with butter and processed sugar (sure, vegan butter and sugar after going vegan, but still, crap). I had tried versions with coconut oil and maple syrup, but they never had that sweet treat sensation I craved. They always tasted sub-par and healthy. That is, until I got my measurements right for the coconut oil, and discovered coconut sugar. Still sugar. But it has a lower glycemic index and is more rich in vitamins and nutrients (granted I boil most of those away in this recipe, but still – its better, less processed, etc.). I finally discovered my butter and processed sugar free version of these tasty morsels and I am ECSTATIC. I've now got a better grasp on portion control since my high school days, and can eat these without getting the jitters and sugar headaches of the past. Whole foods, real food, good food (in moderation). If you have ten minutes and a pulse, you need to whip these up STAT.
Ps. While your cookies are setting in the freezer I have some pretty rad links for you to peruse below. Everything from urban gardening, to geeky puzzles, and ways to beat the winter blues and embrace daylight savings with happy vibes!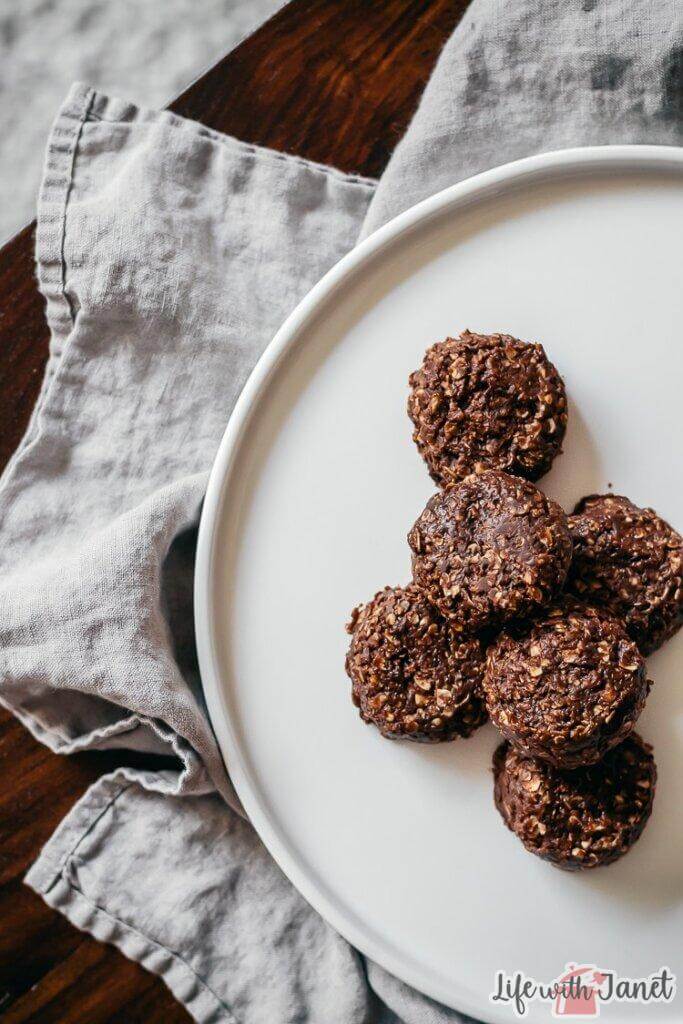 Tid-bits: It is very important that you use quick cooking oats in order for this recipe to turn out the way it is intended, otherwise the texture will be very off. I use a salted creamy peanut butter, if your peanut butter is not salted I recommend adding a generous pinch of salt in the final mixing stage.
Chocolate peanut butter no bake cookies
Makes 12 cookies. Or lets be honest, 10, because you know a spoonful or two of that warm cookie batter is going in your mouth before they ever reach the freezer!
Print
Pin
Rate
Ingredients
3

tablespoons

coconut oil

2

tablespoons

almond milk

1/2

cup

coconut sugar

3

tablespoons

cocoa powder

1 1/4

cup

quick cooking oats

1/3

cup

creamy peanut butter

1/2

teaspoon

vanilla
Instructions
Measure out the quick cooking oats and creamy peanut butter in a medium sized mixing bowl and set aside. Combine the coconut oil, almond milk, coconut sugar, and cocoa powder in a small saucepan on the stove. Heat on medium heat and bring to a boil while whisking the entire time. Once boiling, whisk about 5 times vigorously, then remove the pot from the heat and immediately pour over the oats and peanut butter in the mixing bowl. Add the vanilla and stir until thoroughly mixed. Scoop spoonfuls of the cookie batter onto a parchment lined cookie sheet (or a few plates) and place in the freezer to set (should only take an hour or two, but Scott and I like ours extra chilled and usually give them around three). Store leftovers (I know, I'm funny, like there will be any?) in an airtight container in the freezer.