Today I made this fun looking Banana Split Cake to share with you guys. I love banana bread! Recently I made this Banana Split Brioche French Toast Stack so it just seemed natural to me to make a bread out of it, too.
One thing I love about cooking, baking, generally developing recipes is that you can alter or customize the foods so that they fit the way you and your family like to eat.
One thing I try and always remind my readers, if you see one of my recipes and like most of it but not all, change it! If I'm using walnuts and you don't like them, use pecans or almonds or just leave them out. If you're trying to eat healthy and something has sour cream, use Greek yogurt. I know it sounds simple and almost elementary for me to be telling you this, maybe it's just me but it took me a long time to not feel as though I had to follow a recipe exactly or not make it at all and that's so not true. As long as you don't drastically change the basic elements of a recipe that make it work (like amount of flour or baking powder, salt, liquid) then it should turn out fine. More than fine really because it will be tailored exactly to your taste!
This Banana Split Cake is a perfect example. I used lots of fun ingredients but you may not like them all. Guess what? Change 'em, add what you want or leave out what you don't. Jus make it yours! That's what I did.
In this recipe I used bananas, of course, pineapple, blueberries, coconut, pecans and topped it with maraschino cherries (I didn't add them to the batter because we don't like them much and wanted to use them as garnish only but you could) cream cheese icing and this amazing salted caramel. You could add strawberries or chocolate chips. You could also top it with chocolate sauce. You see where I'm going with all this, right? Good.
This really is a fairly simple recipe. You don't even need a mixer and the presentation can really be stunning. I love a dish that's simple but looks like you slaved away and I'm not sure I've ever met anyone who doesn't love banana bread.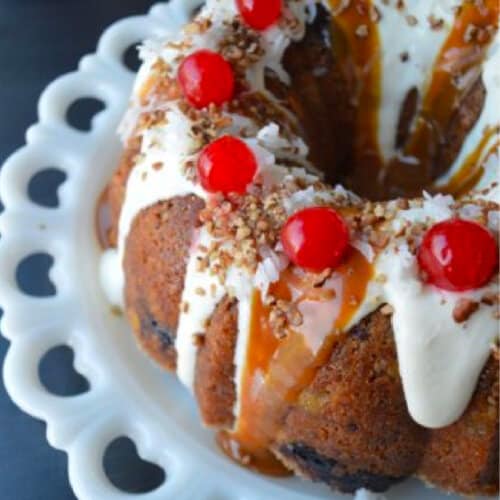 Ingredients
3

cups

all-purpose flour

2

cups

sugar

1

teaspoon

baking soda

1/4

teaspoon

salt

1/2

cup

sour cream

1/2

cup

buttermilk

3

large eggs

3/4

cup

oil

1/2

stick butter

melted

3

medium

very ripe bananas

1

cup

chopped pecans

1

cup

sweetened coconut

1

cup

crushed pineapple

drained reserving juice for cream cheese icing

1

cup

blueberries

1 1/2

teaspoons

vanilla extract

1

8 ounce package cream cheese, softened

1/4-1/2

cup

pineapple juice

1/4-1/2

cup

powdered sugar

1/4

teaspoon

coconut extract

optional

1/4

teaspoon

banana extract

optional
Instructions
Garnishes: grated chocolate, chopped pecans, shredded coconut, maraschino cherries, hot fudge sauce, salted caramel.

Preheat oven to 350 degrees and butter and sugar a 10 inch bundt pan.

In a large mixing bowl, combine flour sugar, baking soda and salt.

In a separate bowl, stir together eggs, oil, buttermilk, sour cream and butter and add to the flour mixture stirring until incorporated.

Stir in additives, banana, blueberries, pecans, coconut, pineapple, etc.

Add vanilla and other extracts, flavorings if desired.

Pour into bundt or tube pan and bake for 1 hour or longer until a toothpick inserted into the center comes out clean.

Cool 15 minutes and then turn cake onto a wire rack and allow to cool completely for an hour.

Beat the cream cheese until smooth.

Add powdered sugar and 1/4 cup pineapple juice and blend until smooth adding more if necessary to reach desired consistency.

Pour over cake followed by salted caramel or hot fudge sauce and additional garnishes.

So what do you think? Would you leave it, add something or take away to make it yours?

I wish I had been able to share more photos of this cake but right in the middle of my shoot, this happened!