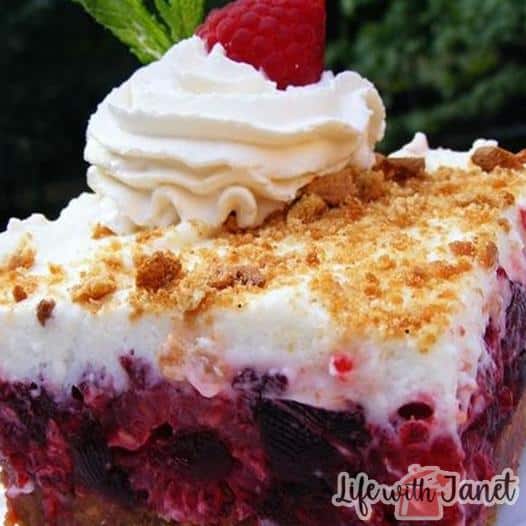 Want to make something sweet in less time? You must have to try out these raspberry icebox cake which is filled with the deliciousness of raspberries, whipped marshmallows, and an amazing layer of graham cracker. We always make this recipe on holidays and when there is a special event to celebrate it. You are going to love the taste and if you want you can custom the garnishing's for your kids as well.
Now, you can also increase the layers as well. You can add some vanilla ice cream on top as kids love it. Moreover, add some favorite nuts to increase the flavors as you will love them. You can some of your favorite frostings too. So, without any further discussion, let's check out this delicious recipe you are going to love making for your friends and family.
Why do we call them icebox cakes?
They are called icebox cakes because it is highly easy to make especially with all the layers. Like how we make truffle in the house and it is easy to just add layers and there you have a delicious dessert.
How long does the icebox cake stay fresh?
If you have some leftovers, cover and let them chill in the refrigerator. They can last 2-3 days in the refrigerator. Try the cake after 24 hours and you will see how delicious the cake is after chilling it overnight.
How long should I refrigerate my icebox cake?
Once your cake is done, put it in the refrigerator but make sure to cover it with maybe a plastic cover. If the cake is divided into small cups or squares then they require 3-4 hours. A large cake should be at least refrigerated for 8 hours or if you are making it ahead of time then 24 hours.
What is the history of the icebox?
They take us back to the 1830s when they were made in wooden iceboxes. The traditional recipes were very different but give this one a try and you will love it.
Ingredients
Crushed graham crackers 5

3

tbsp

of butter

4

tbsp

of brown sugar

Boiling water 1 cup

Marshmallows 20

⅓

cup

of milk

Heavy cream 1 cup

Make sure to whip it

Frozen raspberries 2 cups

Jell-O mix raspberry-flavored 1 pack
Instructions
Preheat the oven to 350 degrees F.

Take a bowl and mix butter, graham cracker, and brown sugar. Take around half a cup of this mixture and the other half should be added to a baking pan. Bake it for 10 minutes and now let it cool.

Cook the raspberry Jell-O and add the frozen ones in the boiling water too. Let it chill and then add it to the baked layer.

Now in a bowl add the marshmallows and the milk. Heat it in a saucepan or microwave and mix with the heavy cream. This will be your top whipped layer. You can sprinkle some crumbs of graham cracker as well or maybe some sprinkles. Make sure to let it chill for a minimum of 5 hours.