Feeling extra hungry and want to eat something excited? You should try this fantastic recipe of cowboy meatloaf and potato casserole. There is no doubt that I love casseroles and you guys too. It is the comforting food, and the cheesy baked deliciousness indeed completes the dinner. It is a complete meal, and I suggest you double the recipe because no one will stop after one bite.
It is more than just a regular casserole recipe. There are some unique ingredients that you can find online or in an excellent departmental store. You need to ensure that your ingredients are available in the same quantity to get the best results. Most of the ingredients are common and will be already in your pantry. I have used fried onions and slices of bacon that you can use homemade.
What to serve with cowboy meatloaf and potato casserole?
It is already a wholesome meal, but if you want, you can serve some amazing sides to increase the fun. Here are some things that can make your table look more exciting:
Dinner rolls: Having a huge crowd means that there will be many people to feed. You can double-trip the recipe, but the sides can overwhelm you. So, go basic and serve some dinner rolls with it, and it will complete the whole recipe and give the perfect taste that everyone will love.
Green beans: There is no denying that beans are a rich source of nutrients and can go perfectly well with meatloaf casserole. You can add some green beans to it or serve it on another plate.
Mac and Cheese: It is a cheese party! There is no such thing as too much cheese. When you have kids at home, this side is something they will never refuse. You can add some veggies to it, and they will finish the whole tray for you.
Corn pudding: Corn pudding is the perfect combination with the casserole. It is bursting with happiness and goodness that tastes mind-blowing.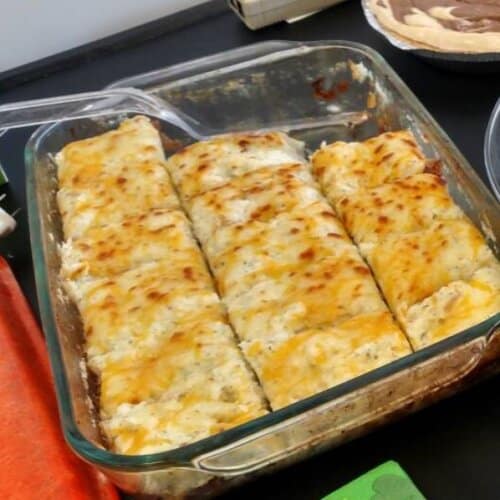 Cowboy Meatloaf and Potato Casserole Recipe
Feeling extra hungry and want to eat something excited? You should try this fantastic recipe of cowboy meatloaf and potato casserole.
Print
Pin
Rate
Ingredients
Lean ground beef half kg

Two onions chopped

⅓

cup

breadcrumbs

Jack Daniels honey smokehouse barbeque sauce ¼ cup

Egg 1

Crispy fried onions ¼ cup

You can use both homemade and canned from the store

Bacon bites or crumbles 1 cup

Garlic powder 1 tsp

Parsley fresh 1 tbsp

Butter 1 tbsp

Evaporated milk ⅔ cup

Salt and pepper to taste

Chili powder 2 tsp

One pack of Ore-Ida® steam n mash cut russet potatoes

Two and a half cups of shredded Mexican cheese blend
Instructions
Preheat the oven to 375 degrees F and grease a baking dish with cooking spray.

Start by combining the beef, onion, breadcrumbs, salt, pepper, chili, and BBQ sauce. Add it to the bottom of the baking dish.

Bake it for 25 minutes and drain any excess fat it has. Now let it broil while you microwave the potatoes according to the package instructions.

Mix the potatoes, butter, parsley, garlic, and steam n mash in a bowl. Mix it with an electric mixer and sprinkle over the bacon and fried onions.

Now add it to the top of the beef and sprinkle the cheese.

Broil for 5 minutes until the cheese bubbles and becomes crispy on the sides.

Serve it hot and fresh to your family and friends.

You can even serve it with some of your favorite sauces to enhance the flavors.