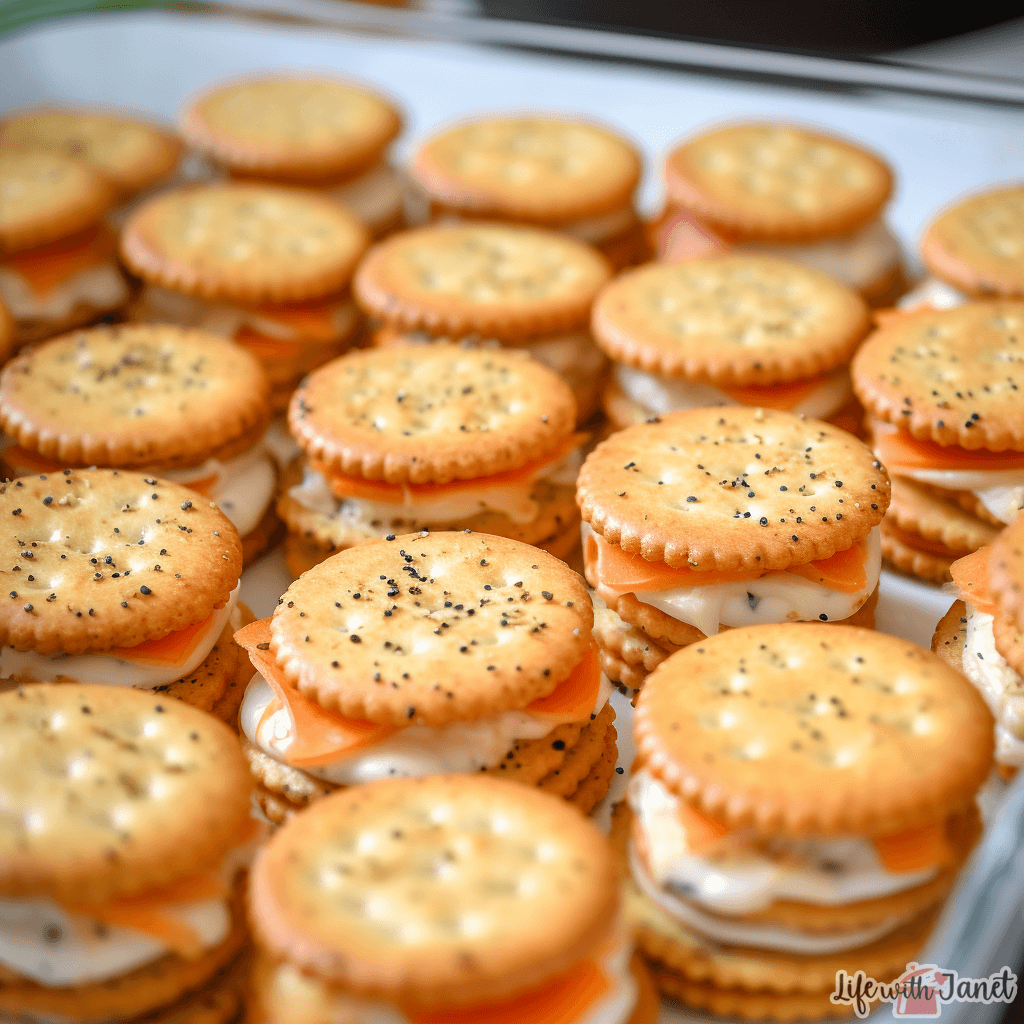 Crackers and cheese have long been a quintessential snack, but what if you could take it up a notch? Welcome to the world of Ritz Cracker Party Sandwiches! This isn't just another hors d'oeuvre; it's a miniature culinary adventure waiting to happen. With a versatile mix of ingredients and a pop of savory and spicy flavors, this appetizer is sure to be the star of your next gathering. Below, we'll explore various facets of creating these scrumptious bites, from ingredient selection to the finishing touches.
The Essence of Ingredients
First and foremost, let's talk about what makes these party sandwiches special: the ingredients. Here, you have the liberty to customize. Whether you're a fan of Dijon mustard or you prefer the classic yellow variety, it's all about making it your own. Ham, cheese, and Ritz crackers form the base, but don't forget—spices like onion powder, garlic powder, and crushed red pepper can elevate the flavor profile to gourmet heights.
The Symphony of Sauces
Worcestershire sauce, mustard, melted butter—oh my! These are not just embellishments; they are the harmonious background chorus to your lead singers (that's the ham and cheese). Here, quantities are fluid. Season to taste, but do make sure to mix these components well to ensure every bite packs the same flavorful punch.
Building Your Sandwiches: The Architecture of Flavor
After all the spices and sauces have been perfectly balanced, it's time to construct your mini sandwiches. Start with a Ritz cracker as the base. Add your chosen cheese and ham, and don't hesitate to layer it up. It's like building a skyscraper of deliciousness. Here, the recipe offers the flexibility to use maple glazed honey ham or perhaps a creamy havarti. The sky is the limit, or rather, the top of your Ritz cracker is.
The Oven: Where Magic Happens
Don't underestimate the power of heat in this culinary escapade. Baking these sandwiches at 350°F not only warms the ham and melts the cheese but also allows all the flavors to meld beautifully. It's like a spa day for your ingredients—a brief yet transformative experience.
The Final Touch: Poppy Seeds and More
Just when you think it can't get any better, we sprinkle on some poppy seeds. This adds not just a textural contrast but also a slight nuttiness that complements the melange of other flavors. If poppy seeds aren't your thing, sesame seeds make a great alternative, giving you yet another layer of customization.
And there you have it—Ritz Cracker Party Sandwiches that are as unique as they are delicious. Whether you're hosting a lavish party or just snuggling up for a movie night, this versatile appetizer can be adapted to suit any occasion. Remember, the secret lies not just in the ingredients you choose, but also in the love and creativity you pour into each mini sandwich. So go ahead, unleash your inner chef and let the appetizer games begin!
Ritz Cracker Party Sandwiches
Elevate your snacking game with these customizable and delicious Ritz Cracker Party Sandwiches. Loaded with your choice of ham, cheese, and an array of spices and sauces, they're the perfect appetizer for any occasion.
Print
Pin
Rate
Equipment
Mixing bowl

Baking Sheet

Oven

Small saucepan (for melting butter)
Ingredients
Ritz crackers

Original or Hint of Salt

Mustard

Dijon or your choice

Butter

a few tablespoons melted

Crushed red pepper

Ham

Maple glazed honey ham recommended

Cheese of your choice

Creamy Havarti recommended

Onion powder

Poppy seeds

or sesame seeds as an alternative
Instructions
Preparation of Sauce: In a mixing bowl, melt a few tablespoons of butter. Add your choice of mustard, a dash of Worcestershire sauce, and spices like onion powder, garlic powder, and crushed red pepper. Season with pepper to taste. Mix well.

Cheese and Ham: Choose your preferred cheese and ham from the deli. Slice or fold them into smaller pieces to fit the Ritz cracker.

Sandwich Assembly: Lay down Ritz crackers as the base. Layer with cheese, then ham. If you prefer, you can add another layer of ham. Top with another Ritz cracker to complete the sandwich.

Final Touches: Brush the assembled sandwiches with the previously prepared sauce. Sprinkle poppy seeds or sesame seeds on top.

Baking: Preheat the oven to 350°F (175°C). Place the assembled sandwiches on a baking sheet and bake for 10-12 minutes, or until the cheese is melted and the sandwiches are warm.

Serve and Enjoy: Serve immediately and enjoy your delicious Ritz Cracker Party Sandwiches.