Welcome, dear food enthusiasts! If you're in search of a dessert that's as eye-catching as it is mouth-watering, then you've come to the right place. Fruit pizza combines the best of both worlds: the creamy, tangy goodness of cream cheese frosting and a soft sugar cookie crust, all topped with an explosion of colorful, fresh fruits. Ideal for summertime gatherings, holidays, and just about any celebratory occasion, this fruit pizza recipe is about to become your go-to. Trust me, you're not going to want to miss this one!
What Makes This Fruit Pizza Recipe Exceptional?
You might wonder why you need another fruit pizza recipe when there are countless versions available online. Let me tell you, this is no ordinary dessert. It's a completely from-scratch creation, yet incredibly easy to whip up. The textures in each bite will keep your palate entertained, and what's more, kids can also lend a hand in the preparation. It's a feast for the eyes, as well as the tastebuds!
Let's kick things off with the base of your fruit pizza: the sugar cookie crust. Forget traditional pizza dough or pie crust; this soft, buttery sugar cookie bottom is where the magic begins. You'll need the usual suspects—flour, sugar, butter, egg, vanilla, baking powder, and salt. Plus, there's a secret ingredient: cornstarch, making your crust irresistibly soft. So, shall we get baking?
Chill, It's Just Dough!
An important step in this fruit pizza recipe is chilling the dough. Once your ingredients are all mixed together, you'll find it a bit sticky and soft. Pop it into the fridge for just 20 minutes to make it easier to handle. Trust me, it's a small investment of time for a crust that's both shape-holding and delectable.
Beyond Sugar Cookie: Alternative Crust Ideas
Want to mix things up a bit? You can certainly veer off the sugar cookie path. How about a chocolate chip cookie base paired with a strawberry or raspberry topping? Drizzle some melted chocolate, and you've got yourself a dessert masterpiece!
Time to talk about what coats the surface of your crust: the cream cheese frosting. This isn't any excessively sweet, store-bought fluff. It's a balanced blend of cream cheese, butter, confectioners' sugar, and vanilla extract. Smooth, creamy, and easy to spread, it lays the foundation for your colorful fruit topping.
Your Canvas of Fruits: Best Choices and Combinations
The crown jewel of any fruit pizza are the fruits themselves. From vibrant berries to lush tropical slices, the possibilities are endless. While traditional choices like strawberries, blueberries, and kiwi are popular, feel free to get creative. Just remember to steer clear of fruits that are too watery or brown quickly, like watermelon and banana.
The Art of Decorating Your Fruit Pizza
Now comes the most fun part: decoration. Consider your crust and frosting as a blank canvas awaiting a burst of edible colors. Design concentric rings for a classic look or go patriotic with a red, white, and blue theme. The sky's the limit!
FAQs: Your Burning Questions Answered
Can I Make this Without a Pizza Pan?
Absolutely, just form the crust into a 9–10-inch circle on a regular baking sheet, or press it into a larger rectangular pan.
Can I Double the Recipe?
You sure can! If you're serving a larger crowd, simply double the ingredients and opt for a larger pan.
What About Storing Leftovers?
Fruit pizza is best enjoyed fresh but if you have leftovers, refrigerate them. For longer storage, consider freezing individual slices.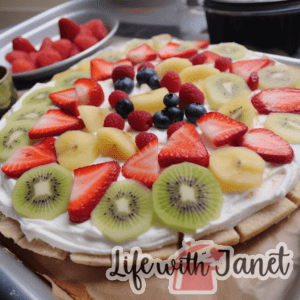 Fruit Pizza Recipe
Indulge in the bright flavors and eye-catching hues of this fruit pizza, which artfully blends a soft, chewy sugar cookie crust with a creamy layer of frosting and a rainbow of fresh fruit toppings. Create your own fruit medley to make this summery treat truly yours!
Print
Pin
Rate
Ingredients
For the Sugar Cookie Crust
For the Creamy Topping
226

g

Full-fat brick cream cheese

softened

43

g

Unsalted butter

softened

150

g

Confectioners' sugar

1

tsp

Pure vanilla extract

For the Fruit Garnish

About 400g Assorted fresh fruit

sliced
Instructions
Crafting the Crust
Blend the Dry Ingredients: In a medium-sized bowl, combine the flour, cornstarch, baking powder, and salt by whisking them together.

Cream the Butter and Sugar: Utilizing either a handheld or stand mixer with a paddle attachment, blend the butter and sugar on a medium-high setting until the texture turns creamy—this usually takes around two minutes.

Incorporate the Wet Ingredients: Add the egg and vanilla into the creamed mixture, beating until smoothly combined. Don't forget to scrape the bowl's sides and bottom as you go along.

Combine Wet and Dry Mixtures: Slowly introduce the dry blend to the wet one, beating at a low speed until they harmonize into a dough. Cover this closely and let it chill in the fridge for at least 20 minutes.
Baking the Base
Preheat the Oven: Set your oven to 350°F (177°C). While it's heating up, coat a 12-inch pizza pan with a non-stick spray.

Form the Crust: Remove the refrigerated dough and flatten it onto the prepared pan, aiming for a 9–10-inch circle that's roughly 1/3-inch thick.

Bake: Put the crust in the oven for 17–19 minutes. Look for lightly browned edges as a sign it's done, and be wary of over-baking. Let it cool before you proceed with decoration.
Frosting & Fruit Adornment
Make the Frosting: Beat the cream cheese and butter together at medium speed for about two minutes. Add in the confectioners' sugar and vanilla, beating for another minute until you reach a creamy, well-blended consistency.

Assemble: Smear the frosting generously over your cooled cookie crust, creating a luscious base for your fruits.

Decorate: Finally, artistically place the sliced fruits over the frosted surface.
Serving and Storage
Cut into slices and serve immediately. Any leftovers can be stored in the fridge for up to 3 days.
Notes
Advance Preparations: Both the crust and the frosting can be made a day in advance. Cover and store the crust at room temperature and keep the frosting in the fridge until you're ready to assemble.
Variations: Feel free to add a zesty twist to the frosting with 2–3 teaspoons of fresh lemon or lime juice, along with some zest. You could also include 1/2 teaspoon of almond extract for an extra layer of flavor.