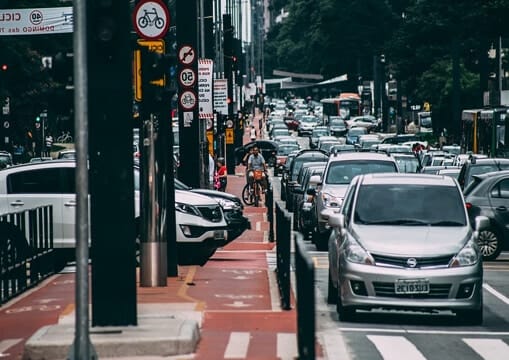 This past May of 2019 I got to spend a week in São Paulo, Brazil's largest city. The trip was part of an MBA course I was taking, called "Doing Business in Brazil." Clever, eh?
Being the travel aficionado that I am, I knew that I had to make the most of those seven days. And that is exactly what I did. I probably slept a total of five or six hours a night, but it was TOTALLY worth it and I'd do it again in a heartbeat.
Brazil was absolutely incredible. I think what made it stand out, for me traveling as an American, was how genuinely nice people there were. From my experience, being an American in most European cities is not the optimal situation. I've had taxi drivers rip me off and have even been scoffed at by boutique sales women for being a 'fat American'. Tres chic.
Brazilians were the opposite. Taxi drivers were helpful, and some of them even tried to make conversation with us Americans. A professor from the University of São Paulo even invited us into his own home for real, down-home Brazilian barbeque. Everyone in the city was very accommodating, giving us directions when we were lost and helping us figure out the public transportation lines.
However, seven days is not a long time. Thankfully, there was no time difference to adjust myself to, so that saved me a lot of time. If you find yourself with a limited amount of time in Sampa (the nickname locals use to refer to São Paulo), here are the things I really recommend doing. They were the best experiences I had in the city and definitely can't be missed, whether you have a whole week or just a weekend to spend:
Getting a Brazilian Blowout.
There is a reason why Adriana Lima flies all the way back to Brazil just to get her hair done. And with the exchange rate in favor of the US Dollar, there is no reason not to take advantage of this one. I paid the equivalent of $40USD (which is the average price for a blowout here at home) and got the royal treatment. Literally. They had women in french maid uniforms passing out espresso while you get your hair done, and I had two stylists give me a scalp massage while I was getting my hair done. What more can a girl (or guy) ask for?
The chocolate.
I cannot emphasize this one enough. Brazilians are crazy about their chocolate, and for good reason–its ah-ma-zing. (Better than Belgian chocolate, if I may say so myself!). Stop by any one of the [probably] thousands of pastry shops in the city for some Brigadeiros. They're basically flavored chocolate balls that melt in your mouth. Need I say more?
Go to a futebol (pronounced, FOO-chee-bow) game!
I was initially apprehensive about attending a game because I heard several stories of Americans being mugged. But I just reminded myself that I had 7 days to spend in Brazil, and how many times do you go to Brazil anyway? Needless to say, I ended up going. It was a Palmeiras home game in the city, and I am so incredibly glad that I went! I've never been into sports of any kind, but the feeling that you get in a soccer stadium full of passionate shirtless fans playing bongo drums and chanting their hearts out for 90 minutes plus overtime is out of this world. I strongly suggest that anyone who finds themselves in São Paulo (or any city in Brazil, for that matter) attends a futebol game. Just leave your passport and cash at home.
Drink Brazilian coffee!
The only thing Brazilians love more than chocolate is coffee. Seriously. They take shots of sugary espresso in the afternoons, and in most places (including the university cafeteria) the espresso was complementary. Bottoms up!
Drink a Caipirinha (or two).
This drink is similar to a Mojito, except that it is made with Cachaça instead of rum. The best way to enjoy one is at a local bar called Cafe Piu Piu on Av. Treze de Maio. Couple a Maracuja (Passionfruit) Caipirinha with some live Samba and I assure you it will be a night you will never forget! Be careful, though, as these drinks are pretty strong.
Check out the local shopping scene on Rua Oscar Freire.
The lack of free trade agreements between Brazil and the US means that American retail is ridiculously expensive in Brazil. Instead, there is an abundance of locally-owned, crazy-unique Brazilian fashion houses to check out. I don't know about you, but I'm usually disappointed when I go abroad and see a line of American shops–Adidas, Nike, Victorias Secret, etc. A big part of culture is dress and aesthetics, and I love picking up ideas and trends from every city I travel to.
For tips on where to shop, fashion, Brazilian beauty treatments and design, check out LalaNoleto and LalaTrussardiRudge in Instagram.
Go to a real Churrascaria!
Sorry vegetarians and vegans, this one is definitely not for you. But Brazilians LOVE their meat, and the best way to experience the local cuisine is to go to a Churrascaria. You can find them all over the city, just make sure you are very hungry before you go, because as soon as you sit down, swarms of servers gather around you to slice fresh meat onto your plate. Most of these restaurants also feature full buffets where you'll find fresh seafood, vegetables, pasta dishes, salads, and of course, sushi (Brazil hosts the largest Japanese population outside of Japan, and the sushi here reflects that).
Well, there you have it! Seven things to do with seven days in São Paulo. I hope you all make the most of your time, no matter where you go in the world. Life is too short to spend it asleep!