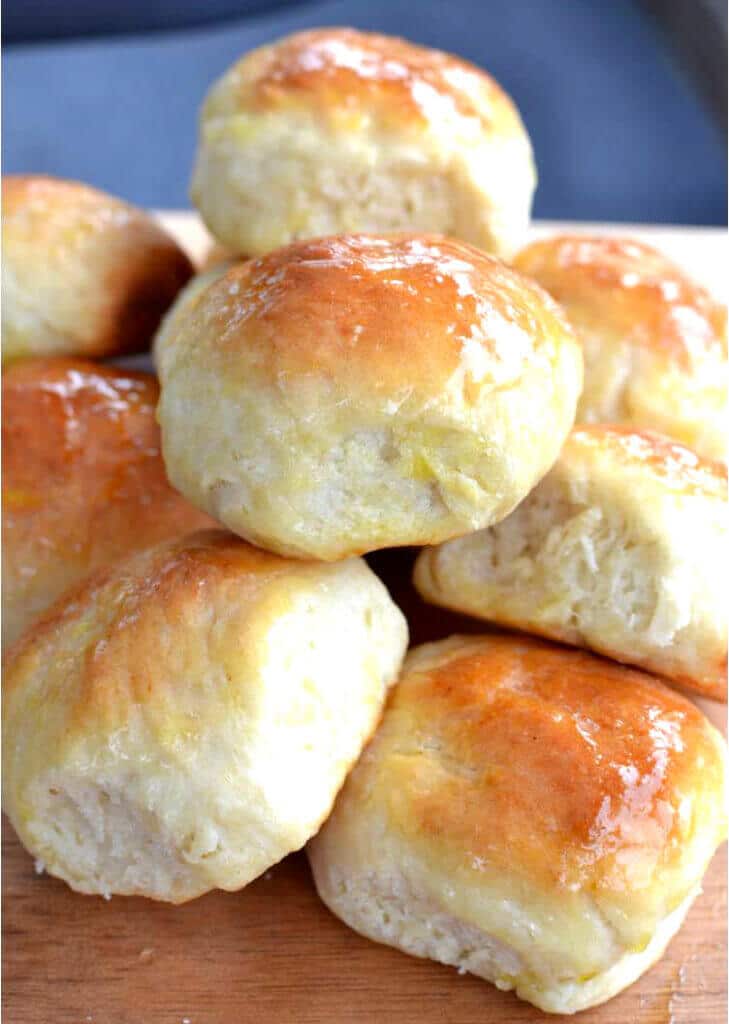 I'd love to know what is better than FRESH, warm, dinner rolls. Really-what's better.  I like them more than actual DINNER. I could LIVE off of bread and butta, it's the best. So whipping up an entire homemade batch of rolls in an hour is just fine by me! Warmer conditions are conducive to bread making too. So I know it's summer, and maybe you don't want to fire up your oven, but fresh bread is worth it- honestly.
…random factoid for ya. I've never seen Dirty Dancing. OR Pretty Woman. Can you believe it!?!? I can only say that for a little while longer though, because thanks to some VERY good workmates, it's FINALLY happening… Friday night movie night.  Yeah baby.
What's a classic movie that you haven't seen?! There must be one… right?  I can't be the only weirdo (actually yes, I very well can…) I think there are ton of other classic that I haven't seen either… I don't know.
Ingredients
3 ¾ – 4 ¼ cups bread flour or all-purpose flour
¼ cup granulated sugar
1 Tablespoon rapid rise yeast
1.5 teaspoons salt
¾ cup cool water
⅔ cup milk
6 Tablespoons unsalted butter, divided
1.5 teaspoons lemon juice
Instructions
Preheat oven to 180 degrees.

In a large bowl, mix together 4 cups flour, sugar, yeast and salt.

To a medium bowl, add water, milk and 4 separated tablespoons of butter and heat in microwave on high for about one minute.

Pour milk mixture into dry mixture along with the lemon juice and mix to combine until a uniform dough forms. If you have a stand mixture with a hook attachment, mix on low speed and gradually increase to medium-low. Otherwise, mimic this by mixing with a spoon. Knead the dough about 3 – 4 minutes until smooth and elastic while adding additional flour as necessary (dough should be sticky, but manageable)

Cover bowl tightly with plastic wrap and rest 5 minutes. Meanwhile, spray a 13 x 9 inch baking dish with nonstick spray.

Break the dough apart into 15 balls of even size and roll them into round balls. Place them in rows of four in the baking dish. Brush the top of them with water so that they don't dry while rising in the oven.

Place them in the oven and turn the heat off. Leave the door shut and let them rise for about 20 minutes.

Remove them from the oven, and preheat oven to 375 degrees. Bake in the preheated oven for 14-20 minutes until the tops are golden brown (mine took closer to 20 but keep checking on them.)

Melt the 2 remaining tablespoons of butter in a small bowl and brush over the top of the rolls when they're done baking. Serve warm, and enjoy- because warm fresh rolls with butter are the BEST!