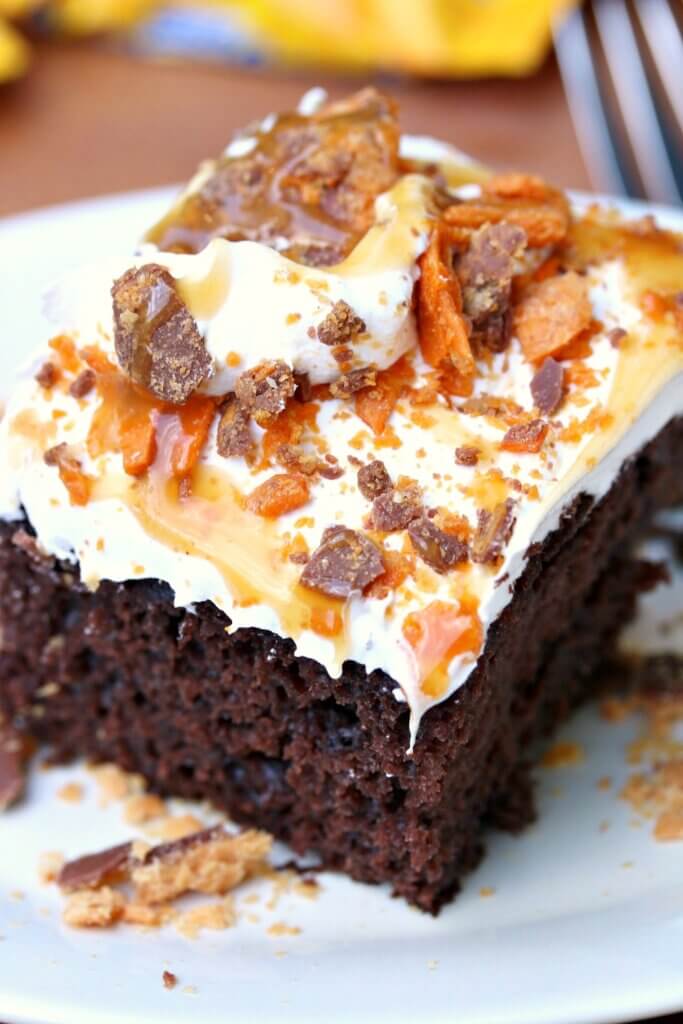 It's kind of hard for me to talk about Butterfingers without wanting to shove like 7 of them in my mouth. It's even harder for me to talk about this Butterfinger Bomb Cake without wanting to stick my FACE in it so I'm literally eating this as I'm talking. (It's oozing with caramel deliciousness by the way.)
What's awesome is that I didn't even have to get a cart when I stopped at Walmart for the ingredients. I didn't even need a BASKET, dang! Just 5 ingredients and wa-bam. CAKE! (Butterfinger BOMB cake….)
Another cool thing about this cake. You can put SpoooOOOooooky Halloween decorations on top! Like those creepy plastic spider ring things…. MWAAAHAHAHA….
Speaking of which. What are you going to be for Halloween this year?! A Bumble Bee? A Turtle? A cranky, non-dresser upper person? (That might very well be me, actually….) Do you at least dress up your lil' doggie? I should make my Toby boy dress up as a pumpkin or something….
Happy baking!! An hey, what else do you like to make with Butterfingers?!?!!
Ingredients
1 (15.25 oz.) box Chocolate Cake Mix + additional cake mix ingredients (i.e. eggs, oil)
1 cup Sour Cream
1 cup chocolate chips
1 Jar Caramel Ice Cream Topping
1 (16 oz.) container vanilla frosting
¾ cup crumbled Butterfinger Cups minis, Butterfinger Bites, or Butterfinger Fun-Size
Instructions
Mix the cake ingredients according to package instructions, and add in the cup of sour cream and chocolate chips.

Bake the cake in a 9 x 13 pan, according to package instructions.

Remove from the oven and poke holes in the cake while it's still warm (I use the end of a wooden spoon.)

Save 5 tablespoons of the caramel and pour the rest of it into the holes.

Chill the cake in the fridge for at least 30 minutes, then spread the whip cream on top.

Top the cake with crumbled Butterfinger & the remaining caramel.

Slice, & eat up!