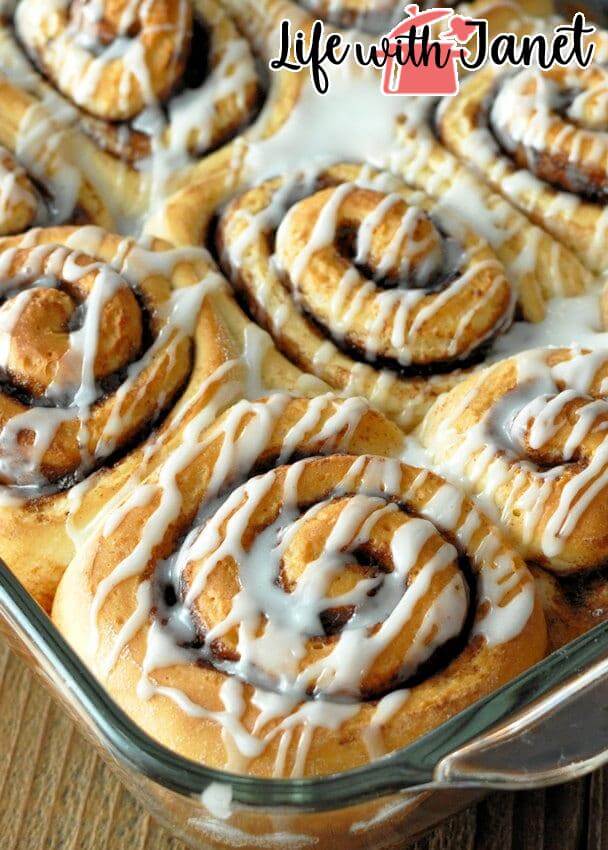 INGREDIENTS
Dough…
¾ cup Milk
3 tablespoons Butter, melted
¼ cup Sugar
2¼ teaspoons Yeast (1 pkg)
¼ cup Water
1 Egg
1 teaspoon Salt
3½ cups All Purpose Flour
Chocolate Cinnamon Roll Filling…
¼ cup Butter or Margarine, softened
⅓ cup Sugar
1-2 tablespoon Cocoa Powder
2 teaspoons Cinnamon
Glaze…
½ – 1 cup Powdered Sugar
Milk, just enough to make a consistency to drizzle over rolls. Start with about 1 tablespoon.
INSTRUCTIONS
Warm milk to remove chill. (I put it in a measuring cup and place in the microwave for about 30 – 45 seconds.) Add the melted butter, sugar, and yeast. Set aside until yeast starts to bubble. This should only take a few minutes. Then add the water and egg. Mix well.
Next, place about 3 cups of flour in a large bowl. Add the salt and blend together. Add the yeast mixture and stir until combined. Gradually add more flour a little at a time until the dough is workable without being too sticky. Continue to kneed either in the bowl, or on a floured surface for 3 – 5 minutes. Set the dough aside and let it rest for 10 – 20 minutes or so.
Meanwhile, make the chocolate cinnamon filling (My daughter likes it with more cocoa powder, my son likes it with less) and have your softened butter ready.
Roll out the dough into a rectangle, approximately 16″ x 12″. Spread ¼ cup of softened butter over the dough. Sprinkle the sugar mixture over the dough.
Roll up the dough and slice into 12 pieces. Place rolls into a 13″ x 9″ pan that has been coated with non-stick spray.
Let the rolls raise until double in size.
Bake in a 350 degree oven for 20 – 25 minutes, until golden brown.
Cool slightly and drizzle with Glaze if desired.
Enjoy!