My youngest son turned three recently, and I had a hard time deciding what to take to school for his birthday celebration. (Do you notice a trend? I have decision anxiety on a regular basis!) First, it was going to be mini chocolate banana muffins. Then, I thought I would make one of those giant cookie cakes, which evolved into thinking I would just make cookies. In the end, I didn't pick a baked treat at all and went with these cute pudding cups instead!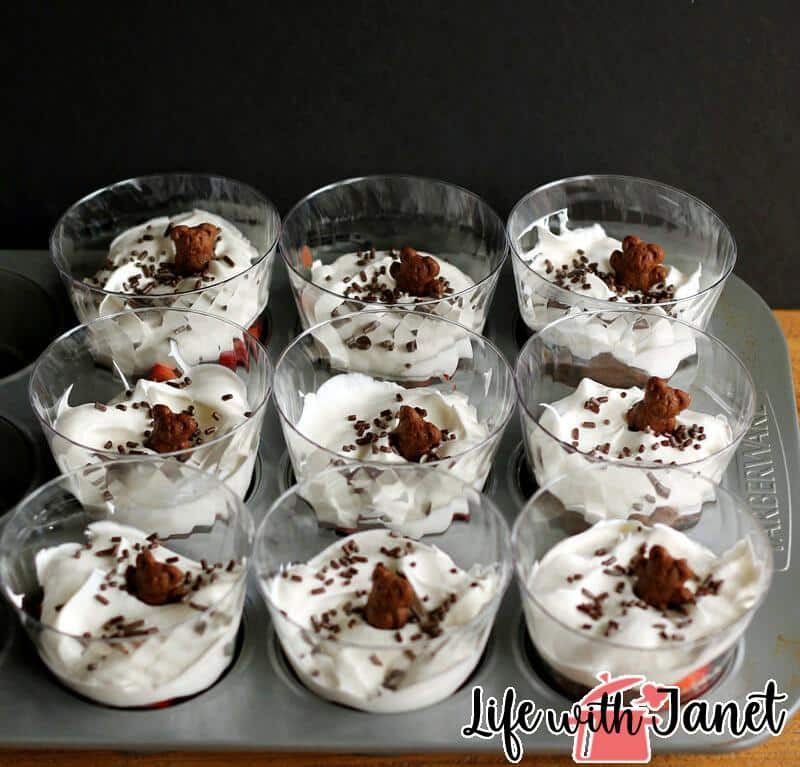 This easy no-bake dessert is really quick to whip up, and the individual servings make it so easy to hand out to a crowd.  Do I even need to tell you that the kids were crazy about these treats loaded with creamy pudding, strawberries, and adorable chocolate bears? Your family will love them too!
Oh, and one more tip before I get to the recipe: To carry your pudding cups, use a muffin tin as a cup holder! It makes it very easy to get them to the party!
Ingredients
4 c. prepared chocolate pudding (use either pre-made pudding or instant pudding plus milk)
3 c. sliced strawberries
8 oz. whipped topping, thawed (like Cool Whip)
3 c. chocolate graham bears, plus 12 more for decorating
chocolate sprinkles, optional
Instructions
Scoop about 1/3 c. pudding into the bottom of twelve 8-10 oz. clear cups. Be careful not to get too much pudding on the side of the cups in this step.
Arrange 1/4 c. sliced strawberries on top of each cup of pudding, and then sprinkle 1/4 c. graham bears over the berries. Place a generous dollop of whipped topping in each cup.
Decorate each pudding cup with sprinkles and one chocolate bear. Store in refrigerator until ready to serve.