My Chocolate Cream Pie recipe has become an instant favorite dessert for my Sweet B's because it is  delicious and because they know there's a good chance that I'll make it if I as.  I keep these ingredients on hand and it just takes a bit to make.  One ingredient I always have in my refrigerator is COOL WHIP, because a dollop of COOL WHIP Whipped Topping makes everyday snacks extra special!  I'm so excited to share my fabulous Chocolate Cream Pie recipe with you today.  I know you'll love it!
You will need just a few ingredients:  a package of cream cheese, a bit of sugar, some milk, COOL WHIP, a graham cracker crust, a package of instant chocolate mix and some miniature chocolate chips.  Yep, that's it!
In a small bowl, beat the cream cheese, sugar and 1 tablespoon of milk until it's smooth.  Fold in 1 cup of COOL WHIP and spread evenly into crust.
Next, mix the pudding mix with the rest of the milk for 2 minutes and then let it sit for 2 minutes.   Layer over the cream cheese mixture.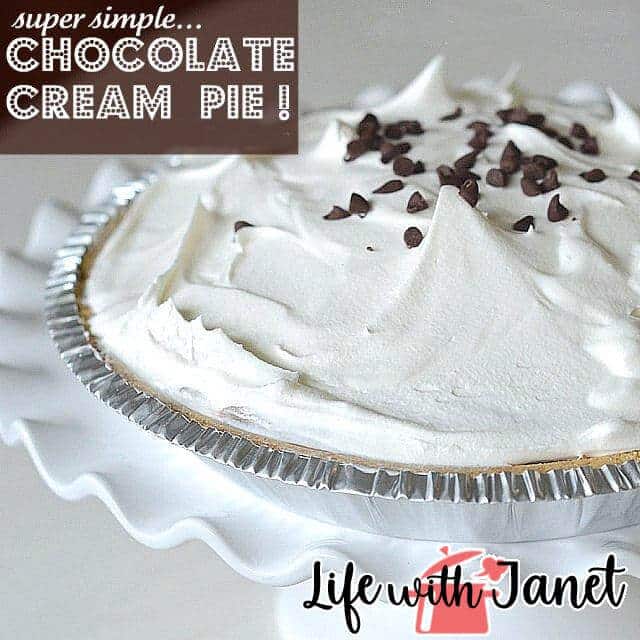 Put the Chocolate Cream Pie in your refrigerator and let it chill until set.  Before serving, garnish your  pie with the rest of the COOL WHIP and some mini chocolate chips.  Enjoy!
Ingredients
1/2 package (4 ounces) cream cheese, softened

2 tablespoons sugar

1-3/4 cups milk, divided

2 cups whipped topping, divided

1 graham cracker crust (9 inches)

1 package (3.9 ounces) instant chocolate pudding mix

Miniature semisweet chocolate chips, optional
Instructions
In a small bowl, beat the cream cheese, sugar and 1 tablespoon milk until smooth. Fold in 1 cup whipped topping. Spread evenly into crust.

In a medium bowl, whisk pudding mix and remaining milk for 2 minutes. Let stand for 2 minutes or until soft-set. Pour over cream cheese mixture. Chill until set.

Just before serving, garnish with remaining whipped topping and chocolate chips if desired.