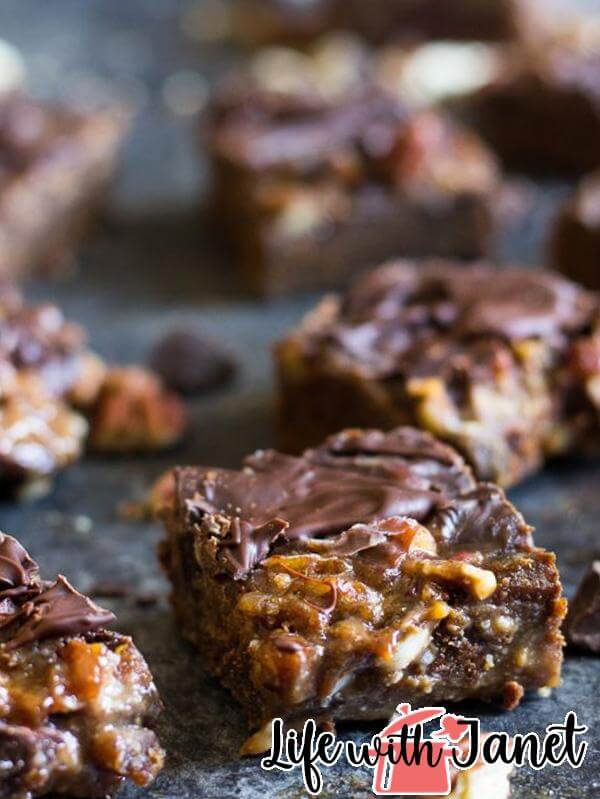 Turtle cookie bars are a basic staple for Christmas cookies in our home. Oatmeal cookie crust is covered with soft caramel and pecans before being covered with chocolate. They are a favorite for the vacations.
Best time of the year! I just love everything about vacations. 25 days of Christmas films on television, A Charlie Brown Christmas, enjoying all the magnificent homes with their lights, all the great goodies to share at work and with the neighbors, and don't you forget the season's reason!
I was thinking I might begin the new month with oat and turtle bars. Soft oatmeal crust filled with sticky caramel, nuts and a layer of chocolate. Celestial I declare! Celeste!
Now, move away from the monitor to prevent being seen licking it, your family might think you have finally lost it! Head to the kitchen nearest you to cook your oatmeal turtle bars!
Here's how I make turtle cookie bars:
Ingredients
Oatmeal Crust
1 cup Quick Oats

1/2 teaspoon Salt

1/2 cup Brown Sugar

3/4 cup Butter, Softened

1/2 teaspoon Baking Soda

1 cup All-Purpose Flour
Caramel Layer
1/4 cup Corn Syrup

4 tablespoons Butter

1 teaspoon Vanilla Extract

1/4 cup Water

1 1/4 cup Chopped Pecans

1 cup Heavy Cream

3/4 teaspoon Salt

1 1/2 cups Granulated Sugar
Chocolate Layer
1/2 cup Heavy Cream

1 Pinch Salt

2 cups Semi Sweet Or Dark Chocolate Chips
Instructions
Oatmeal Crust
Pre-heat the oven to about 350 degrees. Line a 9" x 13" pan with butter, grease and line with parchment paper and butter parchment paper.

Mix all oatmeal crust ingredients in a large bowl on medium speed until well blended.

Press oat crust evenly into pan.

Bake for 12 to 15 minutes or until lightly browned.
Caramel Layer
In a small saucepan, mix the cream, butter, salt and vanilla. Heat over medium heat until butter is melted.

In the meantime, in a large saucepan, mix together sugar, corn syrup and water. Put a candy thermometer on the side of the saucepan and bring to a boil over medium-high heat until sugar turns caramel. Do not stir the sugar, gently stir the pan as needed to evenly heat the sugar and stir.

Once the sugar has turned a caramel colour, slowly stir in the hot cream, being careful not to add it too quickly as the mixture may overflow.

Continue to boil until the caramel reaches 248 degrees on the candy thermometer about 8 minutes.

Spread the caramel evenly over the oat crust and garnish with chopped pecans.
Chocolate Layer
Let the cream get hot at medium heat. Do not boil. Remove the cream from the cooker.

Add chocolate and salt. Stir until the chocolate has melted.

Distribute chocolate evenly over caramel and pecans.

Leave to stand at room temperature for 2-4 hours or until the chocolate has set.

Remove from the pan and cut into bars.

Store in an airtight container at room temperature or in the refrigerator and remove 1 hour before serving to soften caramel.