Snickerdoodles are a favorite at our house. The soft chewy texture with cinnamon and sugar warm from the oven is crave-worthy. But add some fluffy marshmallow buttercream sandwiched between them and it's almost too much but it's not. Nope. Snickerdoodle sandwich cookies are just right.
Start by creaming the butter and sugar together, then add in the eggs and vanilla. Finally stir together the flour, cream of tartar, baking soda, baking powder, and salt then slowly add to the butter and sugar mixture. These cookies get their soft chewy texture from the cream of tartar and baking soda. When the dough is fully mixed, scoop a little more than a tablespoon and roll it into a ball. If you want smaller cookies, then do less. Small little sandwiches would be a perfect lunchbox surprise for the kiddos.
Then roll the dough ball in cinnamon sugar and place on a baking sheet lined with a Silpat or parchment paper. Continue until all the dough is formed and rolled in the cinnamon sugar. I got about 16 large cookies out this recipe. Bake at 350 degrees for 10-12 minutes.
After the cookies bake, let them cool. Meanwhile…
MAKE THE MARSHMALLOW BUTTERCREAM
This is simply my buttercream recipe with marshmallow fluff added. It just adds an extra lift and flavor to the icing. It is perfect for sandwich cookies. Whip some butter until fluffy and then gradually add in powdered sugar, followed by a pinch of salt and vanilla. When the mixture is combined, fold in some marshmallow fluff. Turn your mixer to high and whip the icing for 2-3 minutes so it gets all fluffy and stuff.
ASSEMBLE THE SNICKERDOODLE SANDWICH COOKIES
Transfer the icing to a piping bag or sandwich bag. Pipe a swirl of icing on the back of half of the cookies then top with another cookie.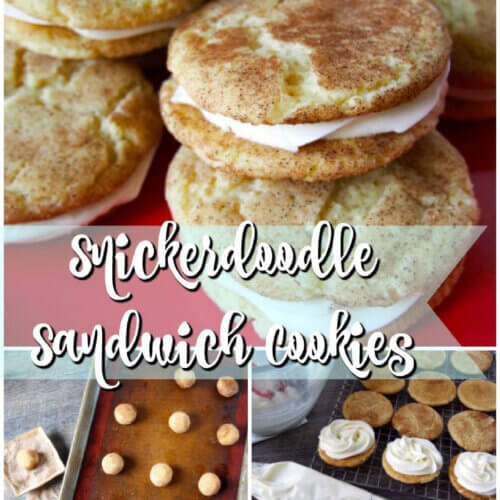 Ingredients
For the cookies:
1 Cup Butter

1 1/2 cup sugar

2 eggs

1 teaspoon vanilla extract

2 3/4 cup flour

1/4 teaspoon salt

1/2 teaspoon baking powder

1 teaspoon baking soda

2 teaspoons cream of tartar

1 tablspoon cinnamon

1/4 cup sugar
For the marshmallow buttercream: 
3/4 cup marshmallow fluff 

1 cup butter

pinch of salt

1 teaspoon vanilla

1 pound of powdered sugar

cream or milk to thin if needed
Instructions
For the cookies:
In the bowl of an electric mixer, cream together butter and sugar until fluffy. 

In a seperate bowl, stir together flour, salt, baking powder, bakin soda, and cream of tartar. 

Slowly add flour mixture to the butter and sugar until combined. 

Roll the dough in to balls, then into the cinnamon and sugar mixture.

Place on a silpat or parchment lined baking sheet. Bake for 10 to 12 minutes or until the egdes are slightly golden at 350 degrees.
For the marshmallow buttercream:
In the bowl of electric mixer, cream the butter until fluffy. 

Stir in the salt and vanilla.

Gradually add in the powdered sugar until fully incorporated. 

Fold in the marshmallow fluff.

hen turn the mixer to high and let whip for 2-3 minutes.
To assemble:
Transfer the marshmallow buttercream to a piping bag or sandwich bag.

Pipe a generous amount of icing onto the back of half the cookies. 

Place another cookie on top and press slightly.