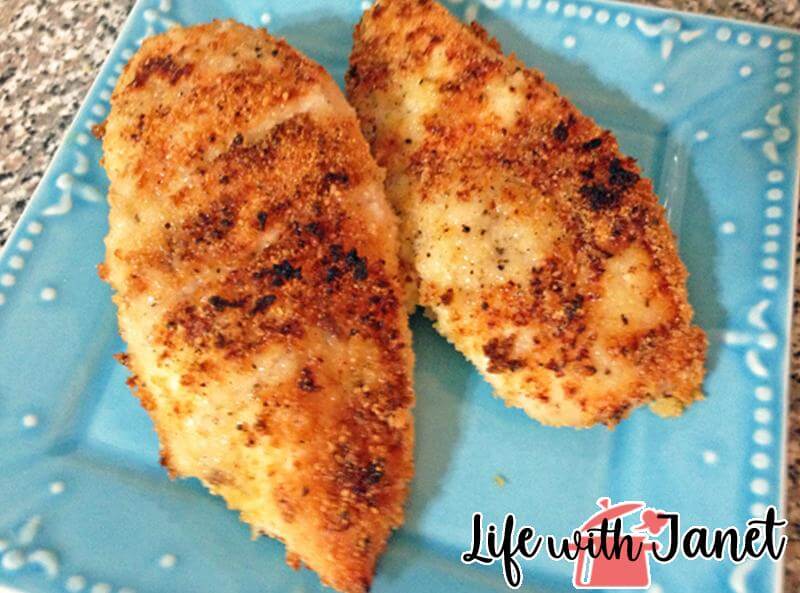 Fast forward a few years, and have you seen what they put in that stuff (Parmesan Crusted flavor linked)?! Ew. Luckily, I reduced the number of ingredients from a whopping 28 to 6 clean ingredients just by using stuff I already had in my kitchen. Among the 28 offensive ingredients in "Parmesan Crusted" Shake 'n Bake: enriched wheat, partially hydrogenated GMO oils, high fructose corn syrup, and artificial colors…to name a few. And might I ask – when was the last time you cooked with silicon dioxide, sodium phosphate, or modified food starch? Well, if it's been a while, you can certainly find them in a box of Parmesan Crusted Shake 'n Bake.
I can't say there's any flavor lost by whipping this up without the help of a boxed coating. The panko adds a great crunch, the garlic gives a great flavor burst, and the parmesan adds a salty, cheesy dimension. And you can feel all warm and fuzzy since you did it on your own. Hot dang that feels good!
For more chicken recipes click here
Ingredients
2 large defrosted chicken breasts

2 tsp chopped garlic (fresh or jarred)

¼ cup extra virgin olive oil

½ cup whole wheat panko crumbs

½ cup fresh grated parmesan cheese

Black pepper to taste
Instructions
Preheat oven to 400 degrees.

Dredge each chicken breast in extra virgin olive oil.

Make thin slices into the top of each chicken breast and stuff with garlic.

Mix panko and parmesan together in a shallow dish.

Dip each chicken breast into the panko/parmesan mixture then place them into a baking dish (be sure to grease it if it's not nonstick).

Top with a sprinkle of black pepper.

Bake for 30 minutes then check for doneness, cook in additional 5 minute increments until there is no pink.
Notes
Serve with a side of steamed veggies for a quick and easy meal!