There's a show on Food Network: The Best Thing I Ever Ate. And I think this carrot cake qualifies as one of the best things I've ever eaten. Seriously, it's that good. And I've had hundreds of people tell me that too. Really. You see, I used to have a wedding cake business – back in a previous life – and my top-selling flavor was always this carrot cake. I made it so often that I knew the recipe in my head. Quite frankly, I got sick of it and stopped making it for a while.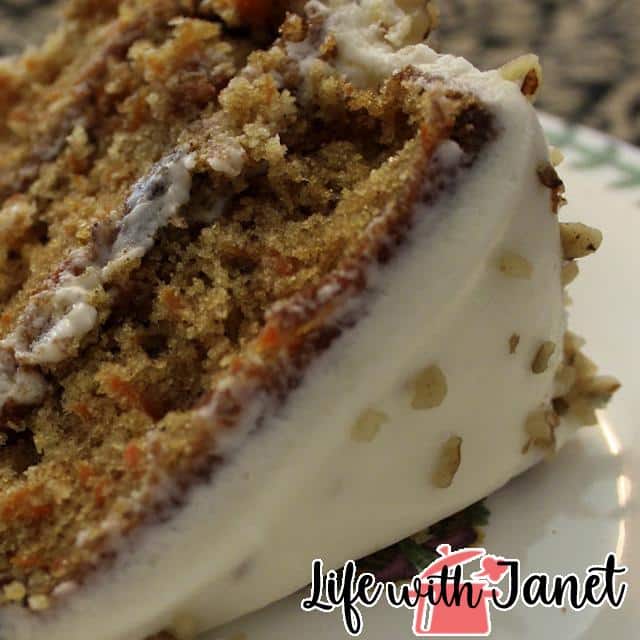 But the other night, hubby and I were watching some cooking show, and there was a carrot cake. "Yum," he says, "carrot cake. I love carrot cake, and yours is so good." So I filed that comment away for future reference. The future reference came yesterday when we had a work colleague over for dinner, and I needed a good standard dessert. I'd never met this person before, any idea his likes/dislikes, age, background. It was the old "bringing the boss home for dinner, honey." So out came the carrot cake recipe.
I love the flexibility of this recipe. You can literally use any pan you have, even make muffins from it.
Ingredients
4 eggs

1 cup granulated sugar

1 cup brown sugar

1 cup vegetable oil

2 cups all-purposed flour

2 tsp baking powder

1/2 tsp baking soda

1 tsp salt

1 1/2 tsp cinnamon

3 cups grated raw carrots (about 5 large carrots)

1/2 cup raisins

1/2 cup walnuts
Instructions
In a large bowl, beat eggs well. Gradually add sugars and beat till light. Slowly add the oil. In a separate bowl, mix the dry ingredients. Add the raisins and walnuts to the flour mixture. Stir into the egg mixture. Add the carrots and mix well.

Grease and flour your pans – 13×9″, bundt pan, 2 9″ squares or 3 8″ rounds. Pour the batter evenly into the pans.

Bake at 350F for 45 minutes for a rectangular pan, 35-40 minutes for the square pans or 30-35 minutes for the rounds. Use a toothpick or cake tester and make sure it comes out clean. Let cakes cool for 10 minutes in the pans, then turn out onto a rack to cool completely.

Once cool, fill and frost with Cream Cheese Frosting by creaming together 1 8oz package cream cheese with 1/4 butter and 2 tsp vanilla. Slowly add 3 cups icing sugar. This frosting makes enough for any of the cake pans suggested above.

I like to garnish mine with more chopped walnuts. It just adds something more to the outside of the cake. But of course, you can get fancy and make little marzipan or fondant carrots. Have fun with it.