Okay friends, let's talk about tips for the best baked doughnuts. Now these are baked, so we already avoid the main frustrations of frying and dough-rising and all that jazz.
Though I use my stand mixer to whip up this batter (because it is very much a cake-like batter) you can absolutely manage with a whisk. The batter doesn't need to be beaten to oblivion. Really, the key is to mix your wet ingredients, i.e. your buttermilk, your eggs, your melted butter, together really well before mixing them into your dry ingredients. That way, you can gently whisk the one into the other without worrying that a big blob of egg ends up in one of your doughnuts.
No one wants that.
But other than that, this is a batter that comes together, I kid you not, in minutes. I love baked doughnuts because they are so cute yet so effortless. They bake up in a matter of minutes, and then all you're left with is decorating, which we all know is the best part.
Well, I guess eating them is the best part. But you get my point.
Dying your coconut requires nothing more than coconut, pink food coloring, and a big Ziploc bag. Simply add the coconut and food coloring to the bag, zip shut, and shake until the color is evenly spread across all the coconut.
Then, you have the perfect tool to coat your doughnuts. Simply dunk doughnuts in the glaze, add a few to the coconut bag, zip shut, and gently shake to coat.
The result? Bright, cheery doughnuts with plenty of real coconut flavor. What more could you ask for this Valentine's Day? 😉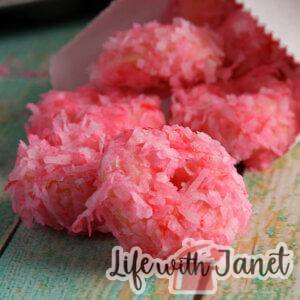 Ingredients
For the Doughnut Batter
1 cup flour

1/3 cup granulated sugar

1 tsp baking powder

1/4 tsp salt

1/2 cup coconut milk

1/2 tbsp vinegar

1 egg1 tsp vanilla extract

2 tbsp melted (and cooled) butter
For the Coconut Glaze and Topping
1 cup powdered sugar, sifted

2 to 2 ½ tbsp coconut milk

1 (10 oz) bag shredded coconut

pink food coloring, as needed
Instructions
Preheat oven to 350 degrees or preheat your donut maker. In a large bowl, combine flour, sugar, baking powder and salt until well combined. In a one-cup measuring cup, stir together vinegar and coconut milk and then let sit for 5 minutes.

In another bowl, beat egg, then pour in milk/vinegar mixture followed by the melted (and cool!) butter and vanilla.

Pour this mixture of wet ingredients into the large bowl with the dry ingredients, and gently whisk until a thick. smooth batter forms. Do not over-mix.

Pour mixture into a piping bag or ziploc plastic bag and snip off a 1/2 inch hole. Pipe donut batter either into greased doughnut pan or into preheated doughnut maker coated with cooking spray, filling cavities halfway.

Bake in oven for 5-7 minutes or in doughnut make for 4 minutes, or until toothpick inserted in the center of a doughnut comes out clean. Remove doughnuts from oven and let cool while you make the glaze and topping.

For the glaze, simply whisk together the powdered sugar, coconut milk, and a few drops of pink food coloring until a smooth glaze forms. Start with 2 tbsp of coconut milk, and add a little more if the glaze seems too thick.

Add the shredded coconut to a large plastic ziploc bag, drop in a few more drop of pink food coloring, seal and gently shake the bag to coat all the coconut. It should turn a nice shade of pink, but feel free to add more food coloring for a more vibrant color!

Once doughnuts are cool, dunk them in the glaze, covering them completely and then letting the excess glaze drip off before adding a couple to the bag with the coconut. Close the bag, gently shake to coat the doughnuts in the coconut.

Remove from bag and let dry on a cooling rack.
Happy Baking!