At some point this summer, I'm sure you've seen it. Almost positive you've seen it. The lame, hasn't-changed-since-the-1980s fruit salad. You know exactly what I'm talking about. It has melons and grapes and strawberries. If you're lucky, it has some kiwi too. I think it's time we make things a bit more interesting than that.
I made two beautiful, fresh, and delicious fruit salads just for you. The first – white nectaries, strawberries, blackberries, grilled lime segments, and mint. The second – orange supremes, plums (white or otherwise – I accidentally bought white), avocado, and basil.
You're welcome to make these exact salads as you continue to enjoy your summer weather, but I encourage you to try your own combination. Here are some tips that might help you along the way.
Don't be afraid to add something not sweet (see limes & avocado).
Grilling one of the ingredients gives fun contrast.
Definitely include herbs.
Think about how the colors will look together. (and of course, flavors will taste together)
Only buy/include produce that's in season.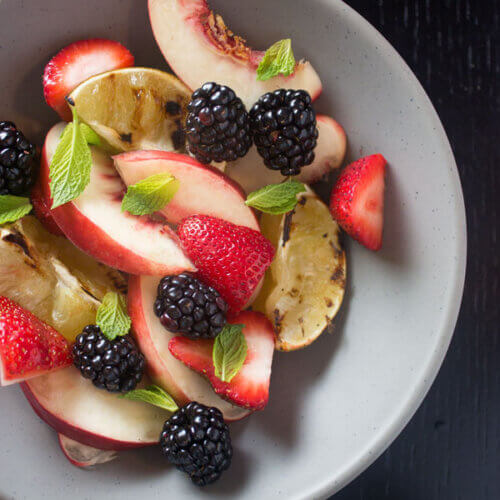 Ingredients
strawberries, leave top removed and halved

white nectarine, pitted and sliced

limes, quartered and grilled on high heat

blackberry

mint

orange supremes

avocado, large diced

plums, pitted and quartered

basil
Instructions
Prep all ingredients as instructed.

Combine the first 5 ingredients in a bowl.

Combine the last 4 ingredients in a bowl.