Our girls were small and our home was a little house on the prairie when I finally learned to make cornbread.  Fortunately the little house had electricity (most of the time) running water (when it wasn't frozen) and somewhat unfortunately, it also had a horse.
It was a clever horse and he could undo any latch we put on the corral gate.  He would enthusiastically let us know he wanted into the house by peeking in various first floor windows where he thought knocking meant hitting the glass with his lips. And smiling.
You have not really earned your gray & white hair unless you've been officially startled by a horse knocking on the window next to your reading chair. Try that on a dusky stormy evening sometime and see if you don't wake up with white hair.
When the horse wasn't stalking us through the windows he and the child were galloping all over the prairie field in front of the little house which drove me to the kitchen where I had a full window view. Stealth-watching-without-micro-meddling-mothering I called it. I baked and kept an eye out, you know, just in case.
Just-in-case occurred one fine autumn day when my last nerve was fried (and it never grew back) when I was watching the child and horse galloping through the field which was now full of very tall stuff (that is a technical term for giant weeds).
One second she was flying like the wind straight up tall on the saddle and the next second all I saw was the horse without child. I glimpsed a speck of helmet but it was literally perpendicular to where we hope a saddle ought to be. There was my kid, totally sideways still hanging on while the horse flew about the field. And before I could utter the universal  maternal distress epithet (oh shit) the horse skid to a halt and sat. Like a dog. Fortunately no small children or large horses were harmed in this fiasco. But we did have cornbread with dinner and the horse who thought he was a large dog got some extra carrots.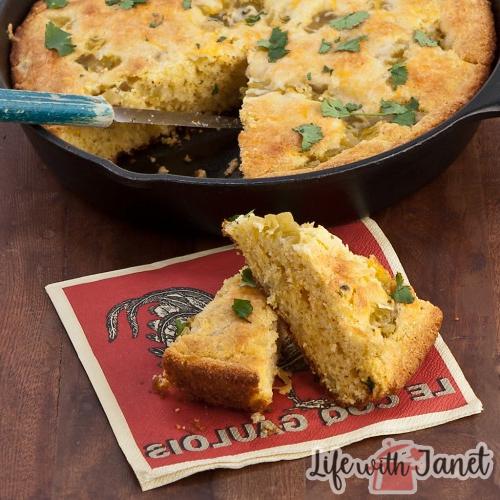 There is not one cornbread I've baked from that time forward that does not remind me of that day. And my last nerve. Which is still missing.
This cornbread bakes up really well in this pan. If you don't have a cast iron skillet you really need one. It is like a forever universal nonstick pan. It is also one of the few things we still have from the little house on the prairie days and I've come to really appreciate that tether back to a time when the kids were small, the air smelled like horse, and the barn door never closed really well.
Cornbread. It's what's for dinner.
Chili Cheese Corn Bread
This is a simple corn bread meant to accompany chili or some other similar meal. It is forever forgiving. Skip the cheese or add another kind. Skip the chili peppers or not. Use butter instead, skip the cheese and peppers and make this for breakfast. Or make it as is for breakfast, anyway. But whatever you decide to do, be sure to eat it when it is warm for best flavor. And while you might not want to share, it makes plenty to go around.
Print
Pin
Rate
Ingredients
1 tablespoon bacon grease or butter (bacon grease is better)

150 grams GF corn meal (about 1 cup)

140 grams GF flour (80 grams superfine brown rice flour, 30 grams superfine white rice flour, 30 grams tapioca flour/starch) (about 1 cup)

65 grams sugar (about a scant ⅓ cup)

1.5 tablespoons baking powder

1 heaping teaspoon kosher salt (don't skimp and for a different texture try sea salt)

200 grams milk (about ¾ cup)

73 grams vegetable oil (canola or peanut) (about ⅓ cup)

2 large whole eggs

2 tablespoons GF beer (optional)

1 small can mild or hot green chilis, drained

100 grams shredded Colby/Jack cheese (about 1 cup)

2 tablespoons chopped cilantro for garnish (optional)
Instructions
Preheat oven to 400 degrees. Melt bacon grease or butter in a 9 inch cast iron pan. Set aside. – but make sure the pan is very hot right before you pour the batter into the pan before placing in the oven.

In a large bowl weigh corn meal, flours, sugar and add baking powder and salt. Whisk to combine. In a small bowl whisk the milk, oil, eggs, beer. Add to the dry mixture and stir just to combine (don't overdo it). Add the chilis and fold in. Add the cheese and fold. Pour batter into the prepared hot pan and immediately place in the hot oven. Bake about 15 minutes and check. Rotate and bake about 5 minutes more or just until a toothpick comes out almost clean. Top with chopped cilantro if using. Cool slightly and serve warm, preferably with a nice bowl of chili topped with cheese, sour cream and cilantro. Muy bueno.