I participated in an Influencer Activation Program on behalf ofMom Central Consulting for the Beef Checkoff for Cats. I received products to facilitate this review and a promotional item to thank me for participating.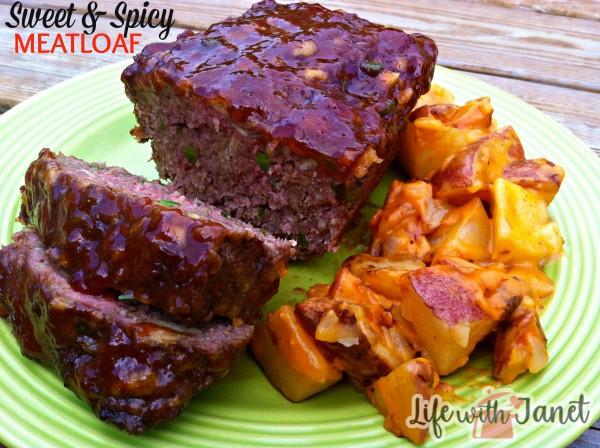 Beef has always been a staple in our home.  There are just so many different meals you can create with beef, because it is so versatile and easy to work with.  There are a great variety of different cuts of beef, and it cooks up really quickly too, which is great for a busy Mom like me.  It also helps you stay energized with 10 essential nutrients!
Some of my favorite beef dishes are Shepherd's Pie, Beef Stew, Lasagna with Meat Sauce, Stuffed Shells… the list goes on and on.  I have found lots of inspiration at BeefItsWhatsForDinner.com, too.  They have lots of quick and easy beef recipes to choose from.
I've recently added a new dish to my family's favorites, Sweet & Spicy Meatloaf.  This recipe actually comes from my sister, Angela.  She made this meatloaf for a family gathering and everyone went nuts over it.  I've never had a more flavorful meatloaf!
I did change a couple of her ingredients for things I had on hand, but she was definitely the brains behind this recipe.
When I used to think of meatloaf, I would think about the meatloaf my Mom made when I was a kid.  It was always so dry and lacking in flavor (sorry, Mom!).  She just doesn't have the cooking gene in her, but luckily for my sister and I, our grandmother and our Dad are pretty good cooks, and we have learned a lot from them.  One thing we never skimp on is flavor, and this meatloaf is just bursting with flavor.  Ground beef is like an empty canvas, waiting for you to turn it into a flavorful masterpiece.  When you're cooking with ground beef, don't be afraid to experiment with different sauces and seasonings!
Take a look at all of the different ingredients I used to infuse this meatloaf with flavor, and to make it extra juicy.  No dry meatloaf here!!
You can also follow me on Pinterest or join my group on Facebook