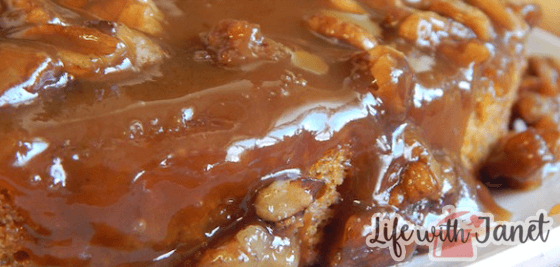 Ingredients
2 stick unsalted butter, melted and divided
3/4 cup of brown sugar
3/4 cup pecan halves
1 2/3 cups all-purpose flour, plus more for pan
1 teaspoon ground cinnamon
1/4 teaspoon ground nutmeg
1/4 teaspoon ground allspice
1/2 teaspoon salt
1/2 teaspoon baking powder
1/2 teaspoon baking soda
1 cups sugar
1 teaspoon vanilla extract
2 large eggs
1 cup homemade Pumpkin Puree Pumpkin Puree, or canned
1/2 cup warm (110 degrees) milk
Instructions
Heat the oven to 350 degrees. Spread pecan halves on a baking sheet and toast for 5 minutes or until aromatic. Remove from the oven and let cool, chop the pecans into small pieces, set aside.
Melt butter in a small sauce pan. In a 9-by-2-inch round cake pan combine melted butter and brown sugar.
In a large bowl, sift together flour, sugar, cinnamon, nutmeg, allspice, salt, baking powder, and baking soda; set aside.
In the bowl of an electric mixer fitted with the paddle attachment, beat butter, eggs, milk, vanilla extract and pumpkin puree together until well combined, about 2 minutes. Add flour mixture; stir with spoon until just combined.
Pour batter into prepared pan, and bake until a cake tester inserted into the middle comes out clean, about 50 minutes. Transfer the cake to a wire rack to cool. Let cake rest 5 minutes.
Place a plate over the cake and invert to unmold cake, let cool completely.