When I was still living at home, my mammaw would make a big pot of beef stew with a pan of cornbread. As the day went on, family members would pile in and eat; this was typical in our house. This meal is a Southern winter comfort for sure and one that I have never even made. It seems like I just forgot about it, plus no one in my house cares for beef or Southern food. Last night when I was grocery shopping, I saw a nice pack of meat and thought about beef stew and from there went around gathering what I would need. I made it today and was surprised when everyone loved it.
You can find special beef stew meat at any grocer, but my advice is to stay away from it. They use an adamant part of beef for this, and even though it does get softer while cooking, it's just not enough, in my opinion. You want quality meat that will end up being benign. No one wants to chew on a piece of beef forever. If you have fresh vegetables, that's great, but frozen is the next best thing and what I use. I served mine with white rice (these Saudis of mine always have to have it) and some crispy white bread I picked up at Paul.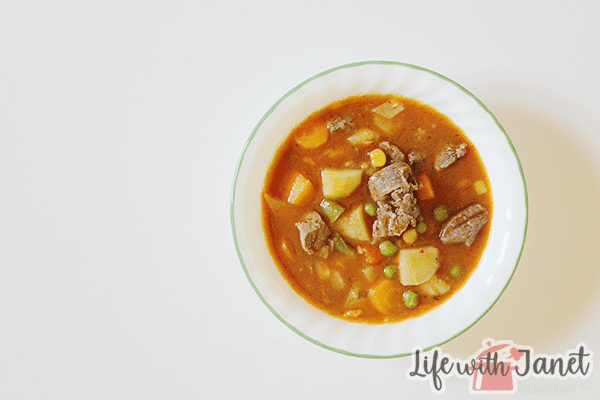 Ingredients
1

tablespoon

butter

2

pounds

of beef

cubed

4

cups

of water

1

beef bouillon cube

1

small white onion

diced

1

garlic clove

diced

1

large carrot

peeled and sliced

1

large potato

peeled and sliced

1/2

cup

frozen corn

1/2

cup

frozen peas

1/2

cup

frozen green beans

3

tablespoons

tomato paste

1

teaspoon

Worcestershire sauce

1

teaspoon

sugar

1/2

teaspoon

paprika

1/2

teaspoon

dried thyme

1

bay leaf

3

tablespoons

flour

Salt and pepper

to taste
Instructions
In an 8-quart saucepan on medium heat, add butter and melt brown sides. Add water and bring to a full boil, reduce to low-medium and remove the foam on top of the water. Add onions and garlic and allow to cook covered for one hour.

Add bouillon, potatoes, corn, peas, green beans, tomato paste, Worcestershire sauce, sugar, thyme, bay leaf, salt, and pepper, carefully mix. Bring to a full boil, cover, and allow to cook on low for 30 minutes.

In a small cup, add flour and about 1/4 cup of broth from the stew, mix well until no longer lumpy, then add into the stew, stir—cover and cook for an additional 10 minutes.