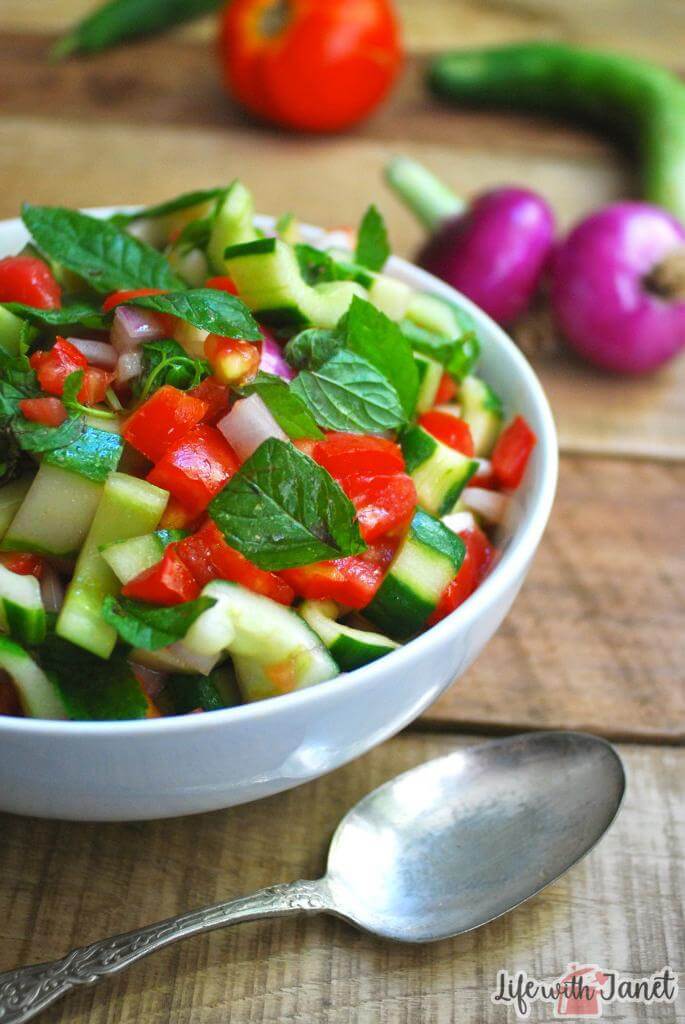 Today we will make this CUCUMBER AND TOMATO SALAD with our garden vegetables , Well into the growing season, our community supported agriculture program and our garden have been providing all of the vegetables our families needs, with some left over for preserving, for a few weeks now. I hadn't realized it until I ran into the grocery store the other day for some red wine vinegar, but it's been weeks since I made a real grocery trip.
I was almost stunned when I crossed the produce section to remember just how much of everything – and I mean everything – that's available. The beautiful, expansive displays of every imaginable kind of tomato and the boxes of boxes of fruits that aren't quite in season yet – raspberries watermelons, cantaloup – were almost overwhelming.
I realized suddenly how much I've enjoyed waiting each week for vegetables and fruits to take their place on our table in their own good time, showing up in our CSA box or on the farmers' markets table only after the weather and the soil have willed them to ripen and local farmers have brought them in from the fields. Vegetables: first the chard, kale, spinach and asparagus, then the sweet English peas and the baby zucchini, and then, finally last week, the first tomatoes. Fruit: first strawberries and rhubarb, then blueberries, and now cherries. Waiting has meant really savoring each ingredient.
There is no better feeling than bringing vegetables in from my own little garden and preparing them for my family. This simple, healthy salad features some of my own cucumbers alongside the beefsteak tomatoes and red onions from our CSA box last week. (I've had a few Early Girl tomatoes ripen, but the bulk of mine are still green).
Another reason I love this salad is that it's so easy to make. I know the preparation time says 65 minutes, but only 5 of that is actually work. The rest is just time to allow the cucumbers to soak up the flavor of the vinegar. You'll want to choose really good quality red wine vinegar and olive oil because with so few ingredients in this dish, the difference in flavor is really noticeable. This recipe is appropriate for vegan and paleo diets.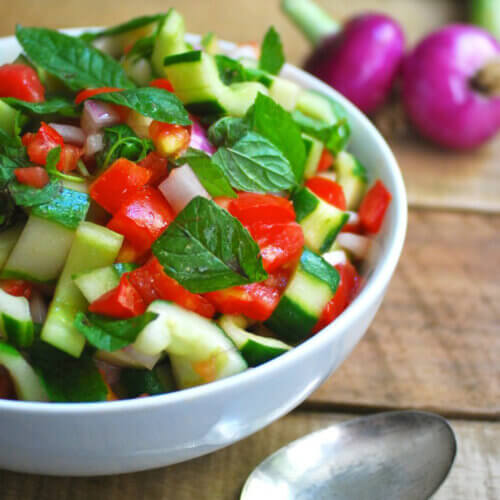 Ingredients
4

medium or 3 large cucumbers from the garden

¼

cup

red wine vinegar

1

tablespoon

sugar

use honey for paleo option

1

teaspoon

salt

3

large beefsteak tomatoes

seeded, coarsely chopped

1

medium red onion

chopped

½

cup

whole mint leaves

3

tablespoons

olive oil
Instructions
Peel cucumbers in alternating stripes (peel a strip and then leave one unpeeled next to it – repeat until entire cucumber appears striped).

Cut cucumbers in half along the length and scrape out the seeds. Cut halves diagonally into ½-inch-wide pieces.

Place in large bowl an add vinegar, sugar and salt. Let stand at room temperature 1 hour, stirring occasionally.

Add tomatoes, red onion, mint and oil to cucumbers and toss to blend. Season with fresh ground pepper.