For BBQ season, I cannot think of a better recipe than this. And, I am not even considering it for just a BBQ time, you can make it all year long. I can truly say it is one of my favorite recipes that will blow your mind. These chicken, bacon, and pineapple kebabs are an inspiration from the traditional recipe of Hawaii. You can make this on your stove, griller, and even on an air fryer. Make sure to follow the instructions of your air fryer for cooking the best BBQ in it.
So, a lot of you might call it skewers but I would prefer this name. Apart from the name, I think no one can argue that this recipe is simple and it is worth every single second of your cooking. Have a lot of hungry faces around you and they want something special? Well, your family and friends are going to fall in love with this recipe because the flavors are just WOW. The charred flavor on the outside with juicy, spicy, and tender flavor on the inside is going to make you amazed.
I have been making it with some special sauces and I have even tried the tomato sauce which is the traditional combo of this dish. But you can serve it with BBQ sauce because it will taste perfect with anything.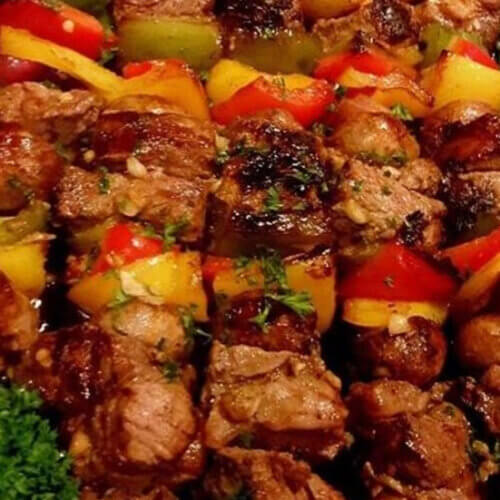 Chicken, Bacon, Pineapple Kebabs
For BBQ season, I cannot think of a better recipe than this. And, I am not even considering it for just a BBQ time
Print
Pin
Rate
Ingredients
Chicken breast 2 cuts in small size for skewers

4

strips of bacon cut in half

Soya sauce 3 tbsp

Brown sugar half cup

Pineapple juice half cup

Cornstarch 2 tbsp

Bell peppers 2 cut into small pieces

1

Pineapple cut into small chunks

1

onion in small size

Skewers

(The cutting should be for skewers so everything stays perfect when you are making it)
Instructions
Preheat the grill before you start working on your ingredients.

Firstly, make sure to cover your chicken with bacon. For that, you can cut the bacon in the same size you will need.

Now take a skewer and thread pepper, bacon-covered chicken, onion, and pineapple.

You will need a saucepan now in which add the brown sugar, pineapple juice, soya sauce, and corn scratch. Boil it for 5 minutes and you have now made the perfect sauce for these kebabs.

Put the skewers on the grill and baste with the sauce you have made. Turn the sides after 2-3 minutes. These kebabs will take 6-7 minutes to get ready if you are making them on the grill.
Should you use metal or bamboo skewers:
I would like to share that I have metal ones so I use them. But in bigger events where I need more, bamboo skewers come handy. For this recipe, I recommend that you can use anyone you have or like. Just make sure to put the bamboo skewers in the water for 30 minutes. If possible, you can do it overnight and it will ensure that they will be durable when you are grilling. There will be less chance of burning. On the other hand, metal ones do not require any preparation and you can just start using them.