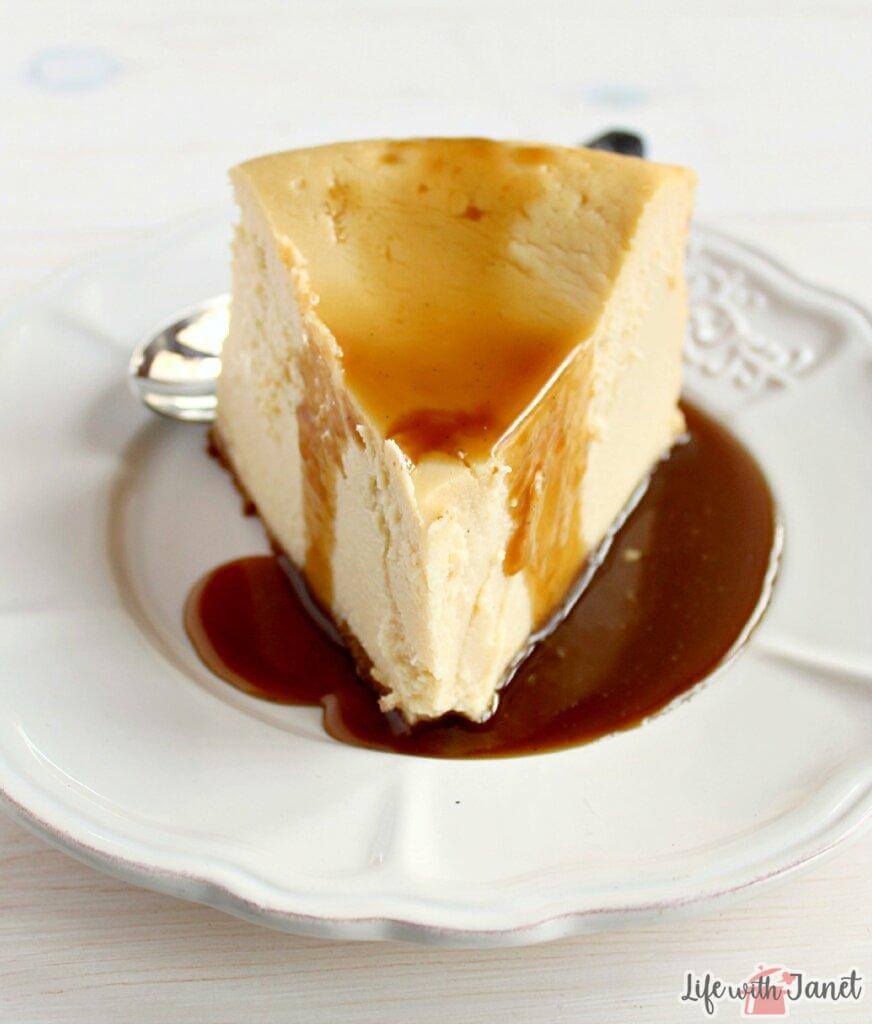 Though truth to be true, the portion of cheesecake I had was the tiniest thing ever, which kinda makes me want to cry, since this one is one of the most decadent, luscious and creamiest recipes I've ever come across. Too bad I made this on the weekend when I was down with that nasty flu bug and didn't feel like eating a thing… 
In a perfect world, I would have eaten the whole cheesecake myself, without telling people about its existence and then having them realise that cheesecake actually happened when they'd see it on the blog.
I'm not being selfish guys, just realistic.
This one is so so so good. Incredibly melt-in-your-mouth velvety, smooth with a lovely vanilla brown sugar taste that would go perfect with pretty much every topping in the world (*enter: latte caramel sauce*) and makes you want to not eat anything but this cheesecake in your whole life.
I'm talking real good here.
Like, you guys imagine that I open a google tab and search for adjectives to describe nice things… that's how I'd talk about this baby, but alas I haven't that much time now, so you'll have to open the tab yourselves and look for nice words to describe the cheesecake.
Awesome, delicious, yummy, scrumptious… All of those would work pretty well in this context.
Have I convinced you to try this cheesecake yet? Still having doubts? Don't. This cheesecake is also foolproof and comes closer to perfection every single time (no cracks in the surface, this one isn't super delicate!), AND it's healthier than most, but you guys wouldn't be able to tell the difference.
Winner? I think so.
Skinny Brown Sugar Vanilla Cheesecake
For the crust:
100 grams chocolate digestive cookies
1 tablespoon Earth Balance
For the filling:
8 oz. (225 grams) light cream cheese
750 grams fat-free cottage cheese
30 grams all purpose flour
30 grams cornstarch
1 tablespoon vanilla custard powder
4 eggs
1 cup brown sugar
1 tablespoon vanilla extract
juice from half a lemon
Instructions
Crush the digestive cookies in a food processor (if you don't have one, use a rolling pin!) and add melted butter and pulse again.
Press cookie crumbs into a baking pan (a 20-22cm one) and set aside.
Beat cheeses with sugar, custard powder and flour. You can use the food processor too. Beat in the eggs, vanilla extract and lemon juice and process until creamy.
Pour into pan.
Bake at 150ºC for 20 minutes. Turn the heat to 180ºC and bake for 50-60 minutes more or until set. This depends on your oven. When you turn off the oven, let the cheesecake there for 10 minutes more or so.
Let it refrigerate overnight.
Notes:
If the cheesecake browns too quickly, you can over it with tinfoil.
This is the sauce I used. Add 2tbsp more of cream than stated in the recipe and a pinch of instant coffee granules for a latte caramel flavor.
Low sodium cottage cheese is best for this.
A 200kcal slice is a bit smaller than the one in my pictures, but that one is HUGE in real life, and could totally feed two hungry people.
For the record, I'm out of bed recovering from the flu now. I no longer have fever and although I still find it hard to breathe and savour food, I'm feeling much better now. I think I had never got over an illness this quickly. Thanks for the sweet wishes in my last post, they all worked. You guys must be wizards 
Have a nice rest of week my friends!