Can you believe that until last week I had never turned on the grill by myself? For the month of July I decided it was high time to do Operation Use My Grill and I've wrangled Scott into participating with me. If you're not familiar with my Operation Use My Kitchen Stuff, the idea is to focus on one kitchen thing for a month (or so) and use said thing as many times as I can in as many creative ways as I can.
So, the grill. That large thing in the backyard that I don't know how to turn on and generally overcooks chicken and catches things on fire. Um, that may or may not be a statement towards Scott grilling skills. Just kidding. But really, the grill scares me. Coupled with this month's Operation is the Cook it Up! Cookbook Challenge and this month I've decided to focus on the Big Book of BBQ. And what did I find? Grilled dessert? Perfect!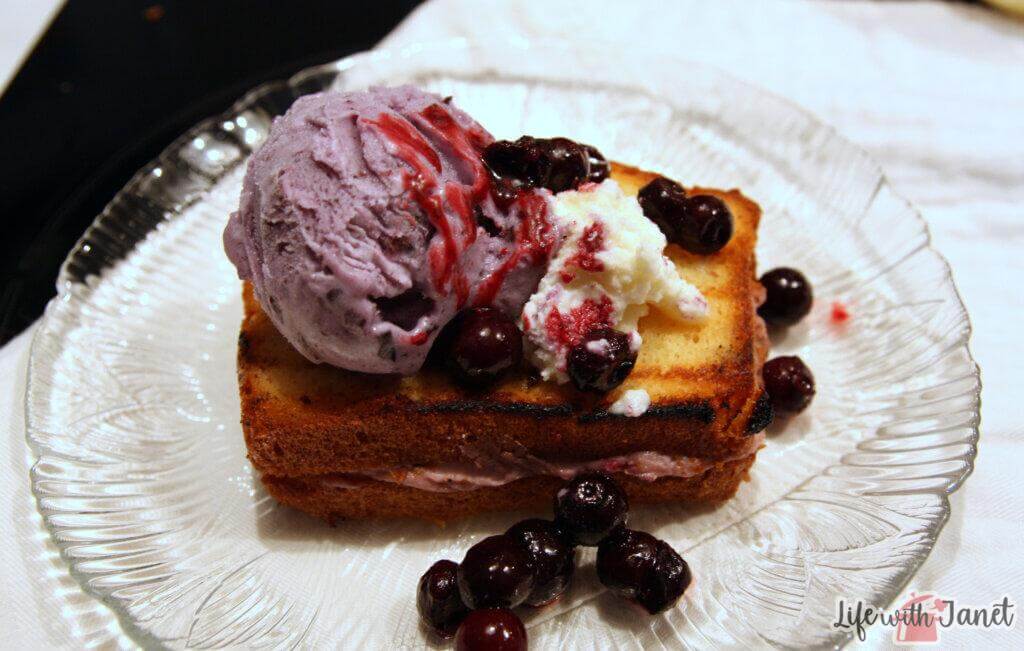 When we pulled the Grilled Pound Cake dessert off the grill I was skeptical. It looked a bit crispy–would it be dry and nasty? I topped it with homemade blueberry ice cream and whipped cream (that accidentally turned into butter) and braced myself for the first bite.
Oh My Goodness. Who knew that this could be so yummy? The sugars in the pound cake caramelized and it was crispy but in all the best ways. Plus it couldn't have been easier to prepare.
Ingredients
8

slices

of pound cake

1/2 inch thick slices

4

ounces

blueberry cream cheese

less if you want less, more if you want more. I always go for more

Toppings: ice cream

whipped cream, berries, whatever your heart desires
Instructions
Heat grill to 350-400. Spread cream cheese on four slices of pound cake and sandwich each piece with the remaining four slices.

Grill directly on grate 2-3 minutes on each side, covered with grill lid. (I've learned to watch to make sure things don't get too crispy!)

Serve immediately and enjoy!