Guys, Christmas is coming up SO soon!! I'm listening to my Mariah Carey Christmas album as I speak (or..type..but you get the picture.)
These Rice Krispie TREES (nice play on words, huh?) are such a fun holiday treat to make and eat! And seriously, don't they look SO adorable?! I've been going crazy about the cuteness of these babies! And not to mention, the taste is awesome too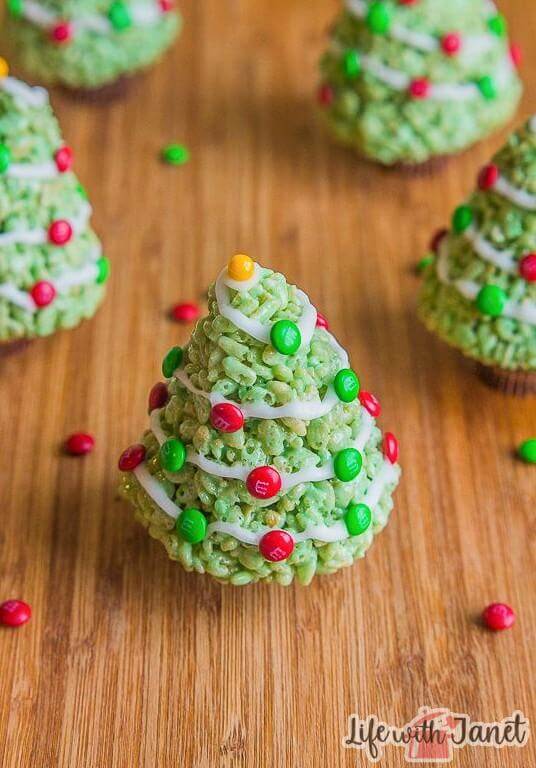 If you have kids around the house, this could be such a great activity to have the little helpers join in on. And these can be made for great, easy gifts for teachers, and even friends!
Ingredients
6

cups

Rice Krispies Cereal

3

tablespoons

butter

10

oz

package marshmallows

Several drops of green food coloring

3

cups

powdered sugar

3-4

tablespoons

milk

3

tablespoons

corn syrup

8

mini Reese's Peanut Butter Cups

1/4-1/3

cup

red and green M&M; Minis Baking Bits

Gold sugar pearls

I used Wilton
Instructions
Line a cookie sheet with parchment paper. Set aside.

In a microwavable bowl, heat the marshmallows and butter in 30 second intervals, stirring with a spatula in between intervals, until fully melted and smooth. Add about 7-8 drops of green food coloring and mix until the color is well combined. You can add in more food coloring if you'd like a darker green, but not too much, as the marshmallow mixture might water down too much. Add in the Rice Krispies Cereal and the cereal is fully covered.

Spray your hand with cooking spray (or cover with oil/grease) and form 3" x 3" balls with the cereal. Push the ball into your left hand (forming the bottom of the tree) and use the fingers of your right hand to push the mixture up into the shape of a tree. Place on the parchment paper lined cookie sheet, allowing to set for a few hours. Repeat with the remaining mixture, making about 8 trees in total. Spray more cooking spray on your hands as needed.

Once the trees have fully settled (they won't be soft and warm anymore), make the icing. Using a large spoon, mix together the powdered sugar, milk, and corn syrup in a medium bowl until smooth. Fill a piping bag with the icing, using the Wilton Round #6 tip.

Pipe the icing around the tree to look like a garland, starting at the bottom and ending at the very top. Before the icing drys up, place the M&M;'s about every inch apart along the line of icing. Place one of the gold sugar pearls on top of each tree in replace of a star. Unwrap the peanut butter cups, turn upside down, pipe a medium-sized dot of icing, and place in the middle of the bottom of the trees to look like a tree stump. Allow the icing to set completely. Enjoy!