There is something about dark grey skies that make me crave baking in my kitchen.  Lucky for me, yesterday just happened to be one of those days.  I couldn't wait until nap time to break out my baking companion Dottie, and my  canisters of flour and sugar to bake some yummy homemade bread.  
Baking hasn't always been my forte.   I am sure Dave will be the first to vouch that many of my baking adventures have turned into major flops. As a matter of fact, the very first time I tired to make homemade pizza as a newly wed 11 years ago, was completely in-edible. I remember it being way too salty and completely dense and heavy,  the kind of sinks right to the pit of your stomach. I am still amazed that Dave  managed to get an entire piece down with a smile on his face. 
Thankfully, over the years he has been extremely patient and supportive of my learning process.  And there are certain things (like Pizza dough, and homemade white bread) that I have mastered.   
If you LOVE a soft perfectly textured homemade white bread than I have just the recipe for you.
This recipe is fairly simple, and has minimal steps making it pretty easy not to mess up. So, beginner bread makers this one is for you!
Since I own a KitchenAid.  I allow my dough hook to do all the work so no kneading is required.  However, if you don't have one, don't stress, you can still make a perfect loaf by  kneading with your own two hands!
This recipe will make enough for 2 loaves in  9×5 inch pans.
And tastes the best if you brush it with a little bit of melted butter straight out of the oven!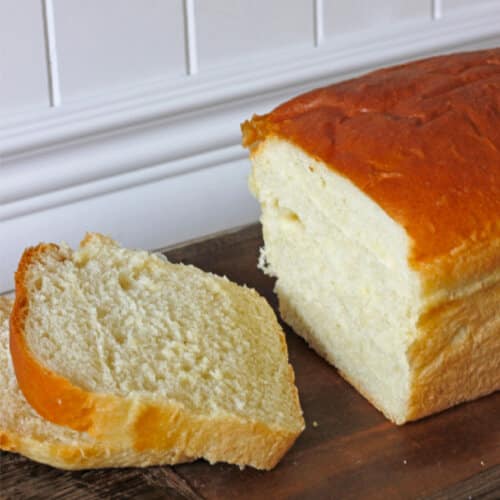 Ingredients
2

Cups

Warm Water

1/4

Cup

Sugar

1 1/2

TBSP

Active Dry Yeast

1 1/2

tsp

Salt

1/4

Vegetable or Canola Oil

5 1/2

Cups

Bread Flour
Instructions
In the bowl of an electric mixer with a dough hook attachment (like KitchenAid or Bosch), dissolve the sugar in warm water. Then gently stir in the active dry yeast. Allow to proof until in turns bubby and foamy (about 5 minutes). If it doesn't turn foamy throw it out and start over. Next, add in your oil and salt and mix until combined. Then add in your flour one cup at a time until smooth and slightly sticky. Cover dough with a damp cloth, and allow to rise until it doubles in size (about an hour). Punch down down, and divide in half. Gently shape into 2 loaves and place into 2 well oiled 9×5 inch loaf pans. Allow to rise again until the top has risen 1 inch above the pans (about 30-40 minutes).

Bake at 350 degrees for 30 minutes. Once out of the oven brush with some melted butter, and allow to rest for 5 minutes before transferring to a wire rack to completely cool.
Notes
If you do not have an electric mixer like a KitchenAid or Bosch, this recipe can easily be made in a large bowl. Once all of your flour is added, Knead dough on a lightly floured surface until smooth.
**Do NOT substitute All Purpose Flour for the Bread Flour! It changes the texture of the bread. I highly recommend using Bread Flour!