No one can argue that food is the best way to enjoy socializing. Having the right food at your party is paramount and, Southern Fried Fish is certainly the best. However, fried fish is best enjoyed when done right. After all, you don't want to spend all that time cooking just to end up with a dish that tastes like batter. 
This blog will share the recipe that will have you serving Southern fried fish. It is not just tasty but very much in vogue. Preparation time is 20 minutes and, cooking time is 10 minutes. You can prepare this dish in half-hour and then serve it to 2 of your guests. Let's jump to the ingredient list to prepare for the recipe.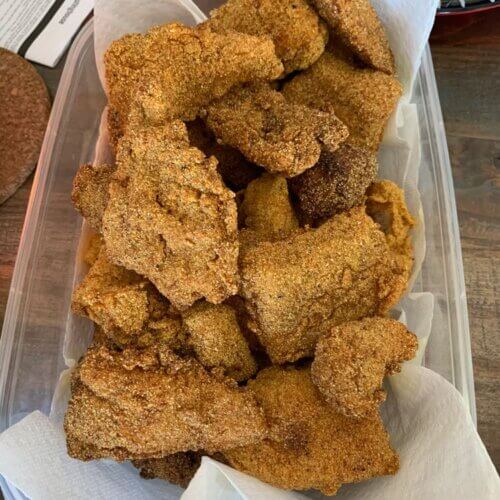 Ingredients
Buttermilk – ½ cup

Water – ½ cup

Pepper

Catfish fillets

cut in strips – 1 pound

Fine cornmeal – 1 ½ cups

All-purpose flour - ½ cups

Seafood seasoning – 1 tsp

Vegetable Oil for deep frying – 1 quart
Instructions
Take a small bowl, add buttermilk, salt, pepper and water to it. Mix well, so all ingredients are blended. Take a flat pan to make fillets. On the bottom layer of the pan, layer the fish, and then turn to coat both sides. Put it aside to let it marinate.

Take out a plastic bag of volume 2 gallons, and then add in cornmeal, all-purpose flour, and seafood seasoning. Now, mix them well. Add fish to the prepared mixture. You should add a few fillets at a time. Now, gently coat the fish from all sides while tumbling.

Take a deep fryer and heat oil to 185 degrees Celcius.

Deep fry the coated fillets until they turn brown. It will take 3 minutes in total. Don't add too many fillets in a single go; to allow proper browning, add some of them. On frying, the fish will turn crispy and moist from the inside. Inside, it will appear flakier. Drain out the fish from oil on paper towels.
FAQs
Is southern fried catfish gluten-free?
Yes, people with gluten intolerance can enjoy the taste of catfish if made with the above-written ingredients. 
Can I replace catfish?
You may do some variations and can replace catfish with white fish or red snapper. You can also cut them into fine strips or little pieces. 
Fried catfish falls upon the ears and taste buds like sizzling goodness buried by fried crispy crust leaving nothing but a mouth-watering crunch once each bite is taken. When you bought these fish fillets at the market, haven't you intended to bake them with garlic and salt? 
However, your mind frequently drifted to how wonderful fried catfish would be dipped in tartar sauce and gobbled up along with plenty of hush puppies. It became more than just a want; it became a need – excitement deeply rooted inside of me only satisfied by this delicacy's incredibly real taste that's bursting with flavour in every bite. This blog presented the easiest and delicious recipe for you to follow.