Having grown up in the L.A. area, I'm pretty confident in saying that I've been treated to some of THE best Mexican food around.  From  tacos to enchiladas to chilequiles to nachos to burritos and more, I love just about every Mexican dish you can name.
There's one thing about Mexican food, though, that I love above all–GUACAMOLE!
I never realized, until I met The Husband that is, that there are people on the earth that actually do not like guacamole.  What IS this madness? (The Husband is from Minnesota where, apparently, guacamole is not as essential to life as it is here in Los Angeles. This does not compute in my world.)
I have a theory behind this.  People who don't like guacamole just haven't had MY guacamole yet.
That may sound a little conceited, and I'm not normally one to toot my own horn or anything, but I have a KILLER guacamole recipe.  Seriously.  I've been told by numerous people that my guacamole is THE BEST they've ever tasted.  My dad has requested giant bowls on many occasions.   I make it for every get together, party, potluck, and holiday event, and it's always GONE.  Good luck finding any at the end of the night!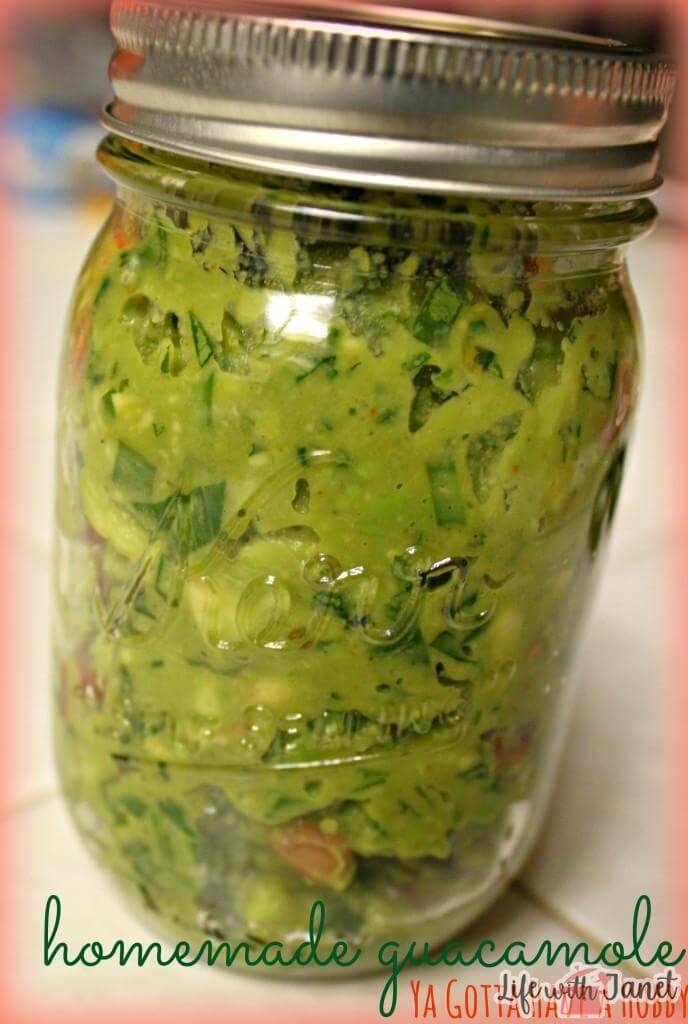 In honor of Cinco De Mayo this Sunday, I thought I'd share my famous homemade guacamole recipe with you, dear reader. (I know, I know–I really am too kind). It's super simple and quick to put together.  If you can work a knife and chop veggies–you can do this!
Ingredients
3-4

large

ripe avocados (they should give when you press on the skin; if your avocados are small–like mine were–increase the number to 5)

1

lemon

just the juice will be used

1-2

medium tomatoes

3

green onions

1/4

c

cilantro

eyeballing it is fine–I always use two large handfuls

1

jalapeno pepper

seeds and ribs removed if you don't like it spicy!

seasoning salt to taste
Instructions
Thinly slice the green onions and place in a bowl.

Finely chop the cilantro, add it to the bowl.

Slice the jalapeno pepper in half lengthwise. Using a spoon, remove the seeds and ribs. If you like a lot of heat, you can leave these in, but I like the flavor of the jalapeno without a lot of spiciness, so I take mine out. Slice the jalapeno into quarters, then chop the jalapeno into pieces. Add to the bowl with the cilantro and green onions.

Depending on the size of your tomatoes, you can use 1 or 2. You don't want the tomato to overwhelm your guacamole, so keep it on the smaller side! My tomatoes this day were the large beefsteak kind, so I only added one. Dice the tomato into small chunks and add to the bowl.

Cut each avocado in half lengthwise. Lightly squeeze and twist the halves as you open the avocado up to loosen the pit. Using a spoon, scoop out the fleshy parts of the avocado and add to the bowl.

Before cutting your lemon in half, roll it around a couple of times on your cutting board using the palm of your hand. This will "activate" the juices, allowing you to get the most from your lemon. Slice the lemon in half and squeeze both halves into the bowl, being careful not to add the seeds (I squeeze my lemons with the "open" half facing up, so seeds are caught between my fingers instead of falling into the bowl).

Using a large fork, smash the avocados until creamy, stirring the ingredients together as you go. Tip: if your avocados are not quite ripe and you are having difficulty smashing them, pop the bowl into the microwave for 15-20 seconds. This will soften the avocados and allow for easier mixing.

Once your ingredients are thoroughly combined, add seasoning salt to taste. Fair warning: you will use quite a fair amount of seasoning salt–at least a tablespoon or so. This part really is up to your tastes; I like mine a little extra salty… it brings out the flavor of the avocados and tomatoes. If your guacamole isn't tasting quite right, add a little extra seasoning salt! Nine times out of ten the seasoning is the key.
There you have it!
The BEST guacamole recipe ever, hands down.  Serve as is with tortilla chips, or alongside a meal–we had ours with pork carnitas (from Costco!) and rice with tortillas for dinner the other night. Yum!
Happy dipping!