Thanksgiving dinner at our house means homemade mashed potatoes.  Who doesn't love mashed potatoes?  This year we invited a group of local friends over, but the guest list wasn't finalized until late.  I knew it would be somewhere between 2 and 12.  So I did what any sane person would do:  bought a mountain of potatoes, figuring it was better to buy one potato for everyone I invited (forgetting that there would be many other sides to choose from, how could anyone eat a WHOLE potato with that many sides?).  I bought so many potatoes in fact, that they wouldn't even fit in my biggest pot.  All the guests came, had their fill of mashed potatoes and all the other Thanksgiving goodies, and left.
At the end of the evening, I was left with more potatoes than I knew what to do with.  The hubby and I ate lots of leftovers the next day…and the next…and the next.  We had leftovers for lunch AND for dinner (and breakfast, and dessert).   The dog wouldn't even eat leftovers anymore.  After five days, we were so sick of mashed potatoes, and just couldn't eat them again.  Now I hate to waste food, but I didn't know what to do…
Along came my hubby's dad to the rescue.  He is Irish and suggested this tasty recipe that his mother, Minnie, used to make.  Thanks dad, for saving these potatoes.
I don't even know what these are called.  I just call them Irish Potato Cakes.  The combination of potatoes, onions, and bacon makes them irresistible though.  The second time I made them I added some cheese too.  You can use them as a side for any meal, which is pretty handy.  These things were so good that the hubby asked me to make them again, even after we stuffed ourselves with leftovers for almost a week.  I am sure I will make these even when I don't have mashed potatoes to use up!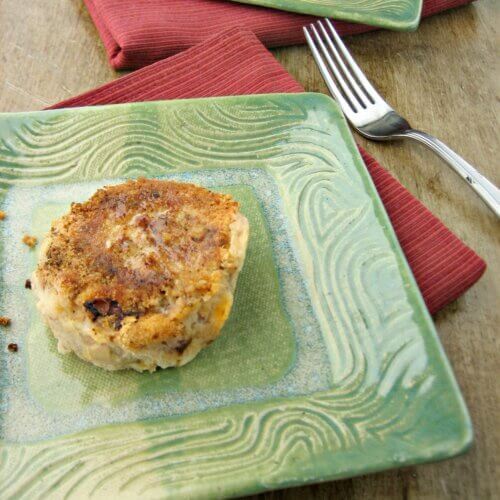 Instructions
cook the bacon in a cast iron skillet and tear into pieces (save the bacon fat)

meanwhile, saute the onion until soft

mix the onion, bacon, and butter with the mashed potatoes (I skipped the butter because I had already put plenty in the mashed potatoes)

form into patties and dredge in flour

cook patties on medium heat (using the bacon fat) until they are brown and crispy on the edges, a few minutes each side.