If you really love someone, this is what you make.
I mean, if you reaaaaaaaallly love the bare bones off of someone, then this is what you have to make for them.
These tarts are made of pure love and feel about as comforting as an oversized hoodie.
Let me bring you there…
…imagine warm apple pie, the buttery scent of sweet pastry accompanied by the soothing effect of cinnamon spice…
Now, add creamy caramel and toasted pecans to combine all of the most incredible, classic, nostalgic and "make me wanna hug my mama" flavours all in one.
This will bring you home, or at least into a coma. It's that good.
There are three main chapters to this story.
Chapter 1: Pastry
Remember to have a light hand – rub the butter into the flour quickly so that the heat of your fingertips doesn't melt it down. Keep some larger oat-flake sized pieces to ensure flakiness, but at the same time make sure that all of the flour is coated with fat to guarantee tenderness. Add just enough water to bring it together – no more, no less!
Chapter 2: Apples
This is easy reading – slice thinly and arrange neatly.
Chapter 3: Caramel
Do not stir the sugar as it transforms into caramel. Do swirl the pan gently to promote even browning and even cooking. Keep an eye on it to watch for the appearance of that gorgeous amber colour to tell you it's ready for the cream. Be careful as you stir in the cream because the mixture will bubble up violently as the water immediately evaporates on contact with the piping hot sugar.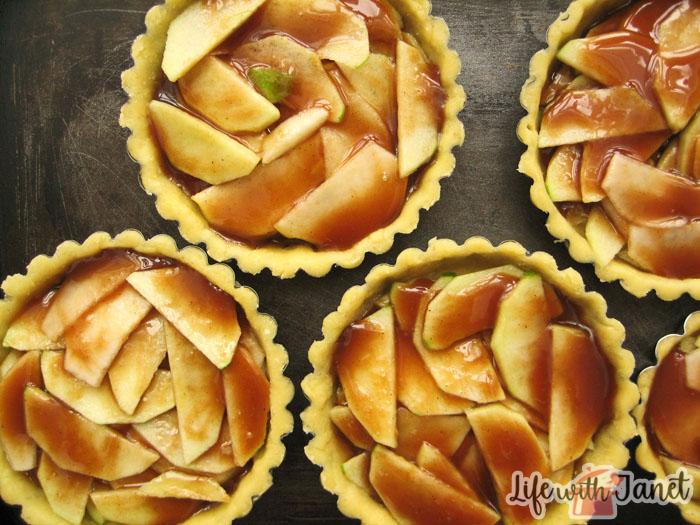 Caramel is prepared separately and simply spooned over the filled tarts. As they bake it will melt down and around the apples, getting into every crevice and creating a silky sauce that envelopes them.
These treats are delicate and fit the definition of a "tart" to a "T". Although they contain apple, do not mistake them for a pie. The difference? Well, they are as much about the tender crisp pastry as they are about the filling. Do not over-load the shells. You should have enough apple to just create two even layers – we're not after a mile-high pile of fruit here.
The result is a delicate thin layer of soft fruit & intense caramel flavour, equally balanced by a crispy buttery  pastry case.
Pecans scattered over top will hum subtle sounds of pecan pie. That's a beautiful song!
A spoon of thick cream or double cream is better than ice cream in this case. Remember, we're not in pie territory here – this is a tart's world and a big scoop of ice cream would just take over. The clean flavour of unsweetened dairy provides lovely contrast to the caramelized sweetness and rounds out the taste experience. How do you make thick cream? Well, if you're from the UK, Australia or New Zealand then you can just buy it and it is a really beautiful thing. If you are not, then all you need to do is whisk some 35% whipping cream in a bowl until thickened, but not whipped. That will dazzle just as well.
All you need to do is find someone you love to make this for. And, it's totally ok if that someone is You.
Ingredients
For the pastry:
1

cup

plus 2 tbsp all-purpose flour

3

tbsp

sugar

¼

tsp

salt

6

tbsp

cold butter

1

large egg yolk

1 – 2

tbsp

cold water
For the filling:
3

apples

sliced very thinly

½

cup

sugar

1

tsp

golden syrup

½

tsp

vinegar

1

tbsp

water

¼

cup

cream

1/8

tsp

salt

¼

tsp

cinnamon

½

cup

chopped pecans
Instructions
To make the pastry, whisk together flour, sugar and salt in a large bowl. Add cold butter and toss to coat. Using your fingertips, rub butter into flour mixture until it resembles coarse crumbs. Whisk egg yolk with 1 tablespoon of water in a small bowl and drizzle into flour mixture while gently tossing with a fork. Continue to mix dough until dry ingredients are moistened and it holds together in clumps but does not yet form a ball. Drizzle in up to one more tablespoon of water if dough is too dry. Turn the crumbly dough out onto a clean work surface and gather it together in a ball with your hands slightly cupped, turning it frequently and pressing in loose bits until it is cohesive. Shape into a disk and wrap tightly with plastic wrap. Refrigerate at least 2 hours.

Let pastry sit at room temperature about 10 minutes before rolling to make it easier to work with. On a lightly floured work surface roll pastry out to just over 1/8-inch thickness. Cut out as many 5-inch rounds as you can and fit the rounds into 5-inch round tart pans (I got enough to make four 5-inch tarts and one small 3-inch tart). Trim away excess dough as necessary and refrigerate until pastry is firm, about 20 minutes.

To make the caramel topping, pour sugar in an even layer in a 1-quart saucepan. Add golden syrup and vinegar. Drizzle water around the edges of the sugar and bring the mixture to a boil over medium heat without stirring. Cook until caramel is a dark amber colour, swirling the pan periodically to colour evenly, 10-15 minutes. The sugar may look grainy before it turns into a clear syrup. Wash down the sides of pan with a pastry brush dipped in water to dissolve any crystals that may form. When caramel is almost ready, the large bubbles will subside and a golden brown foam will appear at the surface. Remove caramel from heat and very carefully stir in the cream until smooth. Be cautious as the caramel will bubble up violently once you add the cream. Stir in salt and cinnamon. Pour caramel into a heatproof measuring cup and let cool about 15 minutes.

Preheat your oven to 350°F.

To assemble the tarts, arrange apples in two layers over chilled pastry shell. Drizzle slightly cooled caramel evenly over apples. Sprinkle pecans over filling and place tarts on a baking tray to capture any juices that may leak out. Bake for 25-30 minutes on bottom third rack of the oven until caramel is bubbling. Transfer tarts to a wire rack to cool slightly before serving.