The weather is getting cooler here in southern California and I have been craving for some savory comfort food like the fried mushrooms that I've tried in Taipei. Something hot, crispy and tasty with a kick of spice! Preferably healthy too so it won't make me feel bad afterwards like the way French fries do. Theses delicious fried mushrooms are the first thing that comes to mind. They are delicious with rice or even on their own!
King oyster mushroom (pleurotus eryngii) grows in clusters developing a trumpet-like shape with a blunt cap above and a stout stem beneath that is crunchy and firm. It's an edible mushroom with a wonderful aroma and unique umami flavor.
King oyster mushrooms are also referred to as medicinal mushrooms for their many health benefits.  They are also known for being an excellent energy and immune booster as well as aiding in lowering cholesterol in the body. What's best is that they stay fresh and firm in the refrigerator for a longer time compared to other mushrooms. So, I always have some handy to add to whatever I cook that week.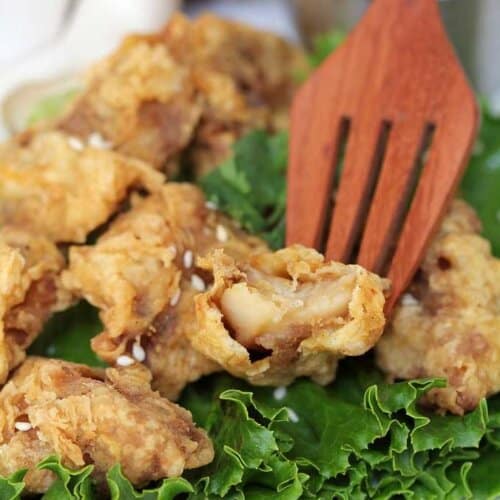 Ingredients
4-5

king oyster mushrooms

cut into bite size pieces

Oil for deep frying
Sauce:
½

cup

light soy sauce

¼

cup

water

1

tablespoon

sesame oil
Batter Mix:
½

cup

flour

½

cup

corn starch

½

teaspoon

cayenne pepper

½

teaspoon

pepper
Instructions
Add and mix all the sauce ingredients in a bowl. Set aside.

Add all the batter mix ingredients into a bowl and mix together. Set aside.

Beat two eggs in a small bowl and set aside.

Preheat oil to 325 F (160 C) in a frying pan at low heat.

Place mushrooms into sauce and immediately scoop out, and coat with batter mix.

Place coated mushrooms into egg wash and coat the second time with batter mixture.

Place mushrooms into fry pan and deep fry mushrooms until golden brown.

Sprinkle some sesame seeds and serve immediately as is or with some ketchup (tomato sauce).
Notes
The best way to clean the mushrooms is to trim off only the very end of the stem and give them a light brushing to remove dirt.